'Justice' for Beliebers in Chicago
Just weeks before summer's long-awaited arrival, pop icon Justin Bieber took to the stage for two sold-out nights at Chicago's United Center. The Canadian superstar wowed his Windy City fanbase with nearly two hours of nonstop entertainment and a stellar setlist of 24 songs. The evening wasn't complete without a few surprises, though.
The Justice World Tour—which was originally scheduled for the summer of 2021—is expected to become Bieber's highest-grossing concert tour yet, and it should come as no surprise that Bieber rakes in an estimated $1 million per night. At the end of his run, Bieber will have performed 90 shows across six continents.
Following the tour's opening acts of Jaden Smith, Eddie Benjamin, and ¿Téo?, the lights dimmed and all 24,000 of the concert's attendees could barely "Hold On" to their excitement. Screams ricocheted from all ends of the arena and generated a surreal energy that most Bieber fans likely hadn't experienced since before the COVID pandemic.
In usual fashion, Bieber started the show on a strong note, entering from the inside of an inflatable airplane with "Justice" spelled across the sides. The plane levitated off the ground as Bieber sang his hit "Somebody" with only a few band members onstage. The moment felt especially riveting after a four-year hiatus since Bieber's last Chicago performance.
Though Bieber stood still for most of his opening number, just looking at the production design was a sight within itself. An expansive LED background illuminated behind Bieber as he continued singing, and the design changed during each new song. The set wasn't groundbreaking or even at the same level as Bieber's previous tours, but the simplistic layout allowed audience members to focus primarily on the performance without any unnecessary distractions.
Just a few minutes later, the tour's backup dancers emerged from backstage and elevated Bieber's energy to a completely different level. The choreography was beyond unreal and so impressive that Bieber couldn't compete with the talent of his dancers. Despite finding some moments to take a break from vocals, Bieber rarely joined his backup dancers and failed to highlight his full dancing potential. Still, it was clear that Bieber knew a thing or two about hyping up his multi-generational fanbase.
Early in the evening, one of two major surprises unfolded. "Holy"—the first single released from the "Justice" album—features Chicago native Chance the Rapper, who sings with Bieber in the studio recording. To the surprise of the entire audience, Chance ran onstage to perform his snippet of the song, donning his signature "3" baseball cap and a fresh pair of sneakers. It's safe to say that very few audience members were expecting a guest appearance on night two, as Bieber didn't have any surprises on the first night of his Chicago stop.
After Bieber performed a combination of new and old tracks, the backup dancers returned offstage and he sang a few acoustic tracks with support from his bandmates. In contrast to the high-energy opening that heightened the show, the middle segment showcased Bieber's clear tone and captivating vocal aura. Years since his teenage debut, Bieber's content has evolved to set a precedent for the new wave of music. Despite nearly 24,000 audience members screaming the lyrics at the top of their lungs, this acoustic section transported the United Center into a smaller, more intimate concert venue.
Soon after, Bieber picked up the pace and played some of his most popular throwbacks, including "Confident," "All That Matters," and "Sorry." Each audience member—no matter their age—found themselves singing along during some portion of the concert, showing Bieber's popularity across many demographics.
As part of his Justice In Action movement, Bieber paused his performance to share his take on several global issues such as criminal justice reform, climate action, and voter registration. Through this initiative, numerous organizations have partnered with Bieber's team to address vital crises and promote a more optimistic future.
Considering his extreme influence on a predominantly young fanbase, it is empowering that Bieber is using his platform to spread positive awareness. For fans who might lack the resources to support these organizations financially, the Justice in Action initiative encourages all Beliebers to "follow impactful organizations on social media [and] volunteer" as alternative outreach methods.
Bieber also underscored his Christian faith and devotion to God, which is a theme he explores throughout the "Justice" album. Additionally, he discussed his love for his wife, Hailey Bieber, with great passion to the audience.
As the night began to wind down, another musical surprise awaited. Hip-hop artist Quavo, despite having no apparent connection to Chicago, joined Bieber during the end of "Intentions." At this point in the concert, it's fair to say that no one was expecting a second special guest, but Bieber didn't hold back for his Chi-Town fans.
After performing his songs "Boyfriend," "Baby," and "Peaches," Bieber ended the night with "Anyone"—a number he devoted to his wife and partner in crime, Hailey. The LED backdrop displayed Polaroid-style photos of Justin and Hailey together, and pyrotechnics burst from the stage as the audience belted the lyrics in unison one last time.
Latin students who attended the concert expressed their elation to see Bieber performing once again. For junior Sofia Uddin, who purchased tickets back in 2020, the show displayed a light at the end of the tunnel. "The concert signified a new time in the pandemic," she said. "Now we are able to safely gather in large groups and enjoy the same events we used to."
Despite experiencing so many "Changes" since his debut album in 2007, Bieber's consistent popularity and unwavering fanbase proves he's not so much of a "Baby" anymore. The Justice World Tour brought fire, energy, a sense of community, and perhaps even a bit "2 Much" fun for a school night.
Leave a Comment
About the Contributor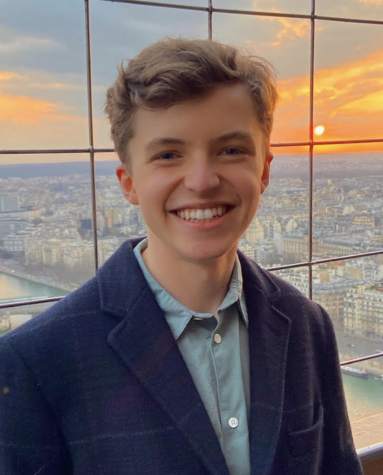 Will Baiers, Features Editor
Will Baiers ('23) is a senior at Latin and could not be more excited to serve as a Features Editor. Will has a passion for spotlighting current events...