Metamorphoses: 'Whatever the Audience Wants to Make of It'
Soon, the ever-so-empty theater will be filled with a live crowd cheering for the actors participating in this year's fall play, running from October 20 to 22. The costumes, set design, and choreography will all come together to deliver a live performance. As we anticipate the big reveal, let's take a look at how the play is shaping up.
Directed by Upper School Drama and Technical Theater teacher Frank Schneider, this year's fall play is based on Ovid's Metamorphoses, a collection of Greek myths with a theme of change. Unlike previous plays, its convoluted storyline intertwines an array of stories with different characters. As sophomore and cast member MiKayla Boyd put it, "This year's play is very up to interpretation because a lot of Mr. Schneider's directing has been his own original ideas. The play is based on all of these Greek myths, and it's whatever the audience wants to make of it."
The concept isn't the only unique thing about this year's fall play; it is the first in-person performance since the pandemic. Sophomore Payton Rice, who plays a follower of Dionysus, said, "It's a lot more hands-on and fun than when [they] were performing on Zoom."
But are all of these changes really improvements? Freshman Scarlett Lipe, the production's stage manager, seems to think so. She said, "The play is definitely a big improvement from last year, because we were in quarantine. It's crazy to see how much we all are able to come together after such a hard time."
With high expectations for the production, every single detail counts—especially the costumes. Scarlett, who helped with dying the costumes in a variety of earthy tones, said that "the costumes will be somewhat simple with shades of solid, darker brown colors so as to not detract from the play itself."
Sharing equal importance with the attire, the beautiful set brings the play to life through rich colors and meticulous detail. Junior Megan Riordan, playing the role of Iris (the goddess of rainbows), said, "I love the set design as it has been super cool to move around in it during rehearsals, and it really adds to the overall atmosphere and experience of the stories we are creating." She added, "[We] have a wooden platform and fire, water, and earth altars." Payton echoed Megan's thoughts on the set, adding that she "particularly like[s] the big platform."
Ultimately, the highly anticipated fall play appears to be coming along, with Boyd saying that she is "very excited for the play this year, it's fun and exciting and [she] really encourage[s] people to come."
Leave a Comment
About the Contributor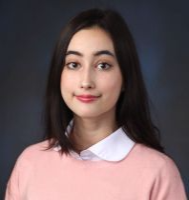 Sofia Grimm, Digital Editor
Sofia Grimm ('25) is delighted to serve her first year as The Forum's Digital Editor. Having written for newspapers with varying degrees of censorship...