Mr. Dunn Assumes Chairmanship for the National Association of Independent Schools
On February 23, Head of School Randall Dunn began a three-year term as Chair of the Board of Trustees for the National Association of Independent Schools (NAIS). Latin has been a member of the non-profit organization since its establishment in 1962, and Mr. Dunn has been on their board for nine years.
NAIS works to recognize and combat challenges independent schools are facing in order to best serve their students. Mr. Dunn was elected by his fellow trustees, who affirmed that he is the person they want leading them through this unpredictable time.
"Mr. Dunn has been a leader in the independent school world for decades, serving in many roles at various schools, giving him a unique perspective on our industry," said Donna Orem, President of NAIS. "He also has been involved with NAIS in many ways. He has been a speaker, author, teacher, and trustee. For many years, he served on our Aspiring Heads faculty, educating and mentoring the leaders of tomorrow. His commitment to this mission has ensured that our industry has a growing number of knowledgeable, empathetic educators to lead schools into a complex and changing future."
Head of Lakeside School in Seattle and former NAIS Board Chair Bernie Noe agreed. During Noe's recently ended term, the two worked closely together as Mr. Dunn was Vice Chair at the time. "I've worked with Randall for a long time. He is a good thinker and a great person," he said. "He also has a great sense of humor."
Noe added, "He grew [his beard] during COVID. We all think that it makes him look more philosophical and wise beyond his years."
Latin School Board Chair David Koo said of Mr. Dunn, "Vision, process, leadership, and listening. Those are his qualities. He is going to do a great job leading that board."
"The independent schools in our country are powerful, and a role model for excellent education across the country," said Mr. Dunn. "The opportunity to have schools that govern and dictate what is best for kids is really in this country unique and special." NAIS works closely with those schools to provide "top-notch, high-level, ambitious" education for their students.
Within the organization, there are about 1,900 schools total, 1,600 of which are in the United States. Latin's Assistant Head of School Shelley Greenwood said, "It gives us research and trends in education, and it does a lot around professional development for school members. I am such a NAIS geek; I am a huge fan."
As NAIS Board Chair, Mr. Dunn will meet biannually with Ms. Orem to talk through the biggest challenges she is facing with independent schools and NAIS. The two will work together to plan productive, educational, and effective board meetings that occur twice per year. Additionally, Mr. Dunn will lead these meetings.
Independent schools are becoming increasingly vulnerable. The biggest challenges independent schools face, in Mr. Koo's opinion, are "sustainability, access, and affordability. As we look forward to the business model, we need to keep an eye on it." Mr. Koo added, "How do independent schools sustain themselves as strong organizations with questions like affordability, access, scholarship, and taking care of our people? There are a number of realities to the business model, the financial side, which you need to pay close attention to. [Latin] would like to do more in certain areas, but they require more financial resources."
However, financial sustainability is not the only challenge schools encounter. "Many things are changing in the world around us, so too must schools change," said Ms. Orem. "An immediate challenge is for school leaders to focus on community well-being in the aftermath of the pandemic. Adults and students alike are facing challenges, which will impact students' ability to learn and thrive. Related to this is the need to build communities that are equitable and inclusive in which every student feels a sense of belonging."
Another struggle is one Latin has faced first-hand, especially in recent years. "Taking on [Diversity, Equity, and Inclusion] in a very serious and intentional way," said Mr. Koo. "I think it is just critical not just for Latin, but for the world around us. Schools' roles are to develop bright minds that will lead us in the future. That starts with candidly doing a better job in [DEI] areas than we have done before. Mr. Dunn is uniquely positioned to be NAIS' leader at this time."Mr. Koo pointed out that only a small number of independent schools have heads of color, and that Mr. Dunn is among an even smaller group of people of color who serve as head of one of the strongest schools in the nation.
Mr. Dunn agreed with the assessment that DEI issues are among the biggest challenges facing independent schools today. "I think right now, access and issues around Diversity, Equity, and Inclusion. Those issues are important and prominent for independent schools to address."
Mr. Dunn—and perhaps Latin itself—will assume a more prominent role in the independent school world because of Mr. Dunn's new position. Ms. Greenwood reflected on the significance of his taking on this national role. "For me, and I hope for us, it is just a real source of pride to be elected to chair of the board of this flagship organization for independent schools," she said. "I don't think there is a higher position, and it is not about seeking the highest position; his peers elected him."
Mr. Dunn is hopeful that his new responsibilities will not take his focus away from Latin. "In terms of impact, there are three or four board meetings a year that mean that I will need to go and be away from school," he said. At the NAIS board meetings, Mr. Dunn will work with his fellow trustees, which consists mainly of other heads of schools, to brainstorm various courses of action to lead independent schools to continued success.
Part of what the position entails is thinking on one's feet. Mr. Noe shared an anecdote that he thinks perfectly exemplifies the qualities an NAIS board chair should possess. At the NAIS conference this year, Mr. Dunn had the honor of introducing and doing a Q-and-A session with their guest speaker: Nikole Hannah-Jones. Ms. Hannah-Jones, who developed The 1619 Project, is renowned by her peers, and was the recipient of both the Pulitzer Prize and MacArthur Genius Award. He had been told he would be asking her questions based on her speech.
However, the event did not go as smoothly as expected. When Ms. Hannah-Jones was invited to give her speech, she did not have one prepared. There had been a miscommunication, and she thought it would only be a Q-and-A session. "Mr. Dunn had to run the Q-and-A with her for an hour on the spot," said Noe. "That is a stress dream that most people have. He did it brilliantly. He had prepared really well based on reading the articles this woman had written. He knew the controversies that he wanted to pursue with her. We gave him huge, huge congratulations. He is just a talented guy. It is great for NAIS that they are going to have him be the board chair for the next few years."
Dr. Joan Hill, head of The Lamplighter School in Dallas, echoed Noe's statements. "I am so excited to work with him over the next few years. I think we will be a great team because of his strong leadership."
Mr. Dunn said his NAIS service has been a privilege. "I have learned so much much [at NAIS]. It feels like I am getting more than I am actually giving. And that feels like a quote that a lot of the heads would give."
Leave a Comment
About the Contributor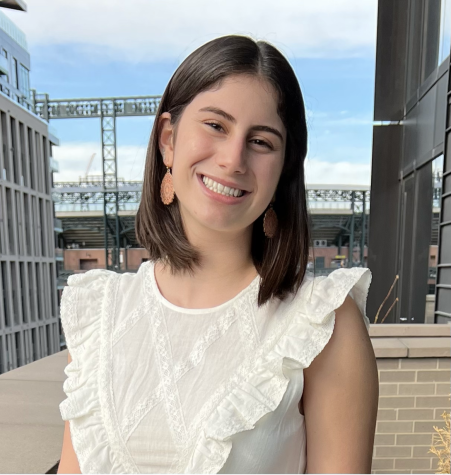 Eliza Lampert, Editor-in-Chief
Eliza Lampert ('24) is a junior at Latin and is looking forward to serving as one of this year's Editors-in-Chief. During her time writing for The...