Latin Alumni Company "SC Embroidery" Takes Off
Latin alumnae Summer Crown '19 and Siena Craigie '19 are the two founders of SC Embroidery, a company named after their shared initials of "SC." They embroider original designs as well as custom designs to fill customers' specific requests on a variety of clothing pieces. Summer and Siena began their business in the art room at Latin during their senior year, and their business has continued to grow since they graduated.
Summer explained how it all started, saying, "Siena and I were in a sculpture class with [Shannon] Kerrigan our senior year, and [we] worked on our projects together, so we [spent] a ton of time after school doing random arts and crafts together." She said, "One of our projects required a ton of stitching and sewing, which got us interested in making more intricate designs [and] led us to embroidery."
When they first started working on their products for SC Embroidery, Summer said, "We pretty much just ordered the materials and watched how-to videos online. We started practicing on our own clothes, and then making little things for our friends, and that's when we decided to post our stuff on Instagram." Summer and Siena advertise their embroidery on Instagram, but they also gain business through word of mouth.
When it comes to Summer and Siena's roles in their business, Siena said, "Embroidery-wise, we split up most of what we do. That being said, Summer is really the business person when it comes to SC Embroidery." Siena explained, "[Summer] has worked so hard to expand SC Embroidery by either reaching out to hundreds of people via Instagram or helping us become part of GØØDZ Boutique."
GØØDZ Boutique is an international coalition of female artists for which 20% of the profit goes to The Pad Project: an organization with a mission "to create and cultivate local and global partnerships to end period stigma and to empower women and all menstruators worldwide."
Siena emphasized how their company is very much a team effort. "I think our business works because we are different," she said. "[Summer] is more logical, and I am more creative. We could not have built SC the way we have without each other."
Summer and Siena use their business as a philanthropic medium, not only through their collaboration with GØØDZ Boutique, but also through their donations of a large portion of their profits to the Loveland Foundation, Fuel Our Heroes, and the Black Lives Matter movement.
A big turning point for SC Embroidery was when two of their custom pieces were seen on social media star and co-founder/designer of Wildflower Cases, Devon Carlson, and famous dancer and actress Maddie Ziegler. After Devon and Maddie sported their pieces, Summer said, "Devon's best friend reached out to us over DM looking to get [Devon] a super original birthday gift, so Siena came up with the genius idea of the Marty sweatshirt: a little portrait of Devon's dog, Marty, on the back and the words 'Marty's mom' on the front.
Maddie's sweatshirt [which has her dog, Boots, on it] was also given to her as a gift." Maddie posted a picture of herself wearing the sweatshirt to her Instagram on January 22, and she even tagged SC Embroidery in the post. Summer said, "We are so thankful people like Devon and Maddie have our pieces!"
Summer and Siena have worked hard these past two years to make their small business a success, and they have nearly 600 Instagram followers. "Ms. Kerrigan's sculpture class was kind of the birth of SC Embroidery, so we definitely have her and Latin to thank for that!" Summer said. "Latin was also a super helpful place to start because classmates would place orders through text, DM, or in-person, and we would just give them their pieces at school." Now, anyone can order embroidered items just by direct messaging SC Embroidery on Instagram, as well as visiting the GØØDZ Boutique website, which is linked in their Instagram bio.
Leave a Comment
About the Contributor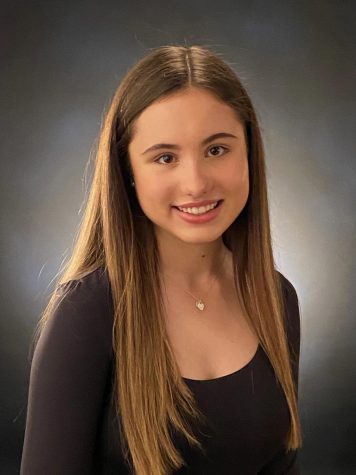 Lily Coleman, Media Editor
Lily "Pickle" Coleman (22') is a senior at Latin and is thrilled to be serving as Media Editor this year. In her time on The Forum staff, Pickle...