Moving Forward: Reflecting On My Latin Experience – Randy Pierre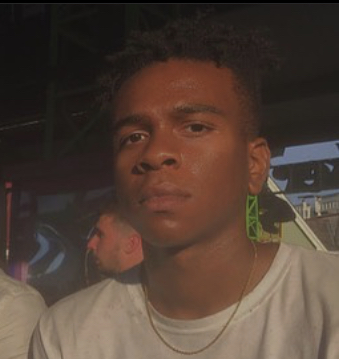 I still remember my first visit to the Latin School of Chicago. I had just finished 6th grade and attended my first orientation for High Jump, an academic enrichment program that prepares elementary school students for the competitive application process required for selective-enrollment and private schools. Latin was one of the first high schools I was introduced to, and its reputation for intense academic rigor and notable alumni appealed to me immediately. 
On my first day of 9th grade, walking through those doors felt like a dream come true. Scenes of happy students filled the screens of televisions mounted on bright orange walls. I thought it could be me on that screen. I felt one step closer to becoming who I wanted to be: someone successful. 
I bought into the dream the school was selling, unprepared for what came with it. After growing up in the predominantly Black neighborhood of South Chicago, Latin was a completely new environment, and I struggled to navigate it. I had to learn that I couldn't bring my culture there with me. I began to code-switch just to get by, but that still wasn't enough to avoid prejudice. I felt lonely and isolated. I dreaded going to school every day to the point where I wanted to transfer during my first year. 
I talked to some of the adults I trusted most, and they told me something I didn't know what to do with at the time: I'm here to change the space, the space is not here to change me. 
Initially, I thought this was just a generic "stick with it and persevere" kind of statement. I took the words with a grain of salt as I finished 9th grade.
As I moved into my second year of school, I started to understand how to navigate and become more comfortable in white spaces. But my methods had flaws. I was nonchalant about the racism that took place at Latin, and because of that, my white peers continued with the same actions. During my time on the basketball team, I would hear my peers use the N-word and other derogatory terms in the locker room. It got to the point where someone who I considered a close friend was saying things he knew would harm me, but I still had nothing to say. Hearing these things sent shockwaves down my body, and I saw the consequences of not asserting myself. 
By my junior year, everything started to shift. This was the year that I started to discover who I am, thanks to the Student Diversity and Leadership Conference (SDLC) that I attended in December of 2019. At this national student gathering, I was surrounded by people who were going through the same things that I was. We all saw the effects that predominantly white institutions have on BIPOC (Black, Indigenous, and people of color). Attending these institutions disrupted the discovery of our identities because we had to hide who we were in order to be accepted by our classmates. 
At the conference, I joined a discussion of what it meant to be Black at a predominantly white institution. In a room of more than 300 Black people, we talked about empowering ourselves in our spaces and letting our true lights shine, even if our institutions attempt to dim them. For the first time in years, I felt like I was able to be my authentic self. At the same time, I felt empowered to bring the energy that I felt back to Latin. I learned that I have more power than I knew. If I wanted to spark change, I would have to face the challenge head-on.
In 2020, Latin was finally forced to grapple with racial justice. On an Instagram page called "Survivors of Latin," students and alumni began sharing their experiences at the school as members of marginalized communities. Reading through the stories and submitting a few myself, I realized that I could not sit around and wait for the school to do something: I had to take the courage and experiences that I gained at SDLC and use them to demand change. 
Last year, fellow students and I protested, emailed school leaders, and presented ideas that would make BIPOC students feel more comfortable at Latin. We won changes to the student handbook this fall that emphasize student support, including the creation of an Incident Bias Report. This anonymous form allows students to share their stories of bias and receive a response from a faculty member, letting them know that someone has read the story and some form of action will be taken. The changes have all sounded good. But in the world of remote learning and without the peer-to-peer conversations we would usually have, it's hard to say yet whether or not these changes are effective. 
But either way, this can't be the end of the fight. This is just the beginning. To continue moving forward, we must keep the same energy that we had over the summer to hold ourselves, our peers, and our community leaders accountable and demand change when we feel it's necessary. I understand now that I'm here to change the space, the space is not here to change me.
* This piece was first published at Injustice Watch on January 19, 2021 under the headline "Black student reflects on confronting racism at top Chicago private school: 'Keep the same energy.'" Please note that the piece is largely unedited since its original publication.
View Comments (7)