Latin's Young Republicans: "on thin ice," or an opportunity for valuable community dialogue?
"Reading Survivors of Latin, it's no secret that Young Republicans came up numerous times," said the president of the Young Republicans club, senior Spencer Gunning. "I was ashamed."
An Instagram account started last summer, known as Survivors of Latin, provided a platform for current and former Latin students, parents, and staff to publicize personal experiences of discrimination and bias in the Latin community. After a number of accusations against Young Republicans members, including previous presidents of the club, for instances of hate speech, the group's new leaders pledged to work to create a place where constructive disagreement and argument are encouraged, but derogatory language is not.
According to Spencer, Latin's administration did express concern regarding the club's past. "I have spoken to the school over the summer, and they told me that this club is basically not in jeopardy," Spencer said, "but on thin ice."
Still, Spencer emphasized, "The club is essential for Latin because it not only offers political diversity but also a very safe space for people to talk about political conversations where no one will be judged."
Some students who are not a part of the club acknowledge the value of having a space like Latin's Young Republicans, but say they still have concerns about the organization's inclusivity.
Senior Freddi Mitchell, who is not a member of the club, said, "I just think they could be better at making the club a more inviting space and making sure that people know what the true purpose of the club is. It is true that this club has negatively impacted so many Latin community members."
Freddi said she hopes that in the future, the club's leaders make it clear that they do not accept discrimination. "I would like to see the club take actions to make sure it doesn't tolerate dehumanizing behavior from any of its members. I want to see change from the club."
With a new school year and new leadership, the change that Freddi is looking for may very well come. But Dean of Community Learning Suzanne Callis noted that although the group is associated with instances of discrimination, it's not necessarily an inherently discriminatory group. "I think it's important to know what we attach to the club and what we attach to individuals, and that we allow for a club to change because the individuals in it are changing, too."
Spencer acknowledged that members of the group had offended other students in the past. "Knowing this and becoming president, I knew that Young Republicans did have an essence of it, of people that may be racist, and that's why I took the position. Because I want to change that for the better."
Spencer explained that though diversity of beliefs were always valued during meetings, there are new ideas regarding inclusion that he will be focusing on this year.
"We've always basically said that we want everyone to come and say your opinions and defend it and maybe, possibly persuade other people," he said. "We've always said that. But I feel like striving more toward social justice, I feel like that is relatively new. So anything that we see, maybe social injustice regarding to the election, or social injustice in just our blatant society, I want to talk about it. Because this, of course, isn't something to sweep under the rug."
Encountering moments of intense divergence during meetings is inevitable. Young Republicans is a group whose mission invites debate about politics and American society. With this in mind, the club's faculty adviser, Upper School science teacher Felix Amankona, said, "I assume that in a diverse community, where people have a diversity of opinions, somebody will be offended."
Dr. Amankona and Upper School Diversity Coordinator Kate Lorber-Crittenden concurred on the value of accepting offense in a conversation. "We already know we don't have a community where we all agree and think the same things, and that is not just okay, but good," Ms. L-C said. "I don't think we protect against, or should be trying to create a space where no one is offended ever. I don't think that's how robust conversation and growth happens."
However, Ms. L-C also emphasized the importance of understanding why people may take offense to certain actions or words. "Personally, I don't think a school can be a place where being offended can be a reason to not hear someone else, going both ways, on whatever the issue is," she said. "And so how are we creating the spaces that insist that people are trying to engage with the 'why' of what might be causing the offense? Because I think that is where a lot of valuable learning happens."
Both Ms. L-C and Ms. Callis stressed that these guidelines for conversation apply to the Latin School community as a whole, not only to one club. "This is the point where it's well beyond the Young Republicans club and it's now how is the administration, how is student government going to create opportunities that allow people to have these conversations in ways that account for different identities and different beliefs, and, at the same time, account for all the nuance in those?" said Ms. L-C.
Although Ms. L-C, Ms. Callis, and Dr. Amankona encourage disagreement, they do not ignore the potential for harm in cases of offense. "We want discussion, we want community, and we want people to be able to engage in discussion, but those discussions can never encroach on questioning or debating the humanity of another person. And that's true for any club, any person, any member of the community," Ms. Callis said.
"But then how do we address the times when we are adamantly opposed to each other's beliefs?" Ms. L-C asked. Having fruitful conversations in a space with conflicting points of view is not easy. Thus, Latin's faculty and administration have been careful and strategic about how they create spaces for dialogue. "Having structures in place to have these conversations, that they are not necessarily free-for-alls, but having an understanding of what the process is to engage in the conversation is helpful, too," Ms. Callis said. "Those are things that I think any club that has any conversation could benefit from."
Ms. Callis' advice to Latin clubs, including the Young Republicans, may be worthwhile guidance for all. "We need to consider the consequences of what we say and what that means for other people in the space," she said. "And if we can look at things with that lens, perhaps we will all be better at communicating with each other."
Leave a Comment
About the Contributor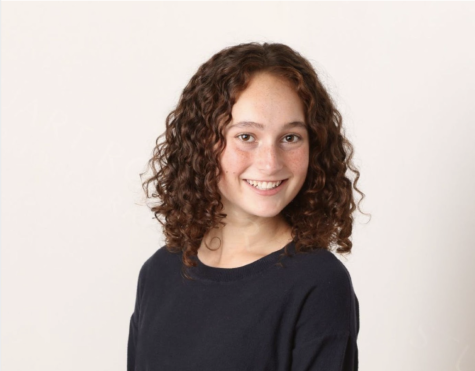 Eden Raviv, Editor-in-Chief
Eden Raviv ('23) is eager to bring relevant stories and perspectives to the Latin community in her second year as Editor-in-Chief. Eden joined ​The...