Spooktacular Movies You Need to Watch this Halloween
With Halloween season upon us, it's easy to get lost in the wide variety of horror movies available to watch. So we reviewed some of the most popular horror movies to help you decide which ones to watch and which ones to skip.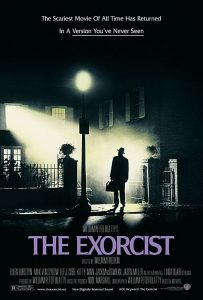 The Exorcist (New and Original) – Ben
The original "Exorcist" movie came out on December 26, 1973. Almost 50 years later, the newest remake, "The Exorcist: Believer," hit theaters. The original "Exorcist" was one of the most critically acclaimed horror movies of all time, landing an 87% audience approval score. "The Exorcist" was seen as a shocking, barrier-breaking movie using vulgar language that was strongly frowned upon at the time.
Fans and movie critics alike showered "The Exorcist: Believer" with harsh criticism, earning the movie a 59% audience score and a 22% Rotten Tomatoes score. On a more positive note, Junior Mel Butler said that the cinematography is effective in "creeping out the audience and telling the story cohesively." Mel recommends that students check out the movie, but with low expectations.
The original "Exorcist" was a fantastic movie and undoubtedly one of the most well-known horror films of all time. It sets up a strong backstory and keeps jump scares to a minimum while still building tension to keep the audience at the edge of their seats. However, "The Exorcist: Believer" fails to build the backstory as effectively as the original, and thus some of the would-be scary moments of the newer film fall short due to a lack of connection between the characters and the audience. You should see "The Exorcist: Believer" if you're looking for jump scares and better video quality, but I would recommend that you stick with the original "Exorcist" this Halloween—and always.
A Nightmare on Elm Street – Ben
"A Nightmare on Elm Street" came out in 1984 and immediately impressed fans with its horrifying story line and shocking cinematography, receiving a Rotten Tomatoes score of 95%. The success of the first movie inspired a whole franchise of movies under the "Nightmare on Elm Street" title. Senior Charlie Leonard is not a fan of the sequels and remakes. "If it's a remake," he said, "then you kind of already know what's coming."
The outdated visuals and special effects of "A Nightmare on Elm Street" tone down the level of horror through a modern lens, but it's still a classic horror movie that has aged well. This movie is great for anybody trying to get into the genre, as some of its special effects will have most people laughing instead of gripping the edge of their seats in fear. Some of the shots in this film are iconic, though, as images of the Boiler Room still haunt audiences to this day. All in all, "A Nightmare on Elm Street" is a movie that gets into the spirit of Halloween without being too terrifying.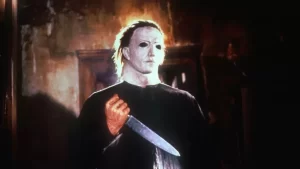 Halloween – Ben
The original "Halloween" came out in 1978 to overwhelmingly positive reviews, receiving a 96% Rotten Tomatoes score and an 89% audience rating. The film is often viewed as one of the movies that set up the modern horror genre, as film directors ever since have tried to recreate the classic storyline and mysterious characters. The deep subplots mixed with genre-bending cinematography make the movie extremely rewatchable, driving a huge fan base that watches the movie every October 31.
The "Halloween" movie franchise has an eerie total of 13 films, the most recent being "Halloween Ends," released on October 14, 2022. Upper School history teacher Kristin Gulinski watches the original "Halloween" every year. "Some of the ['Halloween' remakes] are pretty good," she said. "There [is] a range of quality." The series gives diehard fans enough content for a lifetime, as the seemingly endless story has captivated fans for generations. Newer films tend to be scarier than old ones, so if you're looking for a terrifying movie, then the latest remake is perfect, especially if you've seen the original. I would recommend watching the original for casual horror fans, but especially for people who have never seen it before.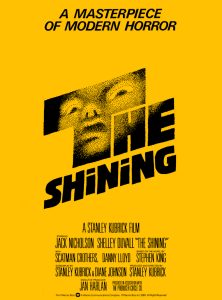 The Shining – Clark
Often considered one of the best horror movies and book-to-movie adaptations, "The Shining" is a psychological yet scary movie with some of the most iconic scenes of all time. Unlike the majority of 1980s horror movies, "The Shining" still holds up nicely, especially for sophomore Autumn Mendoza. "I watched 'The Shining' with my friends once, and it was so good," she said. "I would definitely watch it again."
In my opinion, "The Shining" is one of the best movies of all time. Director Stanley Kubrick does a great job at pacing the movie, slowing it down to build suspense, and speeding it up to make the watcher more anxious. One of my favorite parts of the movie is its final shot, which leaves the viewer confused and in awe at the same time. I cannot recommend "The Shining" enough.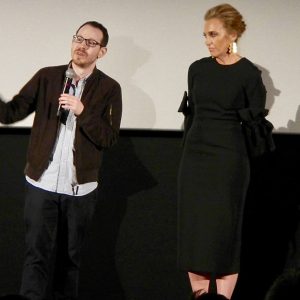 Hereditary – Clark
In contrast to the disappointment of "The Exorcist: Believer," "Hereditary," another fairly recent horror movie (released in 2018), received high praise from critics and audiences alike. "Hereditary" focuses on a family grieving the loss of their grandma, but they soon realize there was more to her past than expected. Senior Josh Goldhaber said, "'Hereditary' kind of actually freaked me out. I liked it more than I thought I would."
"Hereditary" was one of the first horror movies I ever watched, and it left me hooked on the genre as a whole. Unfortunately, "Hereditary" set an incredibly high standard for the horror movies I would watch after, which very few have met. "Hereditary" is a rare movie because of the way it successfully combines elements of psychological horror and jump scares without making the viewer feel as if they know what is coming next. "Hereditary" successfully scared me from beginning to end, which truthfully feels one of a kind as more and more movies rely on an incredible ending and lackluster filler for the rest. You won't regret watching "Hereditary."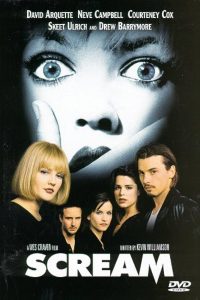 Scream – Clark
One of the most popular horror films of all time, "Scream" has had a surprising rise in popularity over the past two years due to viral TikTok trends with the movie's murderer, Ghostface. "Scream" is a favorite for many people, particularly Ms. Gulinski. "'Scream' is nostalgic because it literally just came out when I was a freshman in high school and when I made the girls varsity basketball team," she said. "We all [went] as a team went to go see it, and I remember in the movie theater the seniors poked me during a really scary scene and I literally screamed."
"Scream" will not have you thinking about it for days after, as "Hereditary" or "The Shining" will, but this movie will give you a traditional Halloween scare. "Scream" is a fun slasher with unexpected twists and gore, and some good jokes along the way. I highly recommend this movie if you want a quick and digestible horror movie.
With all the horror movies out there, it's easy to get lost in the shuffle and find yourself watching a terrible movie, so we hope we were able to provide you with some guidance and make your Halloween watching experience spooktacular.
Leave a Comment