'Barbie': The Kenchanting Movie of the Summer
Greta Gerwig's live-action take on "Barbie" is, as Ken would say, "Sublime!" Starring Margot Robbie and Ryan Gosling, the film follows Barbie and Ken through their journeys of self-discovery, set in both the matriarchal, utopic Barbieland and Los Angeles, California. Though the film feels sheepish at times, its humor, social commentary, and fantastic visuals make it a very enjoyable watch.
Just like Barbie herself, the movie is colorful and aesthetically pleasing. Robbie is the perfect actress for the role, and Barbieland is exactly how I imagined it: bright, idealistic, suburban, and, of course, pink. Academy Award-nominated Jacqueline Durran, a frequent collaborator of Gerwig's, served as the lead costume designer for "Barbie." The outfits shown in the film pay homage to Mattel's previously sold Barbie outfits such as "Western Barbie" and the classic 1959 black-and-white swimsuit look.
While the costumes are flawless, the movie's humor is what sold it for me. Watching Ken discover the patriarchy and build his own "Mojo Dojo Casa House" communicates an important message in an entertaining way: The patriarchy would seem unreasonable if we weren't so used to constantly experiencing it. I especially appreciated Ken's disappointment when he realized that the patriarchy isn't all about horses.
There has been some debate on social media about whether the message of the film gets lost in the music and humor or if it seems to push feminism on its audience. I disagree; I think the point of the movie is to display Barbie's naivete and innocence as she discovers the struggles women go through, even if it feels cringy or obvious at times. It was incredibly satisfying to hear America Ferrera's "It is impossible to be a woman" monologue delivered to the Barbies, which put into words the daily struggle of countless women around the world.
And then, of course, there's the music and elaborate dance breaks. The "Barbie" soundtrack features Dua Lipa, Lizzo, Ice Spice, and more, all of whom composed original music for the film. Ken even sings an emotional—and newly iconic—power ballad, "I'm Just Ken." The song's lyrics, "Am I not hot when I'm in my feelings?" and "The man behind the tan" and "blonde fragility" most certainly spark laughter throughout theaters. It's safe to say that Sebastian from "La La Land" walked so Ken could run.
However, my biggest struggle with the movie is its dramatic shifts in tone. There's a long (and once again, very pink) dance break turned fight between the Kens, and a heartfelt montage of women of all ages over Billie Eillish's featured song, "What Was I Made For?" At times, it felt like the movie switched too often from fun and imaginative to sad and introspective.
On the other hand, one of my favorite topics that the film touches on is the complexity of the Barbie brand itself. The brand was certainly empowering to young girls because it depicted women in leadership roles through the dolls' various careers. That being said, the "Barbie" doll also reinforced unrealistic female beauty standards. Barbie is blonde and beautiful with a "perfect" body, and to see the doll that is supposed to be representative of all women look "perfect" at all times can be damaging to young girls' self-esteem. I think the film handles this dissonance well. It was also striking to see that even though the brand's market is primarily women, all the "Barbie" executives in this film were men.
So, if you're looking for some positive Kenergy (and many more Ken puns), be sure to check out "Barbie" if you haven't already. And for some extra Kentertainment, bring a man with you and discuss the movie afterwards.
Leave a Comment
About the Contributor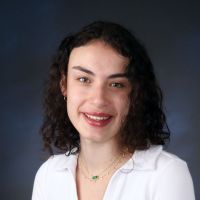 Natasha Benjamin, Arts Editor
Natasha Benjamin ('25) is excited to serve as an arts editor this year! This is her third year writing for The Forum, and she enjoys writing film reviews...