From Studio to Stage: YAGP 2023
For dancers around the world, including some Latin students, competitions and coveted performance opportunities come only with a rigorous training schedule.
Over 12,000 young dancers participate in the Youth America Grand Prix (YAGP) every year. One of the world's largest ballet competitions, YAGP takes place around the U.S. and the world, and it provides many valuable opportunities for young dancers: scholarships, performance experience, master classes, and most importantly, great memories. Dancers get the opportunity to work with other young people from around the world, making friends they would've never met had it not been for YAGP. Many YAGP alumni go on to join major dance companies and enjoy great careers.
This year's competitions started in October 2022 and ended on April 9, but dancers had been preparing for much longer. From ballet to contemporary to group dances, there is a lot to learn before actually starting the YAGP process.
Students normally begin preparations right as the previous competition season ends, around April or May. They'll spend countless hours in the studio rehearsing, with the most serious dancers going in for multiple hours every day to take classes and rehearse their variations, which are solo dances that come from pre-existing ballets.
Non-competitive dancers have to put in long hours to be able to keep up in rigorous programs as well. This sort of time commitment isn't easy to uphold with high school homework schedules, but sophomore Leela Kammula said, "Latin has been the best about accommodating my schedule, since I have to balance homework and six days of dancing a week."
Latin senior Catherine Hubbard said that dance practice "is similar to a sports game where you can see all of the practice pay off in the end." Dance isn't all that different from other sports, and even though many people would categorize it as just something fun, it takes a lot of dedication and effort.
Seventh grader Talia Lee from Near North Montessori School also shared her experiences as someone who competed in YAGP this year. She trained for around 22 hours a week—that time includes classes, private lessons, and stretching, all for only a few minutes on stage. Practicing that frequently does not only take a physical toll, but a mental one as well. "Sometimes, I get very frustrated if I keep on messing up," Talia said. "The ballet world is supposed to be 'perfect.' But of course, everyone has good and bad days, and you just have to keep moving on."
Studio hours aren't the only large time commitment in the dance world. After putting in hundreds of hours in the studio, to begin with, Catherine also noted that even though competitions are fun, "they are extremely lengthy and often require me to miss school."
Performing is a reason many are drawn to dance. Talia said, "Even though it's brief, I always have loved being on stage." When performing variations, all eyes are on the one dancer on stage doing something they love, creating a magical moment for not only the dancer but those in the audience as well.
Dancers supporting their classmates is also a wonderful part of competitions. Catherine said, "At my studio we love to hype each other up for every performance." Rituals like these help to calm pre-show nerves and acknowledge all of the work the dancers have put into their pieces.
Performing is not just for the enjoyment of others; it is an extremely self-fulfilling part of being a dancer. Catherine said, "Performing is the best part of dancing because we put in hundreds of hours of work in the studio each year and being able to show that to everyone is super special."
Dancers spend so much time working to perform, so when they get on stage, they can relax and have a great time. Talia mentioned her pre-show ritual. "I just remember how hard I've worked for this moment, and that this should be fun and exciting." With this kind of positive mentality, she was able to perform well and enjoy herself, helping her achieve scores that took her to the YAGP finals in Tampa.
The YAGP experience this year has been different from others. After COVID took away so many performance opportunities, dancers are cherishing these times to practice being out on stage, whether they compete at YAGP to get job offers or only dance for fun.
"Getting the experience to be almost like a professional ballerina are opportunities you don't get a lot when you are a young student," Talia said. "To feel what the lights are like, the stage, the pressure, the audience, etc., it's all very special and exciting and nerve-wracking for us dancers." Performance opportunities are so important for dancers; getting to see what it would be like to realistically pursue dance as a job is something very valuable.
Catherine said, "I would recommend for everyone to come out to a dance show or competition at least once in your life." She added, "They are super fun and you really get a new understanding of what dance is all about."
Freshman Kelsey Riordan seconded that message. She said, "Dance shows are a really good opportunity to see how far the dancers have progressed and all the work that goes into the show."
Leave a Comment
About the Contributor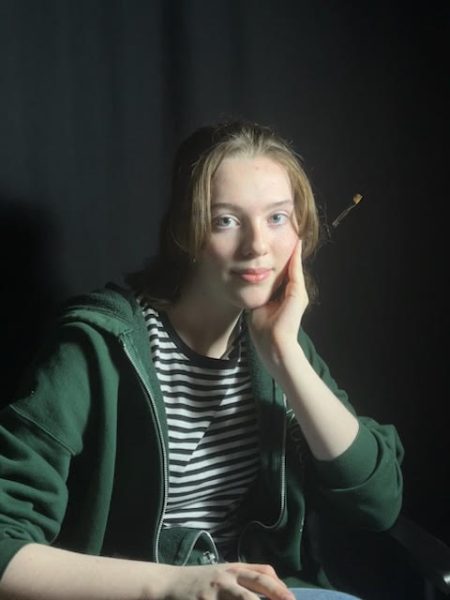 Morgan Sirek, Staff Writer
Morgan Sirek ('26) is thrilled to be a part of The Forum this year. Morgan enjoys learning about and participation in Latin's arts scene, and is looking...