My 10 Favorites and Least Favorites of the 2023 Met Gala
Met Gala 10 Favorites and 10 Least Favorites
Each year, the Met Gala theme is chosen based on the Met Museum's new exhibit. The theme of the Met Gala this year was Karl Lagerfeld. Although he was a pretty mean and just bad guy in his personal life (view this link for more details), his tweed designs for Chanel are iconic. When you think of a Chanel suit, you think of Karl Lagerfeld's work. This year, there were a lot of beautiful, funny, and kooky looks on the carpet. Here is a list of my 10 favorites, and 10 least favorites. NOT THE BEST AND WORST. These are just my opinions.
Favorites
Anne Hathaway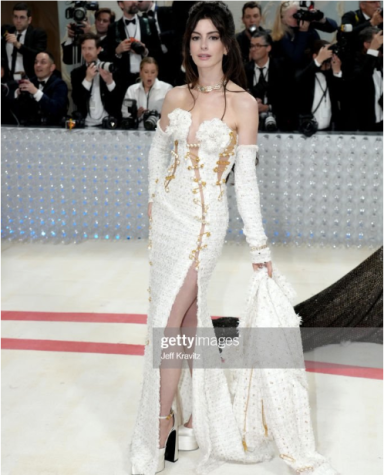 I love this. The Versace safety pins are just so lovely, tweed, and cute. She killed the theme. I like everything about this look except for the platform shoes. They are just okay, but the dress, necklace, hair, etc., are on another level.
Penelope Cruz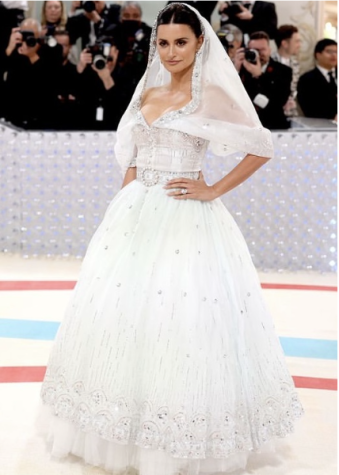 So beautiful. The sparkly embellishments fill my heart. The hood is so beautiful and perfect. I actually like how the top layer of the dress doesn't reach the ground. The dress doesn't feel as matrimonial because of that. The only thing that could be added would be a very thin and dainty necklace.
David Byrne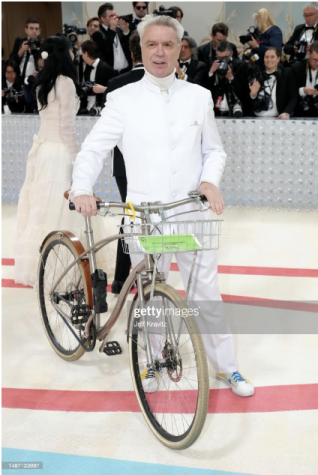 I laughed at this. David Byrne brings joy via bike. He's so real. He's me on my way to school. The bike is so ugly, too. I love him. If he didn't have the bike I would absolutely hate this outfit, but with the bike he's so funny. So eco friendly.
Jared Leto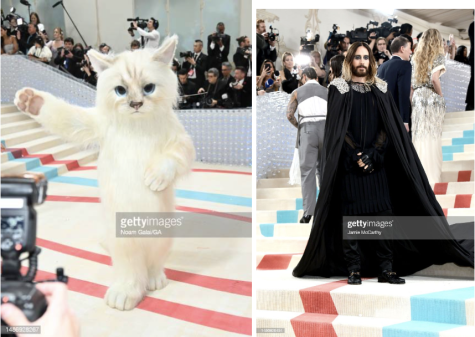 I just love how bold this is. He came as a literal furry. That's insane. His second outfit too, just sooo emo. Too bad he's a pretty crappy person.
Erykah Badu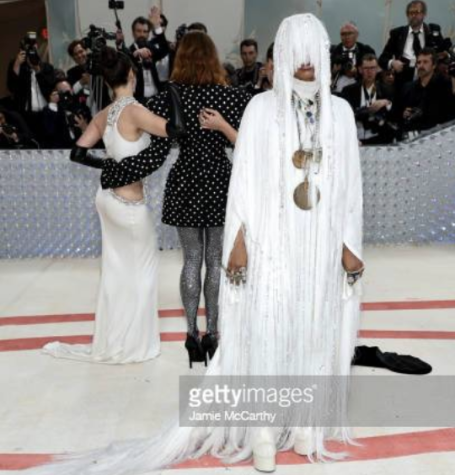 Badu? More like a baddie. A shining star. Although she didn't fit the theme too well, it's still a really cool outfit. She's a wild west tumbleweed. The only thing I didn't like were the cream platforms. Why would everything be stark white but your shoes?
Doja Cat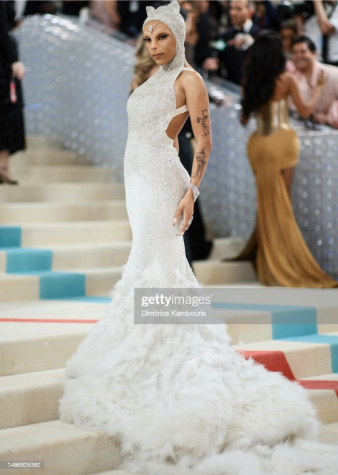 She's kitty kitty meow meow. I love the slight ombre of the dress. The little diamond on her forehead is so cute, too! This totally fits the theme. However, the prosthetics did freak me out a bit.
Dua Lipa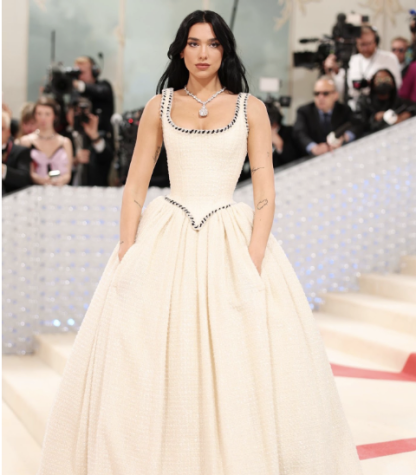 Absolutely beautiful. I love the black details and the fringe at the bottom. It's a perfect dress. The only thing I dislike about this outfit is the huge necklace. But the diamond in the jewelry is a piece worn almost every year by a different celeb at the Met Gala, so I get it. I don't like how it looks, though.
Kate Moss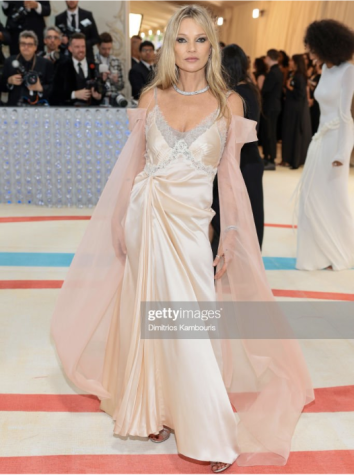 This is just really beautiful and swell. Like yeah, it didn't fit the theme but it's so gorg. The sleeves billowing behind her. Love.
Jordan Roth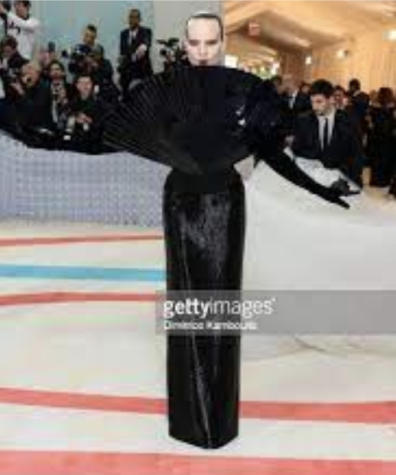 He fit the theme so well. Karl always had this fan with him. Killed it. The super bold makeup works perfectly on the completely black dress, and you get a great view of it because he has no hair. The bald head is just the cherry on top.
Rihanna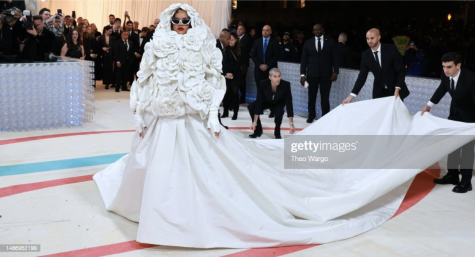 This is kind of crazy but I love it. Something about this look entrances me. I think it's just the vibe she's giving off. This would not work on anyone else, but Rihanna can pull anything off.
Least Favorites
Pedro Pascal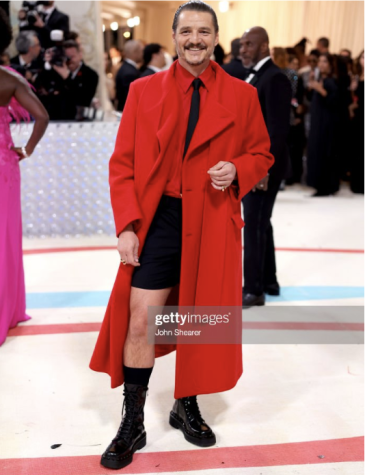 Why, Pedro? Why the triangular tie? Why the slightly different colored shirt and coat? The shorts? The long socks and shoes? Nothing about this works. I hate it.
Emma Chamberlain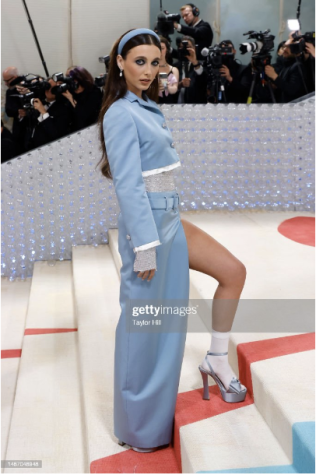 She did stick to the theme pretty well, but that doesn't excuse it being ugly. It almost looks like it doesn't fit her. The sock in the heel makes me mad, too. I also despise the headband for some reason. Controversial, I know.
Amanda Seyfried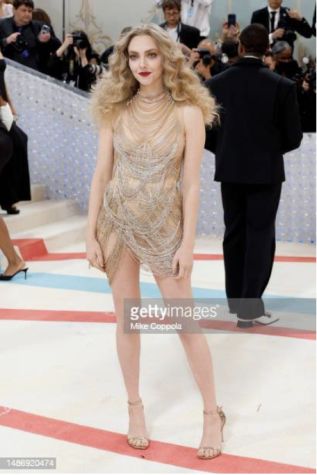 I don't like a nude look on the red carpet. Also, it doesn't fit the theme at all. Nothing else to say.
Janelle Monae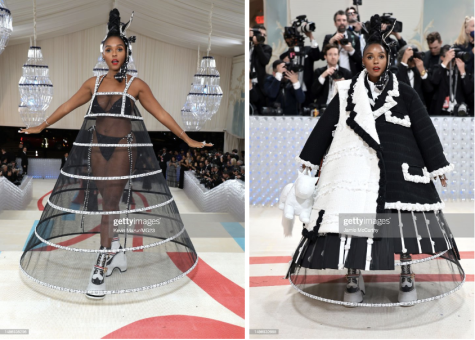 This is a cartoonish look. It's okay, but it feels very reminiscent of her camp look from 2019. The face she's making, it just irks me. The shoes too, clownish and just ugh. Also, I'm not a fan of nudity on the red carpet!
Lil Nas X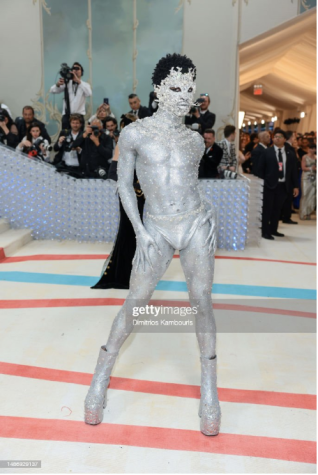 Lil Nas Next! Again, I hate nudity in a professional setting. This is like his gold look but worse. Even if I wanted to say the diamond and pearls actually glued to his face are cool, I can't. The pearls are so large it looks like warts growing out of his chin.
Burna Boy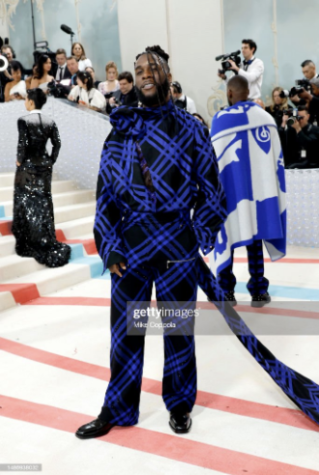 Hate this. I despise plaid. The train is awful, too. The tiny silver pocket irks me. I feel like he put this on and went about his day but forgot it was the Met Gala and had no time to change. Also, he is definitely sweltering.
Pete Davidson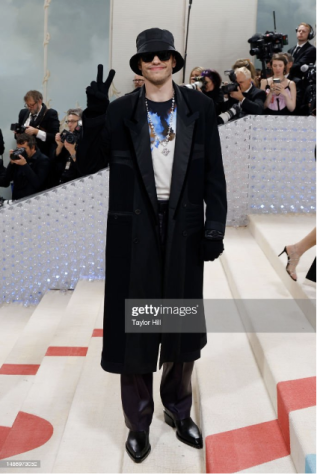 This is the outfit I would wear if I were a reddit moderator going on my first date in my 34 years of life to Gibsons Italia. He's smiling like it's the 2016 derp phase. Also, what is that necklace? Literally, I cannot tell. Like not joking. I tried to zoom in but I still don't know.
Eileen Gu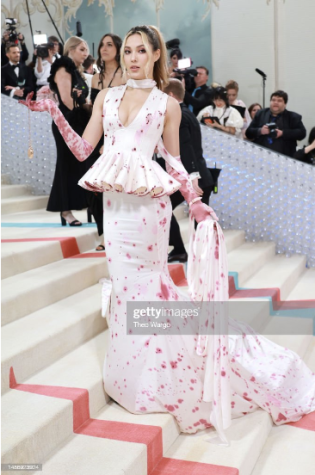 This looks like chicken pox.
Margaret Qualley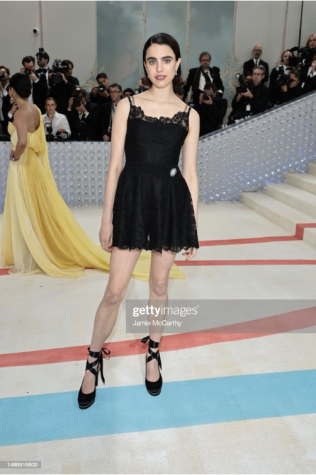 This is so bad it's hard to decide what to start with. Going from top to bottom, the hair. Tried to do a slicked back wet look but failed. Mitzvah dress. The bra straps like are you serious? Why are they brown, and why would you wear a bra with this? The weird, weird, weird little gem on the belt is an atrocity. Actually hurting my head. Lastly, the shoes—no.
Ariana DeBose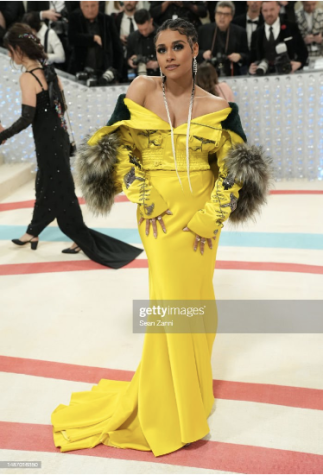 This is ill fitting. The color is atrocious. Why is there fur? What does that add? I don't like anything about this.
View Comments(1)