Union Continues Bargaining, Welcomes New Faculty
While the Latin School Union (LSU) has had some success recently with the collective bargaining process, there is still no visibility on a salary agreement. The faculty are frustrated, as they have been working without a raise for two years in a period of high inflation. They hope, however, to reach an agreement with the administration by the end of the school year.
On May 11, the union met with administration and Board of Trustees representatives in a bargaining session that the union anticipated would include a compensation proposal, but, according to union representatives, the proposal never arrived. Latin trustee Paul Furlow and Chief Financial Officer Michael Szczepanek presented on the "high-level, overall finances of non-profits in general, and the Latin school in specific," US Latin teacher and President of the LSU Elissabeth Legendre said.
"I don't know that I can speak for everybody, but I was disappointed," Ms. Legendre said. "We were just really looking forward to seeing substantial proposals [on Thursday], and so going into the weekend without being able to work on that, I think we're going to need to do some work to figure out what decisions need to be made, then meet together and talk as a whole group."
Head of School Thomas Hagerman said, "Many union members have shared with me their frustration on how long it has taken. Folks who are attending the bargaining sessions seem to understand that it is very complicated work that requires a lot of time and hard work on both sides."
"The School's approach to bargaining has been to try to codify current practices as much as possible," Dr. Hagerman said. "As we are in a 'holding pattern' as we bargain, teachers' day-to-day responsibilities remain the same as in the past."
So far this school year, the LSU has focused on a wide range of issues including job creep as representatives negotiate a first contract, and agreed for much of the year to postpone specific negotiations on salary and benefits until other issues were resolved.
The union has worked to keep the broader Latin School community informed about the bargaining and also to build support for its cause, sending out a newsletter by email following bargaining sessions. Initially, the administration declined to comment on the negotiations, but they then shifted to a strategy of emailing their own newsletter following bargaining sessions, such that there are effectively dueling communications that come out after the two sides meet.
The union newsletters tend to provide more information than the administration's updates but also at times include negative commentary. As an example, the union newsletter of May 11 criticized the administration and board's representatives for failing to make a compensation proposal in the latest bargaining session, referring to the session as "a missed opportunity, a lost evening, and another occasion to doubt the Employer's commitment to reaching a contract in a timely manner."
Still, the LSU is maintaining a hopeful outlook and tempering its criticism with positive comments.
Despite some community members' uncertainty about the necessity of a union since its inauguration in the summer of 2021, Ms. Legendre said, "This year, things have been going really smoothly. I think when you're in the midst of an organizing campaign, there can be some people who disagree whether we need a union or do not need a union. Now we're a union school, so hopefully the students know that there was no change in their experience in the school [as a result of the union]."
At this point, the union plans to continue to support the bargaining process and also to place special emphasis on supporting new faculty.
Ms. Legendre said, "Union leadership did not have any specific role in hiring [the Middle School director or the Assistant Head of School], and I would say, we plan, of course, to keep working with those people like we've been working with the people in the current roles, hoping for a seamless transition. I'm really excited. I think it's going to be really great."
Given the turnover of senior administrative positions this year, faculty have been left to fill some roles, sometimes in interim positions that create vacancies elsewhere.
However, Ms. Legendre's optimism about the new administrators and the union's summer goals seems to be a common sentiment among teachers. US English teacher, LSU Vice President, and DEI Curriculum Coordinator Brandon Woods said, "One thing I will say, one thing the union and the employer have agreed upon is time in the beginning of the year where we can address new faculty, which I think is fantastic for everyone."
On top of addressing new faculty members, the union has secured the same working conditions for "librarians, college counselors, learning resource teachers, and deans … that classroom teachers have," including rolling contracts and a "guaranteed evaluation process," according to the union newsletter of April 29. An evaluation process for a teacher at Latin means having their classes observed and assessed by a senior administrator.
The same union newsletter said, "This is a major step forward that will make a real difference in the lives of these professionals, and will make Latin a stronger place where more people want to work."
One topic the Union seeks to pursue is member education through the Illinois Federation of Teaching. "When you're hired at Latin, it's a lot coming at you at once," Mr. Woods said. "The transition into the school, it's a huge learning curve. And so the last thing I want to do is bombard people with more information."
He noted that union-sponsored member education opportunities like networking and seminars are sent out through email, and it's up to the individual to decide whether to attend workshops. Courses might include debriefs of student loan debt or how to improve teaching skills across subjects.
Regarding new and incoming faculty, Mr. Woods said, "It's more just talking to them and talking about what it means to be a member [of the union]. And, quite frankly, just answering a lot of questions." Both Mr. Woods and Ms. Legendre stressed the importance of a union for the wellbeing of the teachers, which they argue translates directly to the wellbeing of students.
Collective bargaining sessions resume this week. Through counterproposals, Ms. Legendre said, "We go back and forth and tentatively agree to each proposal as we go along. At the end, we have a whole agreement that we've tentatively approved. And then members have to vote to ratify that. So, hopefully, that'll be the work of the early summer."
Leave a Comment
About the Contributor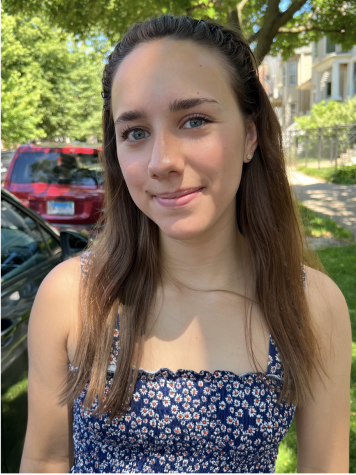 Annie Hallinan, News Editor
Annie Hallinan ('24) is a junior at Latin who is thrilled to be one of The Forum's News Editors this year. In her articles, Annie has covered the Chicago...