Seniors Relate to Ferris Bueller But No Day Off…Yet.
There is a serious outbreak of senioritis among Latin's senior class. The Oxford Dictionary defines senioritis as "a supposed affliction of students in their final year of high school, or college, characterized by a decline in motivation or performance." In other words, seniors are crying, "Get me out of here!" Common symptoms include showing up late to long block, skipping class, not completing homework, and messing around in class.
Senior Leo Romano, who has a severe case of senioritis, said, "It really kicked in late January, early February because I had already finished applying [to every college] that I wanted to apply to and then especially now coming back from spring break, I think it's sunk in for everyone because about 95 percent of the class knows where they are going."
After the exhausting first semester of senior year spent filling out college applications, writing college essays, and visiting schools, students are ready to take a long nap. If that happens during a class, so be it.
Senior Phoebe Kreuger said, "The largest thing would be slacking off on homework. That seems to be a commonality for everyone feeling senioritis."
But in a school known for its overachievers, a sudden lack of work ethic seems unusual.
"Sometimes I wish [senioritis was preventable], because I actually feel better about myself when I am doing a lot of work," Leo said. "I feel like I am accomplishing something and I'm learning something new, and when I'm not doing that, I don't like it. But other times I don't, because I also like staying up late with my brothers and sister, whether it's playing games or watching sports."
While many seniors are 18 during second semester, they are also still young, living with and relying on their guardians. Their last few months of high school also mark the last time they can fully enjoy the luxuries of being a kid and spending quality time with family before they're off to college in the fall.
Seniors will enter the intimidating real world where they have to live without their families for the first time, make their own decisions, and even do taxes. So of course, they want their final days and weeks of high school to be memorable.
Prom and graduation are coming up shortly, which are a couple of the culminating events of high school where the entire senior class comes together before they part ways for college. The excitement around these events does not help to alleviate their senioritis. Face it, thinking about Prom is definitely a lot more fun than taking a math test or doing homework.
While there have been no noted Ferris Bueller's Day Off elaborate schemes to skip school, some seniors have certainly ditched a few classes or developed a disregard for tardies.
Senior Hugh McKee said, "It's funny when people are showing up later and later to class. I've had some classes where there are consistently very few [students], especially long blocks."
Most teachers are fairly understanding of these "senior-like" behaviors.
Upper School science teacher Sarah Kutschke said, "I've learned to read the room and can tell when they haven't been doing any of the readings or checking out whatever is being posted on Canvas, so I just run with it, and we make sure that I cover what they really need to know more thoroughly in our openers and any class notes that we take. I need to be really realistic that at this point in the year, they are likely not necessarily doing the homework as intentionally as they were first semester."
As a potential way to combat this lack of motivation, Latin offers a wide range of electives for seniors and encourages them to pursue their passions. This helps to keep students engaged even when they have a bad case of senioritis.
Ms. Kutschke, who teaches the Human Anatomy & Physiology elective, said, "A lot of [my students] want to go into the medical field, so they are still paying attention in class, taking notes, contributing personal stories, and things like that."
Senior Saniyah Davis, who takes the Human Anatomy & Physiology elective, said, "I 100 percent think that because I am going into nursing, I'm a lot more focused. Also, having a genuine interest in the human body and how it works makes Anatomy & Physiology more fascinating and enjoyable, rather than feeling like the class is a requirement or forced."
Additionally, most of Latin's AP classes are taken predominantly by juniors and seniors, so many upperclassmen are spending time preparing for their AP tests.
Upper School science teacher Jonathan Legendre said, "The external AP exam keeps some of the students focused, especially for students who are trying to earn some credit for the college that they are going to."
Regardless, every case of senioritis varies from student to student, and there is no known cure. But one thing generally stays consistent in each case: These seniors have worked hard the past four years.
Senior Daniel Radner said, "Overall, I think everyone has some level of senioritis. Some large, some small but it's a part of high school. Seniors deserve to relax a bit and celebrate their achievements."
Leave a Comment
About the Contributor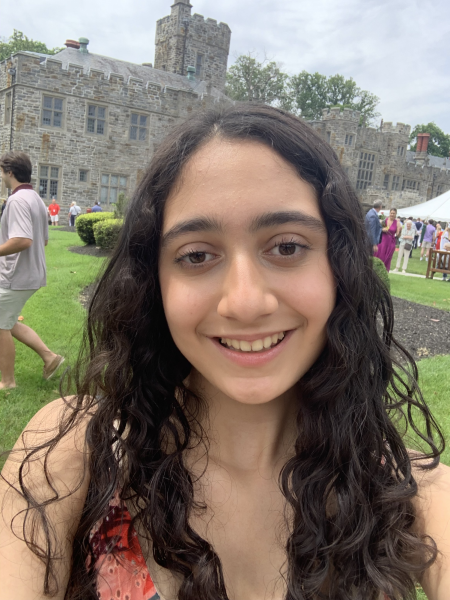 Natalie Arora, Features Editor
Natalie Arora ('25) has been writing for The Forum since her freshman year and is thrilled to return this year as a Features Editor. She looks forward...