New Sophomore History Electives Excite Freshmen
With finals less than a month away and course requests more than two weeks past, the 2023-24 school year is rapidly approaching. As seniors don their caps and gowns, juniors take their place in the front rows of the auditorium, sophomores assume the title of upperclassmen, and freshman trade Global Studies for history electives, two new such classes have wormed their way into the course catalog: Exploring the Communities & Cultures of the African Diaspora; and Imperialism, Industrialization, & the Beautiful Game: A History of Soccer.
Teaching the course on the African diaspora is Middle School Spanish teacher Kia London, who says she is "super excited about working with Upper School students again."
Ms. London said the course will revolve around "really exploring and talking about the resilience and the culture and the traditions, and even current influencers," as well as "the communities [and] the people historically speaking and talking about how the diaspora started."
Specifically, students will focus on the African diaspora in Europe and Latin America, analyzing key questions. "'What's happening here and what can we see here?' 'Is there an evidence of colorism here?' and 'How does what happened here in this particular time period reflect into how Afro-Latinos or Afro-hispanics [are viewed] now?'" Ms. London said.
The course will be very discussion based, Ms. London continued. "I really want the students to have a lot of dialogue—I am there as a facilitator."
The class arose out of a personal interest of Ms. London's. "Right now, as a Middle School Spanish teacher here, I am able to bring a lot of the literature—either that I have found or that I have written and co-created—into the world language classroom," she said. "So when the opportunity came up for me to be able to share it in this way with other students, and specifically Upper School [students], because I know there has been a need for it, I was really, really excited."
As for how planning for the course began, Ms. London said, "I was having a conversation with Dr. [Brandon] Woods, and we worked together on the DEI team, [so] I told him about my passion for the African diaspora and what I do, not only within my own classroom, but also outside of Latin as far as training a lot of teachers—world language teachers—all over the world on how to incorporate parts of the African diaspora into their classroom."
In addition to this course, the class of 2026 is anticipating the History Department's other new sophomore history elective for next year: Imperialism, Industrialization, & the Beautiful Game: A History of Soccer. Teaching this class is History Department Chair Ernesto Cruz, who described the course as "another way of looking at issues of nationalism, race, and industrialization that occur in the 19th and early 20th century."
Although next year is the first year this course will run, it is one of many ideas Mr. Cruz and colleague Peter Strickland, an Upper School Social Studies teacher at North Shore Country Day, have brainstormed together. Mr. Strickland said, "We have informally worked on tons of ideas over the years; many had nothing to do with history or teaching. Plenty more that are school related never reached the point of pursuing beyond a fun idea to try out."
On a similar note, Mr. Cruz said, "[Mr]. Strickland and I—there's probably a dozen classes that the two of us have joked about over the years."
Regarding the discussion that spurred the class, Mr. Strickland said, "Mr. Cruz and I have known each other since we were college students, and a key element of our friendship has always been playing around with ideas over long conversations."
"Much of my initial involvement in this particular conversation occurred during a drive we took together up to St. Paul, Minnesota to see my (awful) Premier League team get destroyed by Minnesota United. This trip gave us the opportunity to chat in a way that we don't have as much time for in our normal everyday lives," Mr. Strickland continued.
"We went to a game, and we're sitting there in the stands, and I basically sketched out this class," Mr. Cruz said. "There's so many ways to tell the same story, and so we're looking at telling the story of the Industrial Revolution, but we're going to use soccer as a vehicle for telling that story."
After that initial planning, Mr. Cruz started "making sure that my objectives for the course lined up with the things that we're assessing in the History Department," he said.
In general, a big part of that process is determining how to best structure a class. For this elective, in terms of assessments, "Leading discussion is going to be a thing that students are going to be expected to do at least once," Mr. Cruz said. "There'll be some writing in there because that's a tenth grade requirement, but there's also going to be more non-traditional summative assessments."
The course's structure will use "quicker units—every cycle we'll kind of jump [to] another topic and keep moving through," Mr. Cruz said. "The first half of the class is Industrial Revolution and empire and how the British empire really gets the game out to everyone. The second half of the class [we'll] start talking about continent by continent, really looking at what are the major figures on this continent that make the game work out the way it does?"
Many of these individual-continent and individual-country stories about soccer relate to broader themes such as imperialism and racism, with Brazil and Uruguay as two notable examples.
As for Brazil, Mr. Cruz said, "The whole notion about Brazilians being great dribblers has its roots in racism. Brazilian refs were instructed to not call fouls if a White player fouled a Black player—they didn't exist, and so players of African descent in Brazil had to learn to be really good ball-handlers because they were going to get straight-up mugged by White players in games, and the refs would refuse to call it."
On the other hand, when it comes to Uruguay, Mr. Cruz said, "The World Cup exists because the previous world championship was the Olympics, and Uruguay won two in a row, and European teams went indiscriminately crazy over this, so they come up with their own tournament that Uruguay goes out and wins anyway."
Freshmen, as they tackle class debates on the Great Reform Act and read their last few chapters of Morillo, are looking forward to their rapidly approaching sophomore year history classes. Specifically, freshman Shane Fifield said he is excited to "learn about sports and the history behind them."
Similarly, freshman Charlie Yannias said he "would love to know the historical background of soccer as a sport and as a culture."
As they head into their first finals season, many freshmen think the unique lens of a soccer history course would be a well-appreciated change of pace from more traditional classes. Freshman Josh Solovy said, "Getting to learn about a sport is a difference. It seems like a great class and I'd love to participate."
Leave a Comment
About the Contributor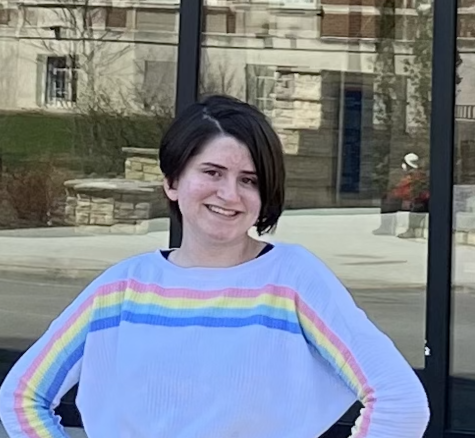 Scarlet Gitelson, Staff Writer
Scarlet Gitelson ('26) is thrilled to be contributing to The Forum this year. A new face to the school, Scarlet is excited to explore the Latin community...