Girls Basketball Dominates Regina Dominican
Latin's varsity girls basketball team defeated Regina Dominican in convincing fashion last Saturday, led by senior co-captain Megen Sanaj, who scored 26 points in the home contest.
Entering the game, the Romans had a 4-2 record, which included a win against Regina Dominican on November 29 that the Panthers hoped to avenge in this second meeting.
From tip-off, it was clear that both teams were playing to win. Regina opened the game with a high-pressure defense that forced Latin to commit multiple turnovers. Throughout the first quarter, both teams were giving it their all, and a putback floater by junior co-captain Reese Benford brought Latin to within a point by the break; Regina 8, Latin 7.
The Romans began using a suffocating full-court press during the second quarter. Latin's strong defense forced several Regina turnovers, many of which the Romans converted on. Freshman Ariel Goodman said, "We made Regina nervous to inbound the ball, and we forced them to speed up to a point where they continued to make mistakes. We were able to turn defense into offense." Rebounding from their offensive woes in the first, Latin ended the half on a nine-point run sparked by a mid range jump shot from Ariel. Going into halftime, the Romans had a commanding 22-14 lead.
The Romans' momentum continued into the third quarter when junior co-captain McLean Moroney blocked a transition layup. As the Romans' lead grew, the team began running more offensive plays. During these plays, jump shots became open, and Megen caught fire; hitting three three-pointers in a row.
"Momentum was very important in this game," Megen said. "My definition of momentum is having energy, and what falls under energy is being a good teammate, cheering each other on, maintaining effort, and playing as a team. When we do all of these, we play our best game." Ultimately, four Romans scored during Latin's 20-point third quarter: sophomore Roya Smith, freshman Ellie Szczerba, Reese, and Megen.
The fans received a bit of comedy during the third quarter when a Regina fan heckled a referee over a controversial missed call. The Regina fan exclaimed, "A good ref wouldn't have missed that call." The referee jokingly replied, "A good fan does not talk to the ref."
After a solid fourth quarter, the Romans won the game 49-35. By the end of the game, six Latin players had scored, and everyone hustled on both sides of the court. Head Coach Max Rouse said, "I'd like to see the team continue to press, play fast, and try to move the ball on offense—really playing team basketball."
Leave a Comment
About the Contributor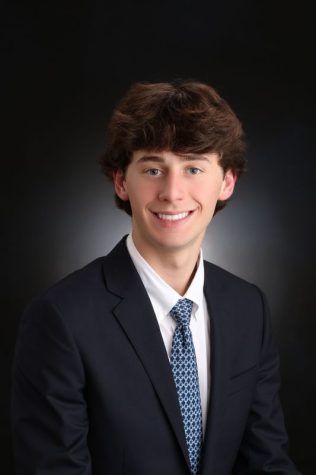 Brandon Shiffman, Staff Writer
Brandon Shiffman ('23) is delighted to continue writing for The Forum this year. In his first year writing for The Forum, Brandon reviewed Winning Time:...