'You Have to Be Dope At What You Do': Nicki Minaj Takes Title as Best Female Rapper
Who is the best female rapper? While this question can be controversial and hard to discuss because every rapper brings different qualities to the table, identifying the best female rap artist is subjective enough that any response can be influential. With that, Nicki Minaj is undoubtedly one of the best female rappers, if not the best, of all time.
In writing this article, it would be a mistake not to mention or give credit to the prolific female artists of the 1980s and 1990s, such as the influential Salt-N-Pepa, Queen Latifah, Monie Love, Missy Elliot, and Lil' Kim. These artists created a foundation to support the female rappers of our time, like Doja Cat, Flo Milli, Cardi B, and, of course, Minaj herself. Additionally, all of these rappers are women of color. It is worth noting that by simply being a woman of color, Minaj has had to overcome much adversity in the music industry, but that this road has become less steep thanks to well-known artists of past generations.
Minaj has also done some of this paving herself, becoming a role model for younger girls.
Minaj's story begins in Trinidad and Tobago, where she was born. She grew up in a household with an abusive father and no maternal presence. She moved to Queens, New York, at only 5 years old. To cope with parental abuse, Minaj created her own, original method of channeling stress: music. At 12, she began to piece melodies together and draft her own rap songs. While other rappers have also had bumpy childhoods, Minaj used hers to grow confidence and to empower other women to do the same. She's proud of her Trinidadian heritage and still repays Queens for all the love the city showed her growing up.
Senior Phoebe Krueger said, "Nicki Minaj was a staple for my sisters and [me] growing up. We knew every word to 'Starships' and 'Super Bass.' She's one of my favorites for sure." Phoebe continued, "I remember only wanting to do Just Dance to her songs." Needless to say, since the Minaj fandom known as "Barbs" gained popularity as a result of Minaj's rise to fame, Phoebe has been a loyal supporter.
Minaj is the best female rap artist not only because of her outstanding music but because of what she stands for. In support of this, junior Reese Benford said, "I love Nicki Minaj because she has so much confidence and her lyrics make me feel more powerful." Reese added, "Also, her beats are so hype and creative. I can always count on her to get my energy up before a game."
Reese ranked her favorite female rappers: "Megan thee Stallion, Cardi [B], and Nicki are tied, followed by Rico Nasty and Flo Milli," she said. Among her favorite rappers across genders are 21 Savage, Pop Smoke, Fivio Foreign, and Kanye West.
With nearly 87 million streams of her 2014 song "Only" featuring Drake, Lil Wayne, and Chris Brown, Minaj dismantles many rumors that have been spread about her. One of the most notable rumors, spread by Miley Cyrus, paints Minaj as the "Angry Black Woman" stereotype. In spreading this rumor, Cyrus claimed Minaj used less-than-admirable methods to make her way to the top of the music industry. Once Minaj clapped back, Cyrus didn't need to say anything; their argument was settled, and Minaj had won.
Remarkably, Minaj tackles the assertive double standard all women face. "When I'm assertive, I'm a bitch," she says. "When a man is assertive, he's a boss." To put it simply, Minaj doesn't come to play. When she sees a problem, she'll address it, and that's the end of the problem. This assertion doesn't make her a bad person, but rather equivalent to a man, or somebody who is a "boss."
Sure, Minaj is competitive, but isn't everyone? In her case, behind this competitiveness lies a deep desire to see other women succeed. One of her first songs, "Still I Rise," is all about uplifting other women despite competition.
Minaj brings many admirable qualities, implicit messages, and activism to the table through her iconic rap songs. In short, there's no better female rapper out there. One might claim, even, that there's no better rapper, period. Minaj absolutely eliminates her rap competitors, and one of her strongest assets is her humility in recognizing that success and activism aren't mutually exclusive.
"She is a very influential and also timeless female rapper," Phoebe said. "She continues to produce music and inspire women around the country."
Leave a Comment
About the Contributor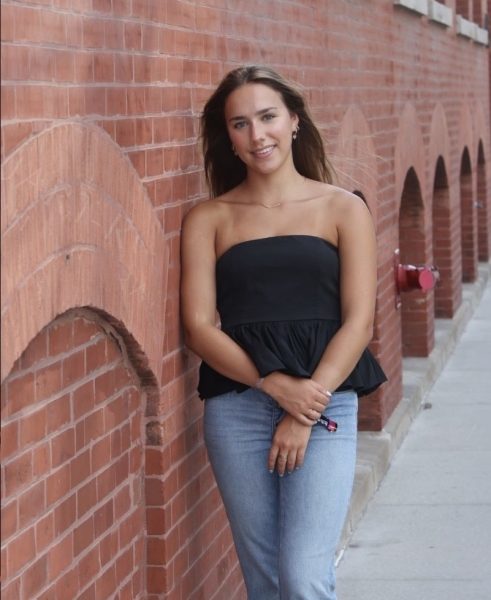 Annie Hallinan, Managing and Standards Editor & Media Editor
Annie Hallinan ('24) is a senior at Latin who is beyond excited to return to The Forum for her third year on staff. Aside from serving as Managing &...