Latin Alum Simon Ricci '16 WINS 2022 San Francisco Marathon
Among the long list of famous and accomplished Romans, Latin can now add this year's San Francisco Marathon winner—Simon Ricci '16!
On July 24, 2022, roughly 25,000 runners competed in the annual San Francisco Marathon. Simon won with a time of 2:31:42, averaging a pace of 5:47 per mile for the race.
Simon has been running since fifth grade, when he was on Latin's Lower School cross country team. While he dabbled in soccer in sixth grade, he ultimately came to the realization that running was his passion. "Since seventh grade, running has never been in doubt," he said.
Simon went on to run on Latin's Upper School varsity cross country and track teams under the coaching of Head Cross Country and Track and Field Coach Dan Daly.
Coach Daly has developed many successful athletes in his years at Latin and is focused on his athletes understanding a few key things to help guide them through their running.
"My number one piece of advice is to have fun and enjoy the process," Coach Daly said.
Simon says Coach Daly played a huge part in fostering his love for running and emphasized the importance of truly having a love for the sport. "Coach Daly never overdid it—it was always focused on having fun, enjoying yourself, and being healthy and happy," he said.
After Simon's adoration for running began to blossom, it was only a matter of time until he was Latin's first male All-State athlete in cross country. Simon then went on to the California Institute of Technology, where he continued running on their cross country and track teams.
Simon explained that his Caltech coach, similar to Coach Daly, focused on the importance of loving the sport. Simon ran throughout college, and after graduating, continued to keep up his running habits. Simon said, "Running rarely ever feels like a chore," which is exactly what Coach Daly wanted for Simon and is what he continues to preach to his current athletes.
Coach Daly also said that his runners, Simon included, tend to have a strong internal sense of motivation. "They are dedicated, determined, and disciplined," he said.
Simon had wanted to run a marathon for a while—specifically in Boston or Chicago—but he realized that they were both difficult to get into due to Boston's qualifying time and Chicago's lottery for guaranteed entry. He didn't want to wait to be selected for either Boston or Chicago, so he decided to settle for the San Francisco Marathon.
"The goal was really to hit a qualifying time, not to win the race, which was completely unexpected," Simon said. Simon trained by running long distances and decided that he wasn't going to push himself in insane ways, given that it was his first marathon.
He had no expectation of winning, or even being close to it. "I told my parents they didn't need to come because I didn't think that anything interesting would happen," he said. Rather he was trying to get a feel for running a marathon to prepare himself for a larger one, such as Boston or Chicago.
While Simon felt his huge accomplishment after finishing, he was exhausted. "It was super exciting, but I was so tired after I finished," he said.
Sophomore Ellie Anderson, an athlete on Latin's cross country and track teams, said she is inspired by Simon, given that she hopes to run a marathon one day. "It is thrilling to see a fellow Roman achieve such great success," she said. She also highlighted the importance of loving to run, which is a common theme emphasized by Latin's runners. 
Simon's victory is inspiring and his actions serve as a motivation to some of our own Romans. "It motivates me to do the same," Ellie said.
Leave a Comment
About the Contributor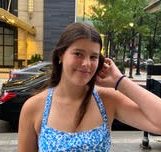 Juliette Katz, Staff Writer
Juliette Katz ('25) is delighted to be returning as a staff writer her second year of writing for The Forum. Juliette loves writing about current events,...