Oh, to New York McKennzie Boyd's Play Goes!
Out of over 100 entries from all across the country, sophomore McKennzie Boyd's play Southside Summer won #Enough's annual nationwide writing competition looking for 10-minute plays addressing gun violence. As one of eight winners, Southside Summer is receiving feedback from respected playwrights, is being published in a collected anthology to be licensed for future productions, and will be performed in dozens of communities across the United States.
Southside Summer depicts the journey of a young mother, her son, and her daughter living on the South side of Chicago, where, as McKennzie said, "Guns don't discriminate based on how young or old you are, but it's the color of your skin that can change which way the gun faces." Naomi Iizuka, a renowned playwright and member of the #Enough Panel, said, "The writing in [McKennzie's] play is so strong and, at moments, extraordinary. This is a writer with a singular and compelling voice. The play has a formal scope and ambition."
McKennzie said, "I was motivated to write this play because I wanted to show the side of living on the South side not portrayed in the media. Most of the kids in the neighborhood spend the majority of their time hanging outside, especially during the summertime. People think it's nothing but guns, drugs, and gangs without highlighting the almost nostalgic aura of the South side."
McKennzie noted that her writing process consisted primarily of "writing down everything [she] thought in a notebook." She said, "It was messy and ripped and unorganized, but I was able to form a poem from these ideas, which is what I used to base my play off of." Despite her evident talent, the process wasn't all sunshine and rainbows. "The hardest part of writing was actually hearing my piece out loud," McKennzie said. "It feels so strange to hear people and how they interpret your text, so it took a good amount of time to be able to hear the actors read the scripts without cringing."
However, McKennzie also said, "As a playwright, I normally enjoy being in the wings watching others but also being a professional actor, it felt nice to be seen for the work that I created." She particularly emphasized, "One of the highlights was getting feedback from professional playwrights, some of whom have been featured on Broadway. They described my writing as extraordinary, lyrical, and necessary. They told me that my play needed to be seen, and that was one of the best moments of my life."
After winning the competition, McKennzie said, "I felt glad that people couldn't only hear me but could also hear the stories of those around me who have been too afraid to stand up in terms of dealing with being Black on the South side, including gun violence and police brutality." With her play being produced in New York, she sees the opportunity as "one step closer to [her] dream"—to attend school in New York and eventually make it to Broadway.
When asked whose input she valued most with regard to her writing journey, McKennzie said, "There are many people I could thank for helping me along my path as a writer, but one person who really pushed me to use my talent for a purpose was Dr. Richard Dickinson III, Latin's Middle School Dean, who I simply call Dr. D. He helped me translate the emotions I was feeling into a healthy way of releasing them."
McKennzie's sister, sophomore McKayla Boyd, is "ecstatic" for her. "I was one of the first people she told, so naturally it was hard to keep it a secret," McKayla said. "I was so proud of her because I knew she was finally living her dream. I always knew she was a good writer, and she made my heart smile when I found out. Whether it's helping her read through a scene or giving critiques, I'm happy to help her with anything to make this play a success."
View Comments(1)
About the Writer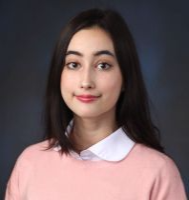 Sofia Grimm, Digital Editor & News Editor
Sofia Grimm ('25) is delighted to serve her second year as Digital Editor and her first year as News Editor. Her third year writing for The Forum, Sofia...