Taylor Swift's 'Love Story'—Forever & Always a Fan Favorite
For some of us, Valentine's Day means buying overpriced flowers and a heart-shaped box of chocolates to impress that special someone in our lives. For many others this year, the Hallmark holiday had the same mundanity as any other Monday, perhaps just an excuse to bust out that one red sweater that normally goes unworn.
But regardless of your feelings about February 14, there's one thing all of us can (hopefully) agree on: Taylor Swift's 2008 smash-hit "Love Story" is the perfect love song to brighten even the gloomiest of winter days.
With a total of nine albums under her belt, Swift's dynamic repertoire proves she's capable of breaking boundaries as a visionary musician. But there's a reason listeners come back to "Love Story" time and time again. Despite releasing the song when she was only 18 years old, Swift's evocative lyrics and Elizabethan-era references show an unparalleled level of maturity and artistic creativity, instantly transporting her listeners to a magical, far-off wonderland.
Remarkably, "Love Story" is just as captivating almost 14 years later; its lyrics serve as the perfect escape from the ominous, COVID-centric headlines today. Though many high schoolers seem to know the least bit about love, the song's happily ever after storyline suggests that anyone, no matter their age, is capable of feeling real human emotions—a welcome relief from the naysayers who assume young people are unqualified to experience true love.
The song, which Swift wrote in 20 minutes on her bedroom floor, centers on the classic tale of star-crossed lovers, Romeo and Juliet; however, the ending is much different from the 16th-century story.
In a 2008 interview with the Los Angeles Times, Swift challenged Shakespeare's vision that the play was meant to end in tragedy. "I feel like [Romeo and Juliet] had such promise, and they were so crazy for each other. And if that had just gone a little bit differently, it could have been the best love story ever told," she said. "I thought, why can't you make it a happy ending and put a key change in the song and turn it into a marriage proposal?"
With lyrics as delicately crafted as Shakespeare's illustrious writing, it's no wonder "Love Story" continues to win over listeners years later. Last April, Swift released the re-recorded version of her album Fearless, which includes "Love Story" in addition to 25 other tracks. The album was Swift's first attempt to reclaim the rights to her music following a scandal with her original record group partnership. Within days of its release, "Love Story" climbed to number one on Billboard's Hot Country Songs chart.
Despite sounding nearly identical to the original edition, "Love Story (Taylor's Version)" has more grit from the pop-focused superstar and slightly less country twang. Her lyrics seem to hold even more power, too. Up until the latter portion of the song, Swift sings in past tense, only switching to the present for the lyrics, "This love is difficult, but it's real." Now, at 32 years old, it's safe to say that Swift has a much stronger idea about how love can be both "difficult" and "real" at the same time.
Simon Vozick-Levinson, Deputy Music Editor at Rolling Stone, said it best: "Instead of a bright, shining act of writerly projection, like it was in 2008, this 'Love Story' is full of rich, complex emotional flavor, performed by someone who's learned how the love stories in your head can differ from the ones you really go through."
Even so, Swift's Nashville roots are easily recognizable in the re-recorded version, as banjo plucks and fiddle chords still flicker in the background. It's clear that Swift hasn't lost her connection to the past after years of stardom and fame, showing her listeners that she's still the same person who spent her teenage days climbing the country charts.
Perhaps Swift's humility is what makes listeners so inclined to revisit past albums and play her songs on repeat, even when they've heard the same lyrics a million times over. Many of us share a sense of nostalgia when listening to any of Swift's chart-topping tracks, and it's no surprise that Fearless continues to be her best-selling album of all time. By reimagining Shakespeare's Romeo and Juliet and turning tragedy into triumph, Swift's rich imagery and transportive lyrics encourage listeners to redefine the outline of their very own lives.
Next time the chaos of the world feels all-consuming and like there's barely any room to breathe, press play on "Love Story" and send yourself to a safe haven far away from reality—it's the perfect mid-winter escape this Valentine's season.
View Comments (1)
About the Contributor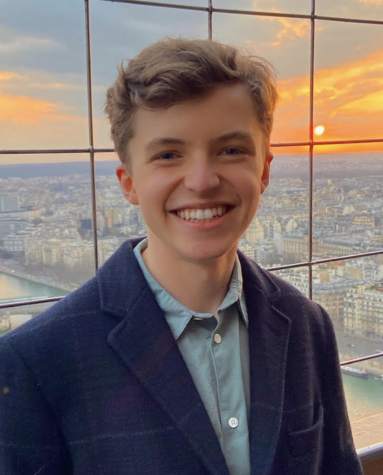 Will Baiers, Features Editor
Will Baiers ('23) is a senior at Latin and could not be more excited to serve as a Features Editor. Will has a passion for spotlighting current events...