Coach K's 🅿️-Pushers: How an English Class Became a Real Basketball Team
On January 29, Upper School English teacher Lang Kanai, along with sophomores Dillon Romano, Mitch Romano, Diego Miranda, Micah Oommen, and junior Leo Romano, traveled up to Waukegan for the self-proclaimed "P-Pushers'" first Amateur Athletic Union (AAU) basketball tournament.
In one of Mr. Kanai's 10th-grade Middle Eastern and South Asian Literature (MESA) classes, Mitch and Dillon proposed the idea of forming an AAU team, coached by none other than Mr. Kanai. Mr. Kanai said, "I wasn't initially leaning towards accepting [the coaching job], but when [Dillon] said he could offer me an eight Pop-Tart signing bonus, it immediately sealed the deal." From that moment forward, Mr. Kanai became known as 'Coach K' to his P-Pushers.
The P-Pushers were founded on the basic principle of having fun and getting the chance to spend time with friends. Starting point guard Mitch said,"I kind of lost my love for the game a little bit, but it came back to me when I was shooting around with all the boys." The players and their coach made the trip to Waukegan hoping to have a blast.
The phrase "Pushin-P" comes from Gunna's new album, DS4EVER, and is used to refer to someone who is doing a good deed. "Gunna is trying to be a force for good in this world, and that's what we are all about in English class," Coach K said when asked about the origins of the name. He added, "Lots of P was pushed in Waukegan on the day of the tournament."
"I feel like it's important to support our youth basketball players," Coach K said. "It's key we get out there and have some fun."
Some questioned the legitimacy of the team, but after an announcement by Coach K at an Upper School gathering, and an email sent to the members of the team, everyone knew the P-Pushers meant business. "I've heard all the criticisms, all the doubters, fakers, flakers, and even some corner store bakers," Coach K wrote in his hype email to the P-Pushers. Criticism likely comes from the fact that Coach K actually has no basketball coaching experience.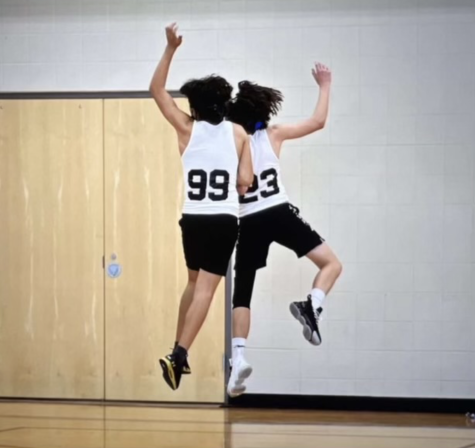 The team pulled up to the site of the tournament sporting white tank tops with duct taped numbers as their jerseys. "Our budget was tight, but our jerseys were even tighter," Leo said.
With zero practices, the P-Pushers' debut game was a huge upset, a shocking loss of 66-26. Coach K's squad was then overtaken 98-44 in their second game. "To our credit," Coach K said, "we really defended the alley-oop dunk extremely well, and we didn't give up any, even though many were attempted on us."
"Our team chemistry was unmatched," Mitch said. "Our defense was atrocious, and we were getting dunked on, but, I mean, it was fun. We were laughing and having a good time."
Coach K and his team said they loved the experience and could see another tournament happening in the future, granted another Pop-Tart bonus, of course.
Formed from just the simple desire to play basketball with friends, the P-Pushers blossomed into a true team with determination and support from their coach. Coach K, Mitch, Dillon, and Diego all gave the same advice: "Just go for it if you want to do something."
Leave a Comment