Undefeated Latin Girls Hockey is Going for the Gold
The Latin girls hockey team has been unbeatable this season and is ranked number one in the state of Illinois. With 17 wins, 0 losses, and 2 ties, the girls have been dominating the ice and are skating their way toward the State Championship tournament with true Roman spirit, despite the majority of the team's players not attending Latin.
The team, which is officially called the Chicago Romans Hockey Club, is unique, as it includes students from Latin, Lane Tech, St. Ignatius, Lincoln Park High School, Whitney Young, and Walter Payton College Prep. According to the club's website, the girls Hockey Club program began in 2010 and has had a noteworthy history of success. In 2015, the team captured the coveted Blackhawk Cup by winning the State Championship at the United Center, and the team has finished in the top four in the state for the past three seasons. Players in the program have gone on to play at NCAA Division I schools such as Harvard and Cornell, and current seniors on the team are already committed to Princeton and the University of Connecticut.
Latin senior Margot Bettman, who is one of the captains and is committed to Gustavus Adolphus College for hockey, said, "Our team is really interesting because we pull from six different schools." She continued, "This gives us the chance to put together a super competitive team with girls from all over Chicago."
The club currently includes two teams, Blue and Orange, which are organized by grade, skill, and outside hockey club involvement. Carla McSweeney, a Latin freshman on the Orange team, said, "Our team is currently undefeated and ranked number one in state. We are looking forward to a run at the State Championship, and winning our league."
The Orange team's coach, Anna Zorn, who played hockey at Cornell and has been coaching the Romans Hockey Club team for three seasons, also praised the team's impressive skill and outstanding record. She said, "So far this year, we have consistently been at the top of the standings and have had great success offensively and defensively."
When asked why she thinks they have been so successful this season, Margot said, "We have all played with each other for a long time, whether it be at our club teams or at Latin, and that makes the atmosphere fun and positive, which I feel is a huge contributor to our winning record."
Latin senior Pickle Coleman, another team captain, said, "I have been on a ton of different hockey teams in my life, and I have never seen so much camaraderie and success in a team."
Zoe Larsen, a sophomore who is a member of the Blue team, also witnessed the camaraderie on the rink when she went to cheer on the team at their Senior Night game against Naper Valley, which they won in a shutout—5-0. Zoe said, "The seniors seemed so happy to be out there playing their Senior Night game, setting each other up for some really nice shots, and the whole team worked really well together." She also described the atmosphere in the stands, saying, "Everyone was holding signs, cheering, and showing their Roman pride." She added, "I think more people should come and watch girls hockey, especially because women's hockey is extremely underappreciated compared to men's hockey."
Despite their impressive season, Latin girls hockey is considered a hidden gem—a sport that seems to get little attention in the Latin community. Carla said, "I would say the main reason that Romans hockey isn't well known around school is because until recently we weren't ever mentioned at gatherings or in Run Down emails. Another may be our home games are all held off campus, at Fifth Third Arena [Chicago Blackhawks Community Ice Rink]."
Margot echoed Carla's frustration with past lack of recognition, but also said, "In previous years, we have not been publicized as much as some other winter sports, although student government has been doing a wonderful job including us this year in the winter sports traditions."
Looking toward the future of Latin girls hockey, Margot said, "My hope is that, eventually, people will start talking more about the sport and maybe even come to some games." She also pointed out that Sami Aday, Latin's beloved lobby receptionist who is always the loyal Roman fan, has come to three of the last four games. He is such a passionate girls hockey fan that when he requested a custom Romans hockey jersey from the team, he got it. Margot said, "It's so awesome to see him there supporting us, and everyone on the team loves his spirit."
Pickle concluded, "We hope to continue this record and bring back a State Championship in early March!" So, take a look at their game schedule and come out and root for Latin's very own "miracle on ice" as they vie for the State Championship.
View Comments (2)
About the Contributor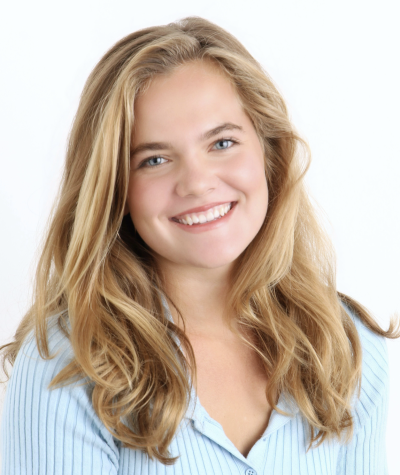 McLaine Leik, Managing and Standards Editor
McLaine Leik ('23) is thrilled to serve as The Forum's Managing and Standards Editor this year! She has been writing for The Forum since her freshman...