'The Holiday': A Refreshing Homage to Love
At first glance, The Holiday presents itself as an unimpressive romantic comedy with the same predictability as the latest Lifetime or Hallmark debut. After all, what's to like about a movie with a story you've seen a thousand times, or where the trailer seems to spoil the ending without even trying? Despite facing criticism from the many Ebenezer Scrooges of this world, the 2006 film finds redemption by paying a realistic homage to love in the 21st century. Unlike its many sugarcoated predecessors, The Holiday is relatable and draws straight from reality. A witty array of actors certainly helps, too.
While the over two-hour runtime might be daunting at first, the parallel storylines that unfold make the time fly faster than Christmas morning. The Holiday opens with Iris (Kate Winslet), a desperate-for-love newspaper columnist who ironically writes about London's latest weddings in The Daily Telegraph. Still smitten with her ex-boyfriend and co-worker (Rufus Sewell), Iris is devastated upon learning he's been recently engaged to another girl.
Winslet—albeit a typical casting choice for love stories that deal with foreseeable heartbreak (i.e., Titanic and The Mountain Between Us)—gives a convincing performance and encounters moments of both despair and optimism. Her classic British charm makes Iris likeable and never stale, as she remains resolute in spite of her unsuccessful love life. Desperate for change, Iris decides to escape snowy London and spend Christmas elsewhere, proving she doesn't need other people to stand in control of her own decisions.
Contrary to many other Christmas movies that frame women as hopeless without men in their lives, The Holiday offers a fresh perspective by eventually portraying Iris as dually happy and independent. When it seems like playing a comparison game is far too easy, finding positive representation in the media can be difficult; The Holiday is a welcome exception. This encouraging spotlight on self-autonomy is typical for director Nancy Meyers (think Anne Hathaway's The Intern or Reese Witherspoon's Home Again), and is even more refreshing for a romantic Christmas movie.
But the story doesn't end there. Amanda (Cameron Diaz), runs a successful film business and is The Holiday's other protagonist. Much like Iris, Amanda also grapples with a recent breakup, causing her palatial home in the Hollywood Hills to feel a whole lot larger. After seeing Iris' charming English cottage on a house-swap website, Amanda explains her story, and the two arrange plans to switch locations the following day.
Although Diaz's performance might not be dropping any jaws, her over-the-top L.A. lifestyle is rightfully contrasted with a relatable sincerity and desire to be accepted. Perhaps even more so than Iris, Amanda refuses to let her failed relationship stop her from being satisfied. In fact, when messaging Iris on the house swap website, Amanda is relieved to learn there are almost "zero" men living in Iris' secluded village. Both protagonists, despite living different lifestyles, ultimately promote individual happiness over relying on other people as their sole support systems.
Feeling as if she's witnessing a true Christmas miracle, Iris is elated upon settling into Amanda's not-so-humble abode. On the other hand, Amanda struggles to pivot from sunny California to snowy England, forcing her to question whether she made the right choice. Yet the dynamic changes when Iris' brother, Graham (Jude Law), drops by, and Amanda considers how this unexpected arrival might be a sign to stay. While finding love within a matter of hours is no doubt unrealistic, Amanda and Graham relate to one another and navigate their separate journeys together. Allowing characters to be completely vulnerable without fear of repercussions, The Holiday showcases the ins and outs of modern love—steering through challenging themes like loss, divorce, single parenting, and infidelity.
Back in Hollywood, Iris meets Miles (Jack Black), an affable movie composer who drops by Amanda's house. While Miles is only a side character, Black finds moments to take center stage and is one of the film's most memorable characters. He also provides ample comedic relief to lift Iris out of her grief, serving as that one friend everyone needs when going through a tough time.
As with any movie that's set around the holiday season, music is a crucial part of storytelling, and The Holiday excels at setting the right mood through its beautiful score. With a soundtrack composed by Hans Zimmer—who also worked on films such as Interstellar, Gladiator, and this year's Dune—The Holiday is both a visual and auditory delight. Zimmer's composition is entirely original and yet manages to evoke a sense of familiarity and nostalgia.
The film's costumes, designed by Marlene Stewart, are also worth mentioning—particularly Amanda's chic, L.A.-inspired look. Watching Amanda navigate snowy England wearing designer heels is especially comical, and the costume choices are spot-on when considering characterization.
While the film's ending is far from surprising, those seeking a satisfying two-hour escape can find solace in The Holiday's wintry cheer. Largely redeemed by strong casting, a relatable storyline, and a whimsical score, the film is both fresh and heartfelt. Before the end of this year, do yourself a favor: pour a cup of hot cocoa, find a cozy seat around the fireplace, tune out the rest of the world, and get the entire family together to watch The Holiday. You won't regret it.
Leave a Comment
About the Contributor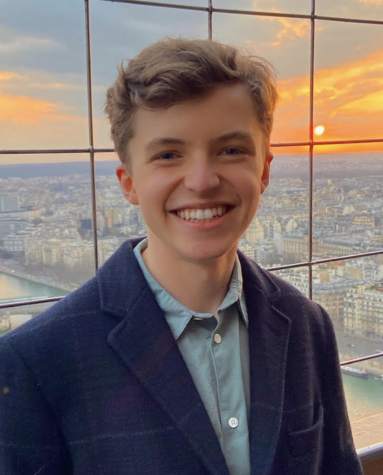 Will Baiers, Features Editor
Will Baiers ('23) is a senior at Latin and could not be more excited to serve as a Features Editor. Will has a passion for spotlighting current events...