The Transition to Upper School: How are Freshmen Doing?
The infamous transition from middle school to high school is difficult for all students, but Latin's freshman class has an added challenge this year: COVID. Freshmen not only had to adjust back to in-person learning, but also had to adjust to a new learning environment.
For returning Latin students, their grade has doubled. Jackson Darke, a returning freshman, thinks this is a positive thing. "There's a lot of new people to meet and be friends with, which makes school a more fun experience," he said.
Aria Balani, a new freshman who attended Gems World Academy, shared her opinion on the transition. "Coming from a small school where I only had 14 kids in my grade, Latin is certainly an adjustment. I'm glad I get to meet new people, but it can be a little overwhelming."
Freshman Kayley McCutcheon feels similarly. "A con for some people, whether they are new to the school or not, is that lots of new people can be stressful."
To make the social transition easier for Upper School students, Jackson suggested that he and his fellow freshmen should have more time with their Roman2Roman (R2R) buddies. The R2R program is a student-run committee that matches freshmen with upperclassmen who share similar interests. This way, freshmen have an upperclassman that they meet on the first day of school, and they can go to them for help if needed.
Many freshmen, both new and returning, agree that they have struggled more with time management and the increased workload compared to their Middle School days. "I think the biggest challenge I've faced this school year is time management," Aria said. "It's sometimes difficult to prioritize homework while balancing sports and other commitments. I think Latin can help make this aspect easier by making sure teachers are coordinating their big tests and assignments. It's stressful to have a lot of big projects due at the same time."
Raphael Uchoa de Paula, a new student this year, said, "I think that it has been a relatively smooth transition so far, and it is one that you can easily adapt to," but added, "There is a lot more homework this year."
Latin's Upper School also offers students more independence. The school is an open campus, meaning that students can walk in and out of the school freely as long as they scan their ID badges and they are on time for their classes. This allows students to eat lunch off-campus, study with their friends at PiniPico during a free period, stop by Starbucks to get a coffee during the day, and more.
However, with more independence comes more responsibility. "Compared to Latin's Middle School, high school has a lot less flexibility and communication," Kayley said. "In Middle School, my teachers encouraged meetings for those who didn't understand the material. In Latin's Upper School, from what I've experienced, teachers don't exactly make it easy to meet with them."
Still, students have varying opinions on how much COVID has affected their high school experience thus far. "I think that this school year feels very normal compared to last year," Aria said. "The masks are helpful to keep us all safe."
Raphael said that COVID hasn't impacted him beyond having to wear a mask all day. "It hasn't affected my transition, as I was in person all year last year," he added.
However, Kayley, who has attended Latin since Junior Kindergarten, feels differently. "COVID has been part of my Latin experience for so long, but I'd say it has affected my transition because of my expectations," she said. "Both my siblings and my dad taught and learned here, so I am familiar with many [Latin] traditions and events, and so far it's been disappointing because our school can't carry out said traditions for now because of the pandemic."
All this being said, Latin is extremely lucky to have all of their students safely attending in-person school this year. Aria said, "Overall, I'm really glad that I'm meeting new people, and I'm really enjoying Latin so far."
View Comments (1)
About the Contributor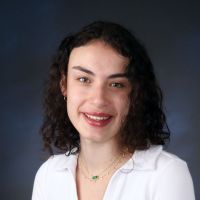 Natasha Benjamin, Staff Writer
Natasha Benjamin ('25) is delighted to be contributing to The Forum as a staff writer this year! Natasha joined The Forum staff her freshman year because...