Prom 2021: A Shred of Normalcy
Prom, the first in-person, class-wide senior event of the year, will take place on May 22. The event will be limited to seniors and faculty chaperones only. The event's organizers, Dean of Community Learning Suzanne Callis and senior Olivia Katz, are still deciding on a venue.
For students who have not stepped foot on campus yet, Ms. Callis said, "Remote students can still attend these events!" Using the results from the Senior Spring Events Survey, Olivia and Ms. Callis gauged the senior class' level of comfort with different activities and adjusted accordingly. Food will not be served; dancing will be allowed; social distancing will be strictly enforced; tickets will be free for everyone.
The free Prom tickets reflect a notable departure from previous, more costly customs. In 2019, tickets to Prom at Gallagher Way were $120 each. Ms. Callis said, "I am committing to using my budgets that I have for other events." The deans have a budget that they use for student events, such as tie-dye in the park or the food trucks that they hired in the fall of this school year. Unfortunately, however, this does not mean every future Prom will be free. "This is not something that we do normally. It's not something that this budget is for, frankly. It's not something that is sustainable for the future," Ms. Callis said. "We make sure that anyone who wants to go to Prom can go, but I didn't really want anyone paying for a Prom ticket this year. The senior class missed so much last year, and you've missed different things this year, too, and it's exciting that you get to have some of those things right as the year is ending," she said.
"There are lots of things you all are considering when you decide whether to come to an event right now—given the pandemic, given the state of the world, given who you are and where you are and what is the right decision for you personally. I did not want costs to be an additional factor in making an already potentially difficult choice," Ms. Callis said.
Due to venue and budgetary constraints, Prom will only be for seniors this year. Junior Jonah Hart said, "Seniors and freshmen have taken the hardest hits this year, so I would definitely say that having Prom exclusively for seniors is a good move. We've got next year. I think this feeling is mutual throughout the junior grade." There will be grade-level activities planned for grades 9 through 11, but they will not be dances.
It seems that many seniors are happy to have a social event to look forward to, even if the new constraints pose additional difficulties. "I'm so excited that we at least have something so we can celebrate together, but I'm sad that my friends and I can't bring our significant others from out of school," senior Maeve Healy said.
At the moment, there are a few uncertainties regarding the venue, as Chicago regulation currently mandates that a maximum of 100 people can gather together outdoors. There are 113 seniors, and there needs to be enough capacity for chaperones as well. The Illinois Department of Health says that vaccinated people do not count as part of the maximum capacity for outdoor events, but the Chicago Department of Public Health does not make that distinction. Ms. Callis said, "It [Illinois beyond Chicago] isn't as densely populated as Chicago is, so the rules are different, but ultimately we have to follow the CDPH."
The reality is, planning anything at this time is complicated because the regulations could be different a week later. Olivia said, "We couldn't really plan anything until like March, because things just changed so fast with COVID, but you never know." As of now, Olivia said, "We're hoping to be able to have it on a rooftop where we'd be able to be in the same outdoor venue together, which would be really great. If that doesn't happen, it would be tented somewhere in Lincoln Park." As soon as the planners have a venue, they will send an update email to students.
"I'm proud of the senior class," Ms. Callis said. "I feel pretty confident speaking for the rest of my team and the rest of the faculty—as much as these events are about you all having moments with your class and your grade, they're also about us getting to show how grateful we are that we got to spend four years of time with you, too."
Leave a Comment
About the Contributor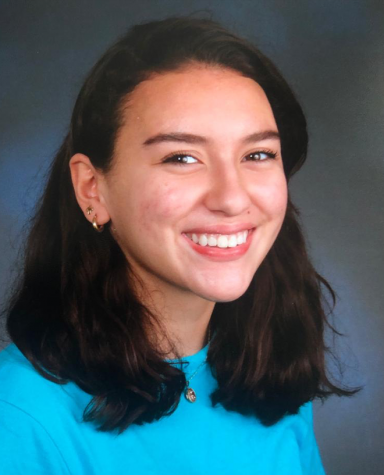 Angela Gil, Features Editor





Angela Gil ('21) is a senior at Latin and is honored to be serving as ​The Forum​'s Features Editor. She has written for ​The Forum​...