17 Latin Athletes Bound for College Competition
The college recruitment process amid the COVID-19 pandemic placed obstacles in front of hopeful recruits, yet 17* of Latin's very own student athletes—the second-largest such group in school history—will continue competing in their respective sports at the collegiate level. The relatively large number of athletes represents one of the most diverse classes in terms of the variety of conferences and regions around the nation. Latin's Director of Athletics Sonny Lim sees commitment as these athletes' greatest quality, not only for their particular sport, but to their teams, teammates, and coaches.
"We are all so, so very proud of each of them," said Mr. Lim. So, join the Latin Athletic Department and The Forum in congratulating the following outstanding student-athletes.
Eli Aronson (Baseball, Denison University)
Since the eighth grade, Eli knew he wanted to continue his baseball career by taking it to the collegiate level. The culture of both the university and the baseball program impelled Eli to commit to Denison University. Additionally, Eli looks forward to building on the program's recent success, and, ultimately, to win a national championship. "At the end of the day, baseball is supposed to be fun, and winning is fun," said Eli.
Peter Bernhardt (Cross Country and Track and Field, Kenyon College)
"I decided that I wanted to pursue college athletics last summer, and I thought it would be a good decision because it would allow me to continue competing at a sport I am passionate about," said Peter. He chose Kenyon because of the welcoming, close-knit community and its rigorous liberal arts offerings. Regarding Peter's goals for running in college, he hopes to keep improving his times while fostering an environment of hard work.
Colin Campbell (Soccer, Wesleyan University)
After watching Latin students before him pursue college athletics, an inspired, then-freshman Colin followed suit. Throughout his high school career—playing for Latin and his club team—Colin learned never to give up despite the challenge. "Whenever you think you're down and out for good, know there's always a chance," he said. He ultimately chose Wesleyan because of its academic system's freedom, and the intense competition playing in the NESCAC (New England Small College Athletic Conference). In the conference, some freshmen are seen in starting lineups while rosters consist of roughly 40 players. Colin hopes to experience even more friendships and successes over the next four years at Wesleyan.
Molly Canfield (Equestrian, Baylor University)
In January of her junior year, Molly Canfield committed to riding at Baylor. Since her days in Middle School, Molly had the intention of exploring riding opportunities in college. "I chose Baylor because I felt at home both with the community of the team as well as the school as a whole," she said. Until Molly starts riding with Baylor Equestrian, she will not have experienced the team aspect of the sport, as it is an individual sport until the collegiate level. Molly is looking forward to continuing her passion for riding and bonding with a team community.
Cole Fuller (Soccer and Track and Field, Oberlin College)
"I decided to play soccer at the next level because I found a new and unique 'ability' that none of my teammates had, and decided to use that to my advantage in the recruitment process," said Cole. He saw his role as a hurdler as a "bonus" in the recruitment process, considering the difficulty of finding hurdlers on track and field rosters. The factors that attracted Cole to Oberlin include the welcoming and supportive coaches, overall school size, and the ability to continue his piano and guitar studies at its prestigious conservatory. Anticipating a competitive environment on the soccer field and track where he can form a close group of friends, Cole looks forward to continuing his athletic career at Oberlin.
Anees Goparaju (Tennis, New York University)
From her freshman tennis season, when she felt an instant connection to the team, Anees knew she wanted to play tennis at the collegiate level. "Having that experience really opened up my eyes to this whole new community that I've never experienced," she said, "and I knew from that moment that I wanted to continue this journey throughout my college experience." Her "absolute love" for New York City, coupled with the ability to continue her passion for tennis, ultimately made Anees choose NYU. While reflecting on her tennis career so far, Anees found that harnessing toughness—both mental and physical—helped drive her to the point where she stands today.
Sujan Garapati (Tennis, Bowdoin College)
Entering the college process looking for the best fit for himself, Sujan found Bowdoin to be just that. To make matters even better, it came with the opportunity to play four more years of the sport he loves—tennis. With a "collaborative campus culture" and a magnificent location, Bowdoin stood out. Sujan hopes to continue working hard in every practice and challenging himself on and off the tennis court. "I'm someone with a competitive fire, so I'm excited to keep on competing. I love tennis, so the opportunity to play four more is so special to me."
Natalie Mann (Basketball, Johns Hopkins University)
"I decided to play basketball at the collegiate level because it gives me a sense of purpose and is a great escape from the real world," said Natalie. When she makes her way to campus this fall, Natalie hopes to find a "home away from home" and grow as a person and an athlete. In terms of specific goals, Natalie would love to make a run in the NCAA Tournament. Over her years as a basketball player, she has learned to enjoy the moment as "everything always ends up working out in the end."
Marianne Mihas (Cross Country and Track and Field, Harvard University)
During Marianne's freshman year of high school, she committed herself to running and fell in love with it, allowing her to thrive in competitive environments. Looking down the road to this fall, when Marianne will take her work ethic and talents to Harvard, she hopes to participate in high-level competition and surround herself with supportive coaches and teammates. "My future coach, Alex Gibby, is the type of person who I'd want to talk to even if he wasn't my coach, and he's had a lot of success coaching middle distance athletes like myself in the past few years. All the girls on the team are so much more than just athletes, they're fun and interesting individuals without their sport." Along with improving her times, Marianne would love to take part in the NCAA championships at some point in her college career.
Bea Parr (Cross Country and Track and Field, Middlebury College)
Bea decided to pursue her athletic career at the collegiate level because she has played sports all her life, and she could not picture herself not continuing. Middlebury stood out to Bea as its program's coach is committed to helping her improve, and the smaller roster size keeps a greater focus on the individual. On a recent visit, Bea found Middlebury's academic opportunities, especially international programs, as noteworthy. With regard to hopes and expectations, Bea said, "I hope to go make my mark on a national level and make really good connections with the other people on the team."
Ashley Rosenberg (Swimming, Carleton College)
In hopes of fostering a competitive environment filled with hard work, camaraderie, and excitement, Ashley decided to pursue her swimming career at Carleton. On the academic side of the decision, she found that the liberal arts education and rigorous undergraduate teaching aligned with her expectations. "I chose Carleton because of the people. Everyone from the swim coaches to the admissions office, to the friends of people on the swim team who I spoke to could speak endlessly about all the great things Carelton offered." Throughout her collegiate swimming career, Ashley looks forward to continuing to uphold the attitude of "meet goals mean nothing if they don't align with practice goals."
Matthew Shrake (Baseball, Bates College)
Up until the summer before his senior year, Matthew was on the fence about playing baseball at the collegiate level. However, after participating in showcases and communicating with coaches, he verbally committed to Bates last September. "I chose Bates because it is the perfect combination of top-notch academics and highly competitive baseball. I know that on the academic side of things, I will be challenged every day to achieve my goals, which is a necessary motivator for me to be prepared for life after college," said Matthew. On the path to accomplishing his long term goal of playing baseball at a competitive college, Matthew "never stopped working" and "came away from the situation satisfied."
Olivia Syftestad (Cross Country and Track and Field, George Washington University)
Olivia decided to continue her cross country and track and field career—initially a difficult decision to make—as she could not picture life without running. "There were many reasons why I chose George Washington University, but the supportiveness of the coaches and teammates especially differentiated the school. Not only did their program offer extensive resources both athletically and academically, but I really just felt that I clicked with GW's environment right off the bat." Outside of running, Olivia was intrigued by the political opportunities associated with being in Washington, D.C. She hopes to maintain her love for the sport and expand the running community that she has been a part of for many years.
Ava Tortorello (Volleyball, University of Arizona)
From the age of nine, Ava knew she wanted to follow in her mother's and aunts' footsteps by playing volleyball at the collegiate level. She ultimately committed to Arizona at the beginning of her junior year and will compete in the highly competitive Pac-12 conference. "I'm excited to get in the gym, work hard, get in the weight room and see what that's like at the collegiate level," said Ava. A lesson she has learned while playing the lead role of setter is the importance of being flexible and selfless with teammates.
*We were unable to get in contact with all 17 of the recruited athletes. Athletes not included in this article: Charlie Moll: Loyola Marymount University – Rowing | Noah Reese-Clauson: Lewis and Clark College – Track and Field | Blake Duffy: University of Tampa – Hockey and Golf
Leave a Comment
About the Contributor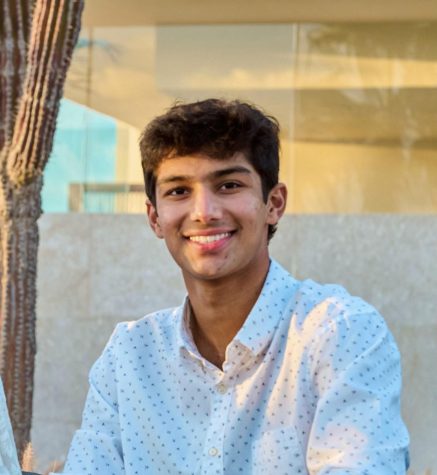 Armaan Shah, Editor-in-Chief
Armaan Shah ('23) is a senior at Latin and is thrilled to be serving as an Editor-in-Chief of The Forum. He has covered a wide range of topics and encourages...