The New Year nears, Latin students reflect on the positives of COVID-19
As the world enters a new year, it's difficult not to contemplate the tragedies of 2020. The infamously catastrophic year started with threats of a third world war followed by Australian wildfires, the deaths of Ruth Bader Ginsburg, Chadwick Boseman, and Kobe Bryant, the murders of George Floyd, Ahmaud Arbery, Breonna Taylor, and eventually news of a pandemic that would kill nearly 2 million people globally in less than a year and redefine "normal" life for many. Although it would be foolhardy to say 2020 and the COVID-19 pandemic were anything short of disastrous, it's worthwhile to reflect on the Latin community's strengthened family ties, the discovery of creative outlets, and the innovative adaptations many have made during a time of such uncertainty.
"In this time, I've grown closer to my whole family, and I'm very grateful for it," junior Eliana Moreno said. Governor J.B. Pritzker's stay-at-home order, enacted in March, forced families to spend more time together than ever before. "Without it, we wouldn't have had this opportunity to drive each other crazy but also learn to love each other more," Eliana noted.
Junior Alessandra Mafrici shared that "over the pandemic, I have appreciated being able to spend time with my father as, before the pandemic, he worked at his restaurant every day." Her father used to spend long hours at his restaurant, Pelago, that often extended past midnight, so the initial shutdown of restaurants enabled her to see her father more often, strengthening their relationship: "With him home, I got to learn so many new things about him and get closer to him."
Many students discovered new activities to fill in the time that used to revolve solely around school work, sports, and their social lives. "I've been able to do a lot of things that I wouldn't have had the time to do or even think of doing in pre-COVID times," senior Nicole Lucas said. She elaborated that she started going on long drives with her sister, which she never used to do, and she now draws, reads, and bakes more frequently.
Likewise, Eliana said she sees art as a creative outlet to distract herself from the negative aspects of the pandemic. "I've continued sewing, and I've also taken up painting." Over quarantine, Eliana ran a small tie-dye business, and she continues to find new artistic projects. "It's so much fun and a great way to document this pandemic," she said.
The rise of coronavirus also boosted Zoom's popularity. Although students may struggle with not interacting with others in person, Zoom increases the accessibility of events, allowing more students to participate in extracurricular activities while spending less time commuting. Senior Luca Craigie, who partners with Kids Enjoy Exercise Now's (KEEN) service organization, said, "One silver lining has been how easy it is for both volunteers and KEEN athletes to participate in events by merely joining a Zoom call, so it has been nice to see some faces that you might not normally see."
While remote learning increases event turnout, lack of in-person learning allows many students to appreciate life before the coronavirus. "Before the pandemic, I used to complain about going to school and using the CTA," said junior Nathalie Espinoza. "Now, I would give anything to go back to the life I had."
It has been an undeniably difficult year for everyone, and the first few weeks of 2021 have shown us that the world's problems are far from over. But in the face of tragedy, Latin students, like so many people across the world, have found moments to be grateful for and learned several lessons—lessons that will help the new year and its challenges feel a little more bearable.
Leave a Comment
About the Contributor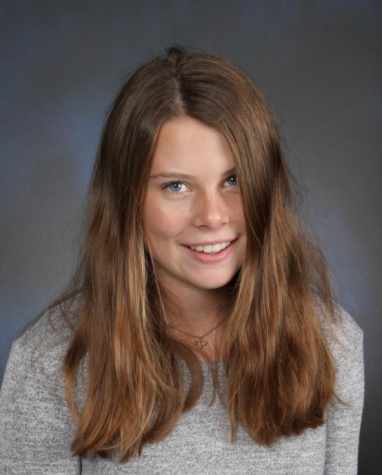 Marin Creamer, Editor-in-Chief





Marin Creamer ('22) can't wait to serve her first year as an Editor-In-Chief for The Forum. Writing and editing for the publication has been...