A Holiday Without The Whole Family
After what seems like an abnormally long year, winter is finally starting to settle over Chicago, and with it comes the holiday season. As the predictable holiday-themed ads start to appear on TV, wreaths adorn storefront windows, and holiday shopping gets underway, the holidays may offer a faux sense of normalcy for many. But travel restrictions, lockdowns, and the need to protect those at high risk will make this holiday season very different, with extended family members absent from holiday gatherings and the complete cancelation of many holiday plans. One thing is certain—this will be a holiday season like no other.
For some, the lack of extended family coming to visit for the holidays may, at first, seemed like a welcome respite: no more constant bickering over the correct way to stuff a turkey, no more whining from the little cousins, and no more argumentative uncles stirring up political disputes at the dinner table. But for some, these perennial family conflicts are practically tradition, and with the absence of family members this year, those familiar annual meltdowns may, in a strange way, be missed. For some, this season will seem a bit empty, and not only devoid of drama, but missing an important part of what makes the holidays so special: being surrounded by so many people who love each other.
The holidays offer a time to unwind by enjoying holiday festivities with friends, reconnecting with distant relatives, or maybe seeing a show or taking a family vacation. But many of those special events and traditions of the season will be canceled this year, potentially contributing to more stress in an already stressful year. Upper School counselor Ashly Lawrence said, "The pandemic in general has been compared to a grieving process due to actual loss through death, but also loss of time with family, loss of experiences (graduations, weddings, traditions), et cetera. I think that the holidays this year will feel like that for many people."
Despite some of the somber changes the holiday season brings this year, Ms. Lawrence recommended some ideas for ways to stay connected and make the holidays feel a little more traditional. "We are lucky that we have many ways to connect digitally," she said. "Some families may be carrying out traditions like baking, gift exchanging, eating meals, playing games all over Zoom, FaceTime, et cetera. While none of this feels quite the same, it is still a great way to connect, knowing that it is the safest option right now for many of us."
As holiday traditions usually involve family and friend gatherings or parties, many of those annual traditions will be missing from this season's schedule. In past years, sophomore Mia Banks hosted a party on Christmas Eve with her family members and friends. "Due to the risks of coronavirus, we decided to only have my aunt, uncle, and cousin over. Many of my family members are older, so the risks are just too high to try to celebrate in person with them," Mia said. When asked about what she will miss this holiday season, Mia said, "I'll really miss having my other family and friends over, and I'll also really miss the food they all bring!"
Similarly, sophomore Kiran Garapati's family usually hosts a Diwali gathering, which was also canceled. "We often invite many Hindus that we know and some family friends," Kiran said. When asked how the Garapatis' plans have changed this year, Kiran said, "Instead, we will make the most out of what we have to stay safe and healthy over the holiday season."
Additionally, holiday travel plans have changed for many Latin families. Senior Lily Prostic usually travels to Maryland to visit her grandparents over Thanksgiving. "This year, we won't be traveling," Lily said. "It's the first time I've been in Chicago for Thanksgiving."
Junior Zoe Weiss is also canceling holiday plans and vacations because of the pandemic. "Of course it's so sad to not be with family," Zoe said, "but I think these holidays will be really unique and definitely unforgettable, and I know I will for sure cherish holidays with family even more in the future!"
This holiday season, many homes won't be as full and loud as usual, but hopefully the smaller size of family gatherings won't dampen the holiday spirit. After all, the holidays are about love, joy, and, most of all, hope. And a little hope is what everyone needs right now. So, find ways to embrace and enjoy the uniqueness of this holiday season with your immediate family and friends, and bid farewell to 2020, and ring in a happier and healthier New Year.
Leave a Comment
About the Contributor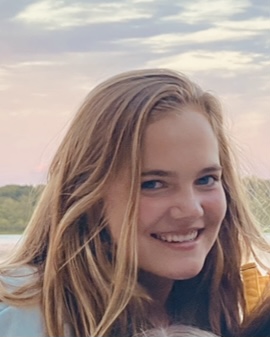 McLaine Leik, Features Editor
McLaine Leik ('23) is thrilled to be a Features Editor for The Forum this year. She has been writing for The Forum since her freshman year, and loves...