Redefining Success
As students across the nation grapple with all of the usual stress of school and now the added issues posed by the COVID pandemic, the message of nonprofit organization Challenge Success to lower pressure, focus on students' mental health, and redefine success is resonating with both students and families.
Challenge Success held a recent virtual event for parents to discuss the difficulties of raising children during a global pandemic, stressing connection and communication with youths, and raising questions regarding the definition of success in an era of such uncertainty.
Denise Pope, a senior lecturer at Stanford University and co-founder of Challenge Success, shared her ideas. "Success is not this straight line where you get all these great grades in middle school, great grades in high school, get into a great college, you have a great life and you're happy," she said. Instead, success should reflect each kid's personal goals, allowing them to engage in what they are interested in, and resulting in a life that they are able to deem "successful" on their own terms.
Latin junior Vivie Koo agreed. "I believe that the most important 'success' in someone's life comes from personal drive and determination. We each hold ourselves to our own standards that we want to uphold and surpass, so when society measures success in one uniform way, many people might become unmotivated to want to achieve greatness."
Many other students say they feel similarly, defining success in a personal way rather than looking only to external societal expectations.
Freshman Zuhair Alsikafi said, "Success is relative and should be measured by how well you do and whether you are improving or not."
Sophomore Daniel Braun added, "Success can only be determined by one's self in measuring how they have achieved the goals they set for themselves."
Junior Isabel Gortner said she feels that "we should see the best effort put into something as successful regardless of the outcome, and the sentiment to constantly try and better oneself to strive towards being the best version of yourself should be weighted more than scores."
Another one of Challenge Success' goals is to increase academic engagement and focus, which is especially challenging now that Zoom and pandemic fatigue have become prevalent and many students at Latin and elsewhere seem to be not fully present in their classes.
Lori Gottlieb, a therapist and New York Times bestselling author who was the featured guest speaker at the recent Challenge Success event, said she believes that the solution is compassion. In an interview with The Forum after the event, she said, "We really need to have compassion for ourselves. I think sometimes kids can be so hard on themselves when they aren't able to do some things in the same way they usually do."
Ms. Gottlieb added that an important part of showing compassion to yourself is self-care. "This may mean making sure you're taking breaks, that you are making time in your schedule for something pleasurable every day, even if it is a 30-minute getting outside or chatting with a friend, or watching a show, or playing a board game with your siblings or parents."
Ms. Pope echoed that connecting with others is an important part of surviving this pandemic, and she also emphasized that students need more sleep. "There is a huge connection between sleep and mental health and well-being," she said. "As a high school student, you need between 8 and 10 hours of sleep each night, and I know that very few people get that, and particularly if you have anxiety or depression, it makes going to sleep even harder and achieving that goal harder."
Vivie agreed, saying, "Knowing when to stop doing work to take time for myself has been a challenging line to draw, so I have found that my anxiety around sufficiently completing my work is always present."
Ms. Pope added that "doing some breathing, doing some yoga, or meditating" are all positive coping strategies.
Latin students have felt the effects of Zoom fatigue on engagement. Junior Will Benford said, "I find it almost impossible to focus on a screen for three to four hours a day. I always have to take a break after school to refocus before starting homework or my next activity."
Sophomore Alice Mihas added, "My engagement has gone down significantly with classes being on Zoom. It is hard for me and others to stay focused and engaged all day, staring at a computer screen."
Will and Alice agree that working out, going for a walk, and moving around all serve to combat Zoom fatigue and are a necessity in their daily lives.
Upper School counselor Ashley Lawrence said we need to "prioritize the things that are important … and accept the fact that we cannot be good at everything all the time." She added, "When people just work work work and don't get a sense of renewal, it's counterproductive. It's not the amount of time spent equals success. It's productivity."
Ms. Gottlieb offered an important reminder to look out for the people around you in addition to taking care of yourself. "If your friends are struggling, reach out to them and say, 'Hey, I'm here, do you want to talk about something?'"
Balance between academics, extracurriculars, and athletics is more important now than ever. Ms. Pope concluded, "It's expected that you feel anxious right now. We are in the middle of a pandemic."
Leave a Comment
About the Contributor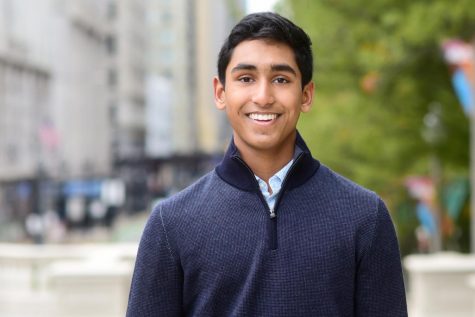 Akshay Garapati, Sports Editor
Akshay Garapati ('23) is excited to be serving his first term as the Sports Editor for The Forum. Previously, he served as the Opinions Editor. Editing...