Performing Arts in the Midst of the Pandemic
Amid the infection, death, and chaos, it is easy to forget some of the biggest cultural losses the pandemic has inflicted on our communities. The cancellation and postponement of performing arts has devastated an entire industry not only reliant on but defined by live audiences. Live concerts, symphonies, dance recitals, comedy acts, and theater performances are now a far-off memory, a memory that likely won't resume for quite some time. And behind every great star of the stage and screen is a great education. With the looming uncertainty of high school performing arts classes and programs for schools across the country, Latin included, the future of the performing arts world is at risk.
One of the many uncertainties of the upcoming school year is how Latin will approach performing arts remotely. Unlike other classes and programs, the performing arts rely heavily on live interaction and audiences, which are rare these days. And though Latin did a commendable job in the final months of the previous school year to pull off virtual recitals and shows, nothing can quite replace the adrenaline of a live performance. However, no one knows exactly what the performing arts will look like for this coming school year. "I'm waiting for logistics about use of space, class sizes, etc. before I begin brainstorming with student choreographers about how they would like to see this fall play out," said Adriana Durant, head of Upper School dance.
Along with dance, chorus is another performing arts class whose future is uncertain. "We as a department are not planning on holding any live performances anytime soon," said Gabriel Di Gennaro, Latin's chorus director. Though the lack of in-person classes and performances may seem discouraging, Mr. Di Gennaro is confident that Latin's chorus will be able to carry through this difficult time successfully. "While we have lost that incomparable, visceral feeling of being submerged in, and contributing to, an ocean of sound, we have gained opportunities to become more confident in our own individual voices," he said. "We no longer have the ability to rely on a strong, nearby voice to carry us through. We have to figure out how to sing what we want to sing, and be ready to capitalize on the learning opportunities that follow."
Cynthia Gradek, the band director, also plans to build confidence in ensemble members' individual abilities, since Latin will not allow instruments to be played inside the building. "The curriculum will be adjusted to be centered more on the individual musician and their personal growth," she said. "Through the use of the computer program Smart Music, students will be able to play and record themselves with professional musicians." Perhaps the silver lining of this unprecedented school year will be the opportunity for musicians to develop more confidence in their individual abilities.
A recent email from Upper School history teacher and dean Bridget Hennessy briefly described the theater department's plan for conducting a virtual play entitled Lucy Westenra is not (and Never Will Be) a Vampire, written by Latin alum Marjorie Muller and based on the classic novel Dracula. This will be the second play Latin students have performed virtually, after last year's student run play Fools, directed by Maya Passman and Jordan Rice, both of whom graduated last year.
"We're hoping, as we did with shows at the end of last year, that we're able to recreate a little of that community feeling no matter how our performances are presented," said theater teacher Nick Baer. "We've figured out some cool ways to use the technology to tell stories in an engaging way and allow the actors … to connect with one another. We've also adapted our curriculum to better integrate with remote learning without losing the immediacy and collaborative nature of our typical classrooms. There's nothing that matches being together in one place, but we're trying."
While individual growth and development is an important part of a Latin education, a major staple of the student experience is its emphasis on community: supporting and celebrating each other. In the past, showing support has entailed attending classmates' recitals, musicals, and other performances. But without live shows, this essential part of Latin will be lost. Sophomore Will Baiers said, "The cancellation of live performances will undoubtedly have an impact on the overall student experience, as it puts a damper on the spirit of community and togetherness. When performances are recreated virtually, they often do not have the same power as they would if they took place in person."
Another key difference between in-person and virtual performing arts classes is the effect on rehearsals and schedules. "When in a remote setting, rehearsals become extremely challenging and a real struggle to execute," Will said. "It is nearly impossible to sing in unison over platforms like Google Meet or Zoom due to connection lags."
In addition to managing technical challenges during rehearsals, cancellations of shows have also dramatically changed the day-to-day schedules of students who are highly committed to the performing arts. Senior Olivia Katz said, "[The pandemic] has definitely put things in perspective because I feel like I always got overwhelmed with the amount of rehearsals and performances I had to go to, but now I would do anything to get them back." The absence of performing arts is also weighing heavily on senior Pamela Cameron, who is a member of the Romannettes and 59 West, two extracurricular a cappella groups at Latin. "If performing arts programs are canceled this year," she said, "the biggest struggle for me will be not having a creative outlet."
Though the pause on high school performing arts is disappointing to many at Latin, the halt on professional theater, opera, concerts, and other performing arts shows is even more momentous. These events play a critical role in Chicago's culture, and putting them on hold means putting entire livelihoods on hold as well. Chris Jones, a Latin parent and Chief Theater Critic at the Chicago Tribune, said, "In terms of individual artists, the biggest issue has been loss of work and income. Some people have lost full-time jobs while others have had a series of gigs cancelled. I know of actors who have lost a whole year of work. This is not an easy profession at the best of times, and my concern is that it is becoming so challenging that young artists will give up. If so, our city will lose so much."
Chicago's theater scene is ranked third in the world, just after New York and London. The cancellation of shows will result in not only a lost art that defines Chicago, but also a massive loss of tourist revenue. Each year, on average, the arts and culture sector brings in about $877 billion to the U.S. economy. With the pandemic causing devastating losses to this industry, the government has allocated $75 million of emergency relief aid to the National Endowment for the Arts through the Coronavirus Aid, Relief, and Economic Security (CARES) Act. However, the Americans For the Arts organization estimates that the total loss suffered to date by the arts and culture sector is roughly $10.2 billion, indicating the need for much more financial aid than has been provided.
Jones also commented on the effect of cancellations and uncertainties of the upcoming school year's performing arts opportunities on the future of young talented artists. "I think the impact is real," he said. "Students hoping to apply to training programs won't get the chance to show as much of their work or to develop their skills before a live audience. Inevitably, this will make the transition to college harder for them." With these daunting challenges already steering young artists away from the industry, the cancellation of high school classes and programs could jeopardize the future of the performing arts profession even further.
When times get tough, people often find solace and inspiration in attending a live concert, watching a theater production, or supporting a friend or family member performing at a recital—all things that no one can do right now. These missed experiences may instill a new appreciation for the critical role that performing arts plays in people's collective wellbeing. So, hopefully, when the curtain finally closes on this pandemic and the need for social distancing is behind us, people will appreciate and support the performing arts more passionately than ever before.
Sources:
Americans for The Arts
View Comments (2)
About the Contributor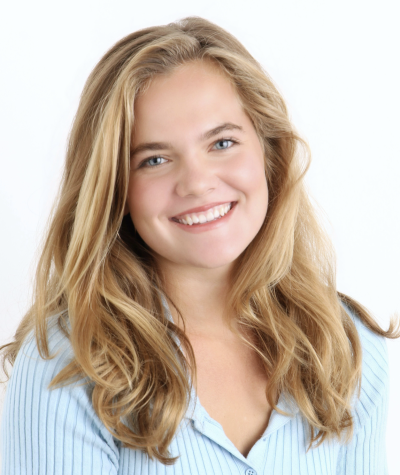 McLaine Leik, Managing and Standards Editor
McLaine Leik ('23) is thrilled to serve as The Forum's Managing and Standards Editor this year! She has been writing for The Forum since her freshman...