Queeries: Question 5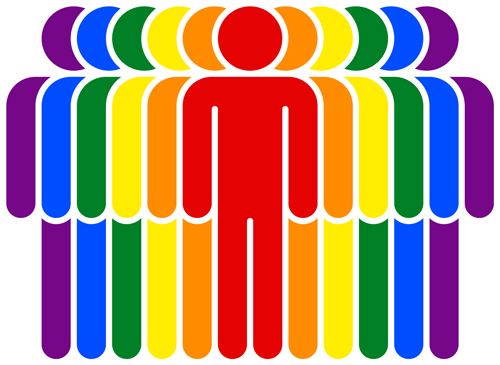 Welcome to Queeries, the Gender and Sexuality Minorities Affinity Group's (GSM) public question-answering forum. If you have a question you'd like to ask the members of GSM regarding queer life, terminology, or anything else, we'd love to answer it.
Queery #5: I came out as bi to my immediate family when I was fifteen, and to my close friends, extended family (minus grandparents), and some trusted classmates throughout high school. I am now a senior and am relatively confident about my identity. I don't scream it from the rooftops because I don't want to let it define me, but I also don't want to have to hide myself. At school, I have slipped thing slyly into conversation with acquaintances when something comes up naturally but I have not done a public coming out on social media or otherwise. I think people can know and react however they want, but I don't feel I owe anyone everything. Most people at school see me as a straight femme girl. However, it has been eating at me because I still feel like I have to censor myself. I would like to be out in college casually and feel a part of a queer community (at Latin, I was kind of forced to choose another affinity group) but I also feel like I don't want to leave my Latin family not being completely honest. What would you recommend to do given how conflicted I feel about this?
Ok, we wanted to start out this response by saying that the struggle of not wanting to be perceived as JUST your sexuality is relatable for pretty much all of us at GSM. Queer folks are multi-dimensional people and we don't deserve to be simplified as just one aspect of ourselves! Bi-visibility in particular can be difficult, because bi folks are too often met with stigma and shame from both gay and straight communities, being told to "just pick a side". You shouldn't have to justify your right to exist. We're with you, girl. 
We also wanted to put it out there that we're 100% confident that you'll be able to be publicly, casually out in college. College is going to be very different from high school— you have the opportunity to shape how people view you. Simply casually mentioning your bisexuality early on when meeting college friends will likely erase this issue. There's always going to be a place for you in the queer community—you might not find it at Latin, but you can certainly find it at college. 
Alright, let's get to the advice. you mentioned that, though you've brought your sexuality up casually before, you still feel like you're forced to censor yourself. We think that if the cost of being casual about it makes you feel this way, then coming out publicly may be a better option for you. You're carrying this burden that, at the end of the day, won't be relieved unless you take action. You mention that you feel you don't owe coming out to anyone, and we completely agree— your sexuality should be as private as you want it to be. But perhaps in your case, it isn't a question of if you owe publicly coming out to others, but rather, if you owe it to yourself. 
Let's weigh your options here:
Publicly come out, in a way that reaches many members of the Latin community. Given quarantine circumstances, doing this through social media would be the easiest option. You can pour your heart and soul out in the caption of an instagram post, or write a sentence that sums it up, or even through a funny tiktok. There's endless ways to go about this, and you'd have to find the one that works best for you. If just jumping into this feels uncomfortable for you, we'd recommend starting by sharing these conflicting feelings in a group chat with friends. People who are close to you might have an even better idea as to how you can share this information with the people who you feel should know. The bottom line is, this course of action immediately alleviates the concerns you have over leaving Latin without being "honest". 

Be more open about your sexuality with the people around you, without a big coming-out moment. Speaking plainly about how you feel and what's on your mind with your friends and peers can be a casual and low stress way of letting those around you that you're bi, you don't think it's a big deal and they shouldn't either. The downside of this is that it's pretty much just a heightened version of what you've already been doing. It will probably alleviate some of your stress over this issue, but not all of it, and maybe that's ok. 

Don't publicly come out to the people you went to high school with and start fresh in college (although this answer won't alleviate the weight you feel about not being out). 
We're not saying that the last option is necessarily bad, but in your case, we think you might regret that choice in the future. If you genuinely feel dishonest at the thought of leaving Latin without being publicly out, you should seriously consider doing it, in whatever way works best for you.
In regards to your concern about your sexuality defining you— code switching is a thing pretty much every member of the LGBTQ+ community does, and it would significantly lessen this issue. In case you aren't familiar with the term, it refers to how members of marginalized communities change their voices, mannerisms, behaviors and more in order to blend in across different social settings. For queer folk, that usually refers to adjusting how we present ourselves across spaces of varying tolerance— a pride parade versus a straight-dominated classroom, for example. We do this to avoid everything from hate crimes to misgendering to just plain awkwardness. The point is, your bisexuality can become a more visible/vocal part of your identity in queer spaces you find without it impacting how you interact in dominantly heterosexual spaces.
There's also plenty of little steps you can take to make yourself more visibly queer before making a huge public announcement: a sticker, a badge, a necklace, bracelet, or just putting a pride flag in your social media bio can be important first steps to test the waters and desensitize yourself to being publicly perceived as queer. 
We're so excited for you to find your queer tribe and explore your sexuality in college. The process of figuring out your identity is not shameful, it's exciting! At the end of the day, you deserve to leave Latin without any regrets. GSM wishes you the best of luck. 
GSM encourages members of our community to ask us any questions they have about the queer community or even questions they have about their own gender and/or sexuality. If you want to submit a Queery to Queeries, submit via email to [email protected] We'll answer them together next time we have a meeting. We meet in room 422 during Affinity block on Day 3 (or, nowadays, we have Zoom meetings during this time– email [email protected] or [email protected] if you'd like to be notified about these meetings!)
Our meetings are always open, so come visit if you're interested.
Yours queerly, GSM