Original Founder of LAW Revisits Latin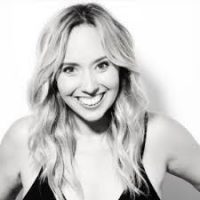 "Feminism is a movement for a reason…it's always changing with time!" – Lauren Besser 
On April 29, Latin's Alliance for Women (LAW) was joined by Lauren Besser, a Latin Alumni, writer, comedian, activist. the founder of LAW over 20 years ago. Her feminist journey did not end there. She became a founding member of NOW's Young Feminist Taskforce in 2003 and a National Organizer of the 2017 Women's March on Washington. 
Topics discussed in the meeting included the creation of LAW at Latin, women in comedy, the Women's March, and how to be involved with feminism. Besser shared that "LAW gained a lot of support from the start and there were 50 to 60 students coming to the meeting." She was very happy with the turnout and said that the club continued to be successful over the next few years as well. She also mentioned, "The following year a club called Latin's Alliance for Men was created in response. And there's no problem with there being a space for them but it made me question whether it was just created to oppose LAW."  Besser spoke  about her time performing at the Upright Citizens Brigade Theatre in New York and how she was exposed to see the gender disparities and sexism that is present in the comedy world. For many current LAW members who've taken Improv, her insights were very interesting to hear. 
Besser spent much of the meeting discussing how she contributed to the Women's March in 2017.  "I mostly did behind the scenes work and made the FAQ page. I would answer questions like 'are umbrellas allowed'?". She explained that It might seem small but truly was important because every small thing mattered. She added that  everything similar to that had to be thought through because even umbrellas could be dangerous at a large event like the march. She emphasized that "You don't need to be the one speaking or be the leader of the event to feel like your actions matter. Nowadays, this is  a good way to think about your impact on others and what you can do from home or in your neighborhood to make a difference." 
The meeting received a lot of positive feedback from attendees. "We can see her passion through what she says and it got me excited about what's coming. We could see where this passion that we all have can take us in life," says Betsy Levine. Junior Charlotte O'toole added, "I feel that I can really relate to her and feel like I could make a difference." Sophomore Nina Burik continued the discussion, saying,"I was so thrilled to have participated in the meeting. It was an incredible way to stay connected to the club's origins and understand its purpose in relation to the Latin community," she said. 
Talking about your passion and the things you want to achieve is valid but taking it a step further and accomplishing them is a powerful—and that's exactly what Besser did. Besser also advised holding oneself accountable to making changes in your daily life to support various underrepresented groups. "We can choose to support authors that are female identifying women of color one month, or watch movies directed by queer identifying people. We can show our support to different groups and individuals this way," said Besser. 
Here is a short excerpt from Bessers's piece, Had Bernie been Bernadette — The heartbreaking truth about American patriarchy. "But a revolutionary I was not. I was a privileged white girl with highlights who proudly called herself a liberal feminist. The only way to change the system was to work within the system." Be sure to check out Besser's blog This Womanhood to continue reading this piece and more of her writing.