An Inside Look at the Romans' Wild 2022 Cross Country Campaign
Latin cross country began on an 85-degree afternoon in August. The Roman runners would continue to bring the heat for the remainder of their 2022 campaign. Following the boys' emergence as the top 1A team in 2021, expectations were high, especially given that the varsity squad had only lost one of its members to college. Latin's 2A girls finished fourth in 2021, so they also had high expectations to perform well this year, even though they had graduated a few crucial runners.
The 2022 cross country season was full of ups and downs. At the season opener, sophomore Ellie Anderson won her first-ever race, but she wouldn't race again all season due to an injury. Sophomore Mia Kotler, who finished third at the 2021 State meet, also struggled this fall with injuries. Meanwhile, senior captain Kimiko Darcy had the best season of her four years. "It was surprising," she noted, "because I had not won any cross country races in previous years."
Head Coach Dan Daly said Kimiko "was the rock all season for the girls team" and pursued excellence "every day and in everything."
As for the boys, senior captain Akili Parekh distinguished himself as one of the best in Illinois, while runners such as sophomores Jack Lyons and Miles Daly crushed their freshman year personal bests by more than a minute. Ben Gibson and Danny Goodman, both sophomores, consistently finished races high up on the leaderboard as well.
In addition, senior captains Matthew Kotcher and Jackson Ballard provided the team with both solid times and great leadership. Will Del Hierro, a senior, ran admirably all season long and rounded out the boys varsity team as the eighth member. Coach Daly was optimistic about the team's chances. "The competition in Illinois is very solid, but I was confident our team would rise to the challenge," he said.
The girls team ran well at conference, regionals, and sectionals, as Kimiko Darcy won the ISL conference meet, and Mia Kotler, back from injury after missing most of the season, won at regionals. Unfortunately, Latin's girls team was unable to qualify at sectionals for the State meet. However, both Kimiko and Mia qualified as individuals. As for the boys team, they emerged victorious at the conference meet and then finished second at both regionals and sectionals, qualifying the team for the State meet.
Sadly, varsity runners Charlie Steffen and Jack Lyons both sustained injuries. Charlie had been on the victorious 2021 team, and both runners were important to the 2022 squad. Jack's desire to run with his teammates at the State meet was undeniable, but he was forced into accepting the only option available to him; he wouldn't be able to race. "I knew a win was off the table due to Jack's injury," Ben Gibson said.
However, expectations remained high. "We still had a strong team," Danny Goodman said.
The State meet was unforgettable, consisting of a miserable mix of mud and high winds. In the 2A girls race, Mia finished fourth overall despite only having run two previous races all season. "Mia amazes me every day with her diligence and persistence," Kimiko said. "She always pushes her limits and goes beyond what is expected and asked of her."
Kimiko hoped to smash her personal best, but the weather prevented her, along with many other runners, from doing so. Nonetheless, she performed very well in her final high school race. "I felt like I had closed a book full of incredible memories," she said.
As for the much anticipated 1A boys race at State, Latin finished third of the 30 schools competing – one of the top finishes in Latin School history. Akili was the fourth runner overall and enjoyed All-State honors with Ben, who finished in 16th place. "The 2022 campaign was a massive success," Coach Daly said. "The team lost two varsity runners due to injury, but the other team members accepted the challenge and believed in themselves."
Emphasizing Daly's comment, Danny said, "We did the best we could considering the circumstances, so it felt like a success." In the end, the boys came away with a piece of hard-earned and well-deserved hardware, the third place trophy.
The future of Latin's girls cross country team looks bright as stars Mia and Ellie will be returning for another two seasons. "If the team continues working hard, Latin will have an outstanding performance next year," Kimiko said.
In all likelihood, Latin's boys will be promoted to 2A next year as a result of their success at 1A. Many of Latin's outstanding athletes from 2022 will be returning for 2023, so the team's ability to remain competitive appears likely, even though they will be losing star runner Akili Parekh, who has signed to run next year at the University of Michigan.
When asked about predictions for next season, Coach Daly said, "The boys can do well in 2A … just as the girls team does."
Leave a Comment
About the Contributor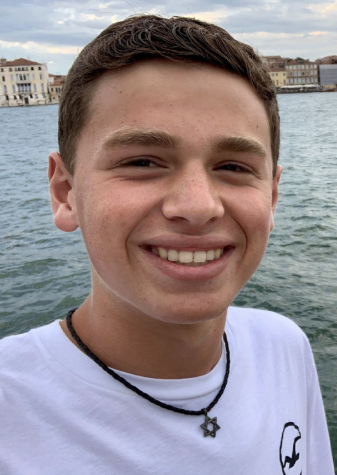 Myles Levine, Staff Writer
Myles Levine ('25) is thrilled to be returning to write for The Forum in his sophomore year. In his first year writing for The Forum, Myles spotlighted...