It's Jay Verma's School, and We're All Just Attending It
Photos of junior Jay Verma were scattered across the Upper School throughout the first quarter—most notably above the clock in the Learning Commons—until the administration forced students involved in the prank to remove the images. Dean of 11th and 12th graders Joe Edwards said, "Once the joke had run its course, it was time to take all the photos down."
Jay Verma and his fan base disagreed with the administration's removal of all the photos (save an image still stuck in the Science Department offices). "I think that's bogus," Jay said of the decision, adding, "I'm glad to see it everywhere. It makes me happy."
Perhaps in response to Jay's yearbook photos no longer adorning various hallways and nooks, students now stow Verma images in their wallets, phone cases, and computers. Senior Matilda Taylor said, "All of my friends have photos of Jay. He just sits on my computer."
Senior Sean Episcope plans on going a step further and framing a photo on his wall at home, while fellow senior Max Wilkins, a friend of Jay's and the primary culprit of the Verma headshots at-large, distributed a spare image mid-interview. Max said, "Mr. Edwards told me he was worried the rest of the school thought we were bullying Jay, but I really don't think anyone feels that way."
Mr. Edwards said, "We have lots of eyes on Jay Verma's photo posted everywhere." Trustees, parents, senior administrators, and students all use the Learning Commons—a prime location for not-so-hidden Jay Verma images. Prospective families also tour the school before their admissions interviews, and Mr. Edwards fears that the joke "is open to misinterpretation."
As an underclassman, sophomore Reese Benford said she understood that a group of seniors spread the photos as a joke. "I am surrounded by Jay Verma." She added, "I never thought I would look at somebody's Latin photo as much as I see his."
Senior Evan Sill also doesn't see a problem with the images on semi-public display throughout the school. "It's art," he said.
Max added, "The joke became less about the actual photo of Jay and more about the wild locations they could be found in."
A student started an anonymous Instagram account in mid-October with riddles to help students discover the new photo locations, such as "Tick-tock! Lunch is almost over!! Make sure to check the time!" and "Time for Science! Head across the bridge." The account accumulated 52 followers, but it has not posted since October 21, likely since students are no longer permitted to post pictures of Jay around the building.
"I understand where the administration is coming from," Max said. "However, I also think they're looking too deep into the joke."
View Comments (3)
About the Contributor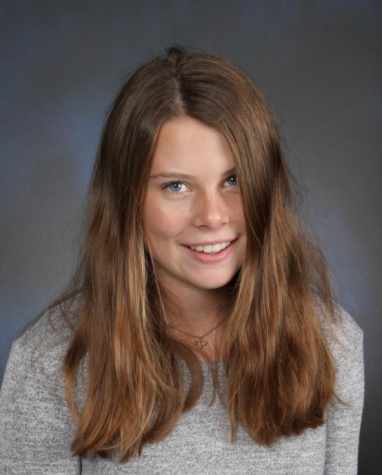 Marin Creamer, Editor-in-Chief





Marin Creamer ('22) can't wait to serve her first year as an Editor-In-Chief for The Forum. Writing and editing for the publication has been...