Despite Mask Politicization, Latin Students Show—and Must Show—Bipartisan Mask-Wearing Resolve
During the January 6 attack on the U.S. Capitol, the refusal by some House members to wear masks—a Latin School requirement—has been traced to at least seven new cases of COVID-19. While in lockdown together, Democratic congressmen and women offered some of their Republican colleagues masks, only to be met with laughter. So does the same harmful "mask partisanship" present itself between the aisles here at Latin? Or have students done away with the flawed argument that masks are a violation of an individual's First Amendment rights?
Democratic Rep. Susan Wild told CBS News that approximately half of the 300 to 400 people in the lockdown room refused to wear masks, and now House lawmakers who do not wear masks on the House floor will face a $500 fine on their first offense and a $2,500 fine on their second. Masks have become a controversial topic in this country's political climate; meanwhile, of course, masks at Latin are mandatory.
Junior and managing editor of Latin's political magazine, Discourses, Naomi Altman, said, "Masks do not limit our freedoms of speech, press, assembly, petition, or religion, so I do not believe that they would violate the First Amendment." Naomi brought up the example of the Jacobson V. Massachusetts decision of 1905 in which citizens were required to be vaccinated against smallpox. "The court argued that there had to be restraints on certain rights in order to protect the common good," she said.
Referring back to the present day, Naomi said, "While many people argue that masks are against their First Amendment rights, they are ignoring the 10th Amendment. The 10th Amendment states, 'Powers not delegated to the United States by the Constitution, nor prohibited by it to the States, are reserved to the States respectively, or to the people.'" The 10th Amendment validates the government's right to demand mask-wearing, as states are allowed to take public health emergency actions for the safety of both the state and the country as a whole.
Junior Prefect Shreya Wojno agreed with Naomi and said, "We know for a fact that wearing a mask saves lives. … Why do people have such an issue with that? I really don't know." Shreya went on to say, "I don't think this is a time for debate, but rather a time to look at the science behind masks, and realize that it can literally be the difference between life and death for someone." She added, "The whole purpose is to keep people safe, and if you don't 'believe in masks' then you're sending the message that you don't care about other people's safety as well as your own—it's as straightforward as that."
Will Benford, a junior who is vice president of Latin's Young Republicans Club, expressed a similar sentiment. "I think choosing to wear a mask is a sign of respect and aligns with one's morals," he said. "I feel like wearing a mask in public spaces is a way that I can make the world a safer place, so I don't understand why one would potentially put others in harm's way, refusing this simple action, in an attempt to stand up to big government."
President of Young Republicans and senior Spencer Gunning said, "Masks should be worn where they are mandated to, but I do think once anyone is outside, they should be free to take them off if they so choose."
In terms of masks being required at Latin, Shreya said, "I think Latin's mask mandate is totally appropriate and necessary." She said, "I know some people may feel differently, and I respect that. The issue is, though, that the over-politicization of masks has been harmful to millions of people's health."
Naomi said, "I am very glad that Latin enforces masks, because it makes me feel comfortable to come into school."
Will added, "Wearing a mask to school is the same as following the dress code, it is the appropriate thing to do."
The events at the U.S. Capitol reinforced many students' opinions on the importance of mask-wearing. When asked their thoughts on the government fining members of Congress who didn't wear masks in the U.S. Capitol, Will said, "I agree that fining is an appropriate measure. It is just a sign of disrespect, in my opinion, so I think they should be dealt with accordingly."
Spencer said, "I think that the removal of their presence in the premise is more appropriate. If [representatives] cannot follow the rules placed on the House, then they should kindly remove themselves as they may be a danger to others."
On January 21, President Biden's first full day in office, he issued two executive orders mandating masks. The first order was the requirement of Mask-Wearing on Certain Domestic Modes of Transportation, which will help to slow down the spread of COVID-19 during domestic travel. The second order required masks to be worn by all persons in Federal buildings and on Federal lands. While it seems reasonable that President Biden's mask mandates, particularly the second one, were in direct response to the events at the U.S. Capitol, several Latin students disagree.
"I don't think President Biden's mask mandate is related to the U.S Capitol events," Will said. "Sure, I think every instance where someone is advertising not wearing a mask builds up to this conclusion, but I think regardless of [whether the spread of COVID-19 at the U.S. Capitol] happened or not, Biden would have created this mandate with the intention of keeping Americans safe."
Spencer said, "Through COVID-19, we have seen anti-mask groups pop up constantly, so I think President Biden, before he knew he was elected, had plans to implement [mask mandates] as soon as possible."
"I think the mask mandate is way overdue," Shreya said. "I don't think it was in response to the attack on the Capitol per se, rather something that President Biden implemented for the health and wellbeing of America. Regardless of what caused it, I think the mask mandate is needed now more than ever."
Although masks have become controversial in the recent political environment, many Latin students agree that they are important to the safety of both the nation and the Latin community and that mask mandates do not violate the First Amendment. The requirement of masks at school allows students to feel a sense of comfort, promoting a better, safer learning environment. The discomforting events from the U.S Capitol served as a lesson to America as to why masks are so important.
Shreya said, "While it would have been smart to have had it in place starting back in March, I'm just grateful that the belief in science and modern medicine by our government is finally happening."
View Comments(1)
About the Contributor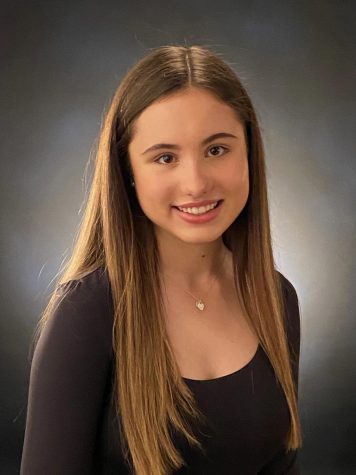 Lily Coleman, Media Editor
Lily "Pickle" Coleman (22') is a senior at Latin and is thrilled to be serving as Media Editor this year. In her time on The Forum staff, Pickle...