Ava Tortorello Named top-150 Volleyball Player in Entire Class of 2021
"I woke up one morning and I was shocked to see that I was on the list of the top 150 volleyball players in the nation for my class," said elite volleyball player Ava Tortorello.
Ava, a senior and four-year varsity athlete, committed to the University of Arizona to play girls volleyball as a libero and setter shortly after her sophomore year. Arizona is a top 100 Division 1 volleyball program in the nation, scoring 1,865 points in the 2019 season. 
Ava was indeed recently named one of the top 150 volleyball players in the class of 2021. "The hard work I've put in and out the gym most definitely paid off," she said.  Despite being shocked when she heard of her nomination, Ava noted, "It shows how hard I've been working in my years of developing as a player." 
Though the world faces a global pandemic, Ava is committed to staying in shape for volleyball. "Going to the gym as much as possible is crucial for my skill level when I start at Arizona," she said.
Ava has played alongside her teammates for the majority of her life but is ready to join a new team next fall. "I am excited for a change," she said, "and being surrounded by girls who are just like me and have had the same dreams and experiences as me growing up will most certainly be a positive environment for me." 
In addition to Ava's off-season club team, her consistent teammates include the girls varsity volleyball team at Latin.
"Ava is a natural leader both on and off the court," said junior and teammate Remy Rigby. "She is always communicating with us and constantly seeing the court through a different strategic lens."
Fellow team and senior, Milana Jozwiak agreed and also praised Ava's team attitude. "Ava is constantly giving credit to her teammates no matter the circumstance. Even if the point was won by her, she still makes sure her teammates are recognized."
Senior Carter Goltermann, a co-captain of varsity volleyball along with Ava and senior Rachel Schofield, said, "Her passion for the sport transfers to the rest of the court because of her quality leadership skills. Rachel and I can't wait to see what the season brings, now that all three of us are captains." 
A handful of student athletes at Latin have similar goals of playing on a varsity college team. "From personal experience, my one piece of advice for athletes with the same goals as me is to not compare yourself to other athletes because it does no good," Ava said. "I know from personal experience that being jealous of others' strengths should only make you want to improve your weaknesses."
Leave a Comment
About the Contributor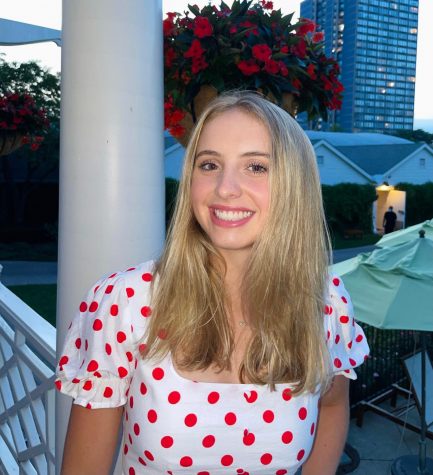 Emilia Rose, Features Editor
Emilia Rose ('22) is excited to serve her first term as a features editor this year! Since freshman year, Emilia has driven her focus on The Forum into...