Keely's Kitchen: Maple Cinnamon Latte, Peppermint Bark, Chocolate Cake, and Lavender Frosting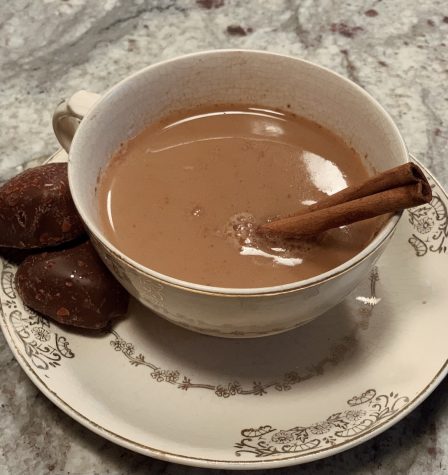 Maple Cinnamon Latte:
Recipe:
⅔ cup milk of choice (I prefer sweetened almond milk)
1 tablespoon maple syrup
1 teaspoon vanilla extract
¼-½ teaspoon cinnamon
1-2 servings espresso
Instructions:
Whisk the milk, cinnamon and vanilla extract together in a saucepan over medium heat for about 3 minutes. Slowly add the maple syrup and taste test until desired sweetness is achieved. Stir in the espresso when heat is turned off and serve.
Winter in Chicago is a lot more bearable with delicious hot coffee beverages. I look forward to an afternoon coffee every day, so I decided to include some combinations I've been experimenting with lately. For this recipe, I got some inspiration from a "lumberjack" flavored latte at a local cafe. I wanted to recreate the smoky and aromatic flavors with cinnamon. The maple syrup is an essential ingredient to nail this flavor and acts as a healthier alternative to sugar that you can use to sweeten any coffee drink. Add a sprinkle of cinnamon or whipped cream to top, and you have a perfect afternoon treat for the countless cold days ahead!
Peppermint Bark: (recipe here)
Shoutout to Margot Bettman for this dessert idea! This recipe is super easy and requires very few ingredients. Peppermint bark is the perfect dessert to whip up on the first snowy day or just to get in the holiday mood. This recipe uses peppermint extract in the chocolate, which I think brings the flavors together nicely. It is hard to go wrong during this process; the recipe specifies what size your tray should be, but you can choose any, depending on how thick you want your bark to be. If you use a smaller tray, check on the bark before taking it out of the fridge because it may need more time to harden and it may be harder to break. When making this recipe, remember to lay out the aluminium foil smoothly on the bottom so the bark breaks more easily. Crush the peppermint candies into chunks rather than granulated pieces because they will retain much more flavor. Next time I make this I will use darker chocolate chips because the thick layer of white chocolate chips makes the bark very sweet.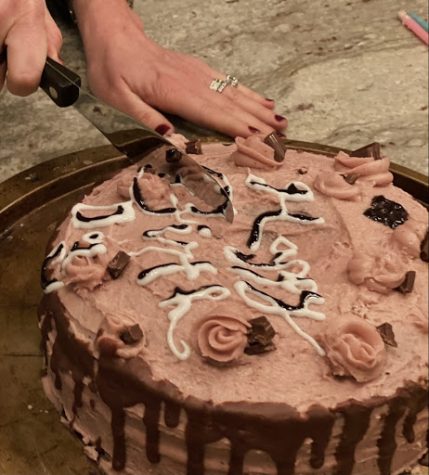 Earl Grey Chocolate Cake: (recipe here)
This rich tea cake was the perfect combination of my mom's favorite flavors, so I decided to make it for her birthday. It was definitely a crowd pleaser; the chocolate complemented the subtle hints of Earl Grey perfectly. The yogurt in the recipe makes the cake deliciously moist. I found the cake to be quite sweet when paired with the lavender frosting, so you may prefer using even darker chocolate than the recipe suggests. The batter was thick, especially after adding the melted chocolate, so I suggest using the steaming method (instructed in the peppermint bark recipe) to melt the chocolate to help it congeal. Whatever chocolate and tea brands you use, make sure they are high quality, because their flavors will be the most prominent. If you decide to do a layered cake, ensure the layers have completely cooled before frosting them (mine took about 20 minutes). To make the layered cake even at the top, slice the rounded tops off the cake with a sharp, serrated knife before frosting it.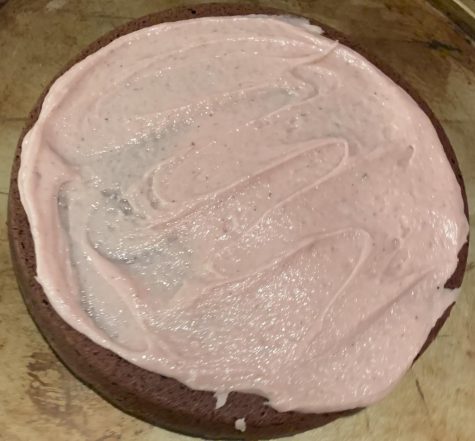 Lavender Frosting: (recipe here)
My family and I loved the texture and taste of this frosting so much that it was voted the best frosting I have made! Powder the lavender buds by pulsing them in a food processor. This was difficult and time-consuming, and I found that pressing them gently against a small holed sifter also granulated the lavender nicely. When making the blueberry juice, using a juicer would be the best option, but if that is not available to you, blend them in a blender and strain the skins and seeds until the juice is only liquid. I added about 3-4 tablespoons of blueberry juice for the frosting to have the right consistency, which added a hint of blueberry flavoring. For frosting lovers like me, this frosting is heavenly, but others may find it on the sweeter side. Before frosting the cake(s), set the frosting out until it reaches room temperature to make sure the cake doesn't crumble. I thought this frosting was the perfect consistency for covering a cake; it was thick enough to stay on but melted easily, allowing it to soak into the cake.
Leave a Comment
About the Contributor
Keely Moll
Keely Moll (22') is a senior at Latin and writes her own cooking column called "Keely's Kitchen." She shares reviews of her favorite recipes and...