Roman Recipes: Compost Cookies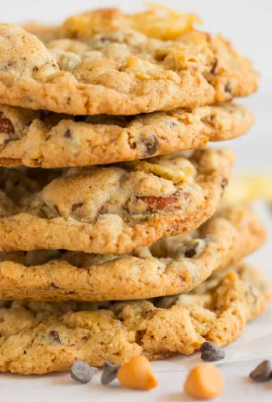 <![CDATA[Madelyn Hill If you ask anyone who knows me, they will tell you I am obsessed with food and, more specifically, Milk Bar. Milk Bar is home of cereal milk ice cream, crack pie, and naked cakes (if you do not know what Milk Bar is and or who Christina Tosi is, stop reading and watch her chef's table on Netflix S4 E1). In light of recent rumors that a Milk Bar may be opening in Chicago (fingers crossed), I wanted to share one of Christina Tosi's recipes with everyone. The compost cookie was the first to come to mind, as it is half elegant with undertones of coffee, yet the other half offers an homage to school days with built-in snack time.  Note: If you are going to make these cookies, you need to commit. Baking compost cookies is not as easy as your classic chocolate chip cookie, but I have faith that anyone can make them if they try. Christina Tosi is very extra with her baking, but I ensure you it's worth it. The sweet and saltiness infused in every bite will leave you wanting to make more.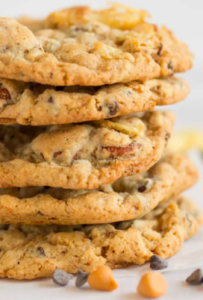 Ingredients:
16 tablespoons butter, at room temperature

1 cup granulated sugar

2⁄3 cup tightly packed light brown sugar

2 tbsp glucose

1 egg

1/2 tsp vanilla extract

1 1⁄3 cups flour

1/2 tsp baking powder

1/4 tsp baking soda

1 tsp kosher salt

3/4 cup mini chocolate chips

1/2 cup mini butterscotch chips

1/2 cup  graham crust (recipe below)

1⁄3 cup  old-fashioned rolled oats

2 1/2 tsp ground coffee

2 cups potato chips

1 cup mini pretzels
Tips on Ingredients:
Mini is key (mini chocolate chips, mini butterscotch chips, and mini pretzels). This way, each bite will be the perfect mix of sweet and salty.

Use Plugra or Kerrygold butter.

Glucose is key, but if you need instant satisfaction and can't wait for

amazon prime shipping

, then substitute it with 1 tablespoon of corn syrup.

Finally,

milk powde

r is key. Don't skimp out!
Directions:
Combine the butter, sugars, and glucose in the bowl of a stand mixer fitted with the paddle attachment and cream together on medium-high for 2 to 3 minutes. Scrape down the sides of the bowl, add the egg and vanilla, and beat for 7 to 8 minutes.

Follow these times to a tee, and at the end, your butter 'n sugar combination should be light and fluffy, almost like a batter.

Reduce the speed to low and add the flour, baking powder, baking soda, and salt. Mix just until the dough comes together, no longer than 1 minute. Do not walk away from the machine. Scrape down the sides of the bowl with a spatula.

Still on low speed, add the chocolate chips, butterscotch chips, graham crust, oats, and coffee, and mix just until it is incorporated, which will be about 30 seconds. Add the potato chips and pretzels and begin to paddle the mixture, still on low speed, until it is just incorporated. Be careful not to overmix or break too many of the pretzels or potato chips. You deserve a pat on the back if one of your cookies bakes off with a whole pretzel standing up in the center.

Using a 2 3/4 oz ice cream scoop (or a 1/3 cup measure), portion out the dough onto a parchment-lined sheet pan. Pat the tops of the cookie dough domes flat. Wrap the sheet pan tightly in plastic wrap and refrigerate it for at least 1 hour, or up to 1 week. Do not bake your cookies from room temperature— they will not bake properly.

Heat your oven to 375°f.

Arrange the chilled dough pieces a minimum of 4 inches apart from each other on the parchment or silpat-lined sheet pans. Bake the dough for 18 minutes. The cookies will puff, crackle, and spread. After 18 minutes, they should be very faintly browned on the edges yet still bright yellow in the center. Give them an extra minute or so if that's not the case.
My take on the baking:
Use a 2 tsp cookie scoop and bake the dough for 15 minutes exactly at 350°f. The cookies will look undercooked, but trust me, they continue to harden while they cool. This is the best way to guarantee a chewy cookie, which is my favorite.
Graham Crust Ingredients: Makes about 340 g (2 cups)
190 g (1 1/2 cups) graham cracker crumbs

20 g (1/4 cup) milk powder

25 g (2 tbsp) sugar

3 g (3/4 tsp) kosher salt

55 g (4 tbsp) butter, melted, or as needed

55 g (1/4 cup) heavy cream
Directions:
Toss the graham crumbs, milk powder, sugar, and salt with your hands in a medium bowl to evenly distribute your dry ingredients.

Whisk the butter and the heavy cream together. Add them to the dry ingredients and toss the mixture again to ensure even distribution. The butter will act as a glue, adhering to the dry ingredients and turning the mixture into a bunch of small clusters. The mixture should hold its shape if squeezed tightly in the palm of your hand. If it is not moist enough to do so, melt an additional 14 to 25 grams (1 to 1½ tablespoons) of butter and mix it in.
If you are feeling lazy and you either don't do the conversions to figure out what a quarter of this recipe is or you just think this is overkill, then you can just toss in 2 tablespoons of powdered milk and 6 tablespoons of graham cracker crumbs.

Enjoy these delectable cookies, and maybe even bake them for a class (since they are nut-free)!]]>