Photo Essay: Latin in Rwanda
<![CDATA[Olivia Baker Photographs by Andrea Avila Latin in Rwanda is the school's longest-running summer opportunity, yet aside from the striking display nestled on the second floor landing, little is known about the history of the program. Nine years ago, Latin partnered with WE-ACT for Hope, a Rwandan-led HIV/AIDS initiative formed in the wake of the genocide in 1994 that provides both medical and psychosocial aid to genocide survivors, sex workers, young mothers, and other Rwandans in need. The school took particular interest in WE-ACT's annual summer camp: an opportunity for adolescent patients with HIV/AIDS to take their minds off their disease and "feel normal," according to WE-ACT youth program director Henriette Byabagamba. Each year since then Latin in Rwanda has amassed enough money to support two arts-based youth camps at Saint Familie church in Rwanda's capital, Kigali, sending a group of eager students along to work as counselors. This year, four Latin students travelled to Rwanda for the first time; four Latin students returned to Rwanda for the second time. Andrea Avila, the team photographer and videographer, captured the trip in the images displayed below.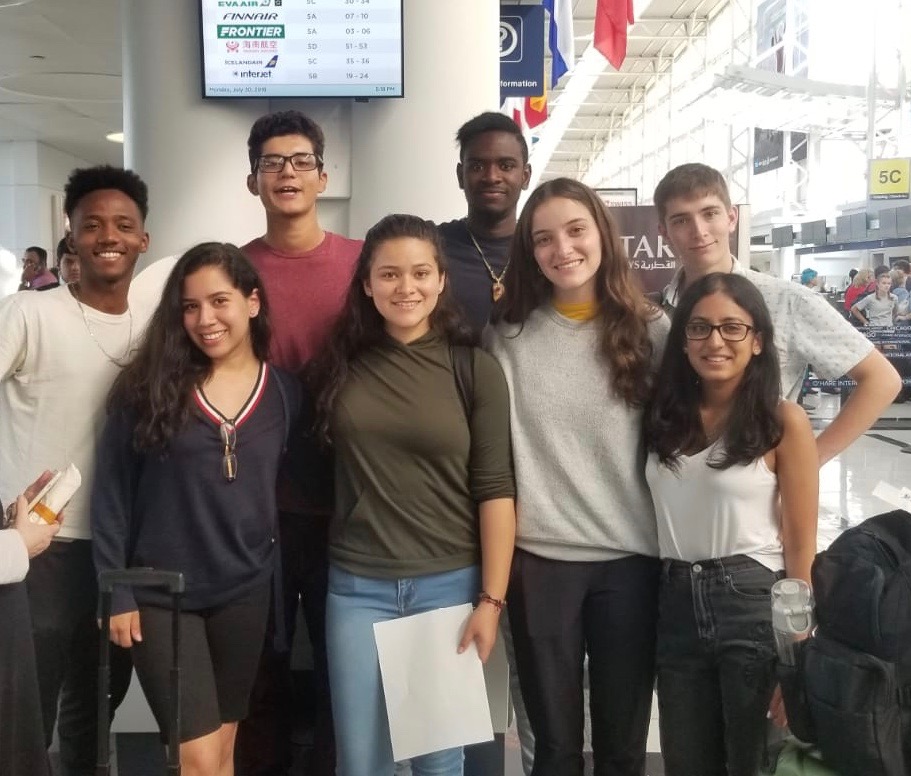 Meet your Latin in Rwanda 2018 team. Back row, left to right: Anwar Mohammed ('19), Nick Duarte ('19), Pekky Nzegbuna ('19), and Declan Stoeckel ('19). Bottom row, left to right: Andrea Avila ('19), Cindy Ramirez ('18), Olivia Baker ('19), and Mahee Gandhi ('19). Not pictured are faculty team leaders Jeff Nichols and Ingrid Dorer-Fitzpatrick.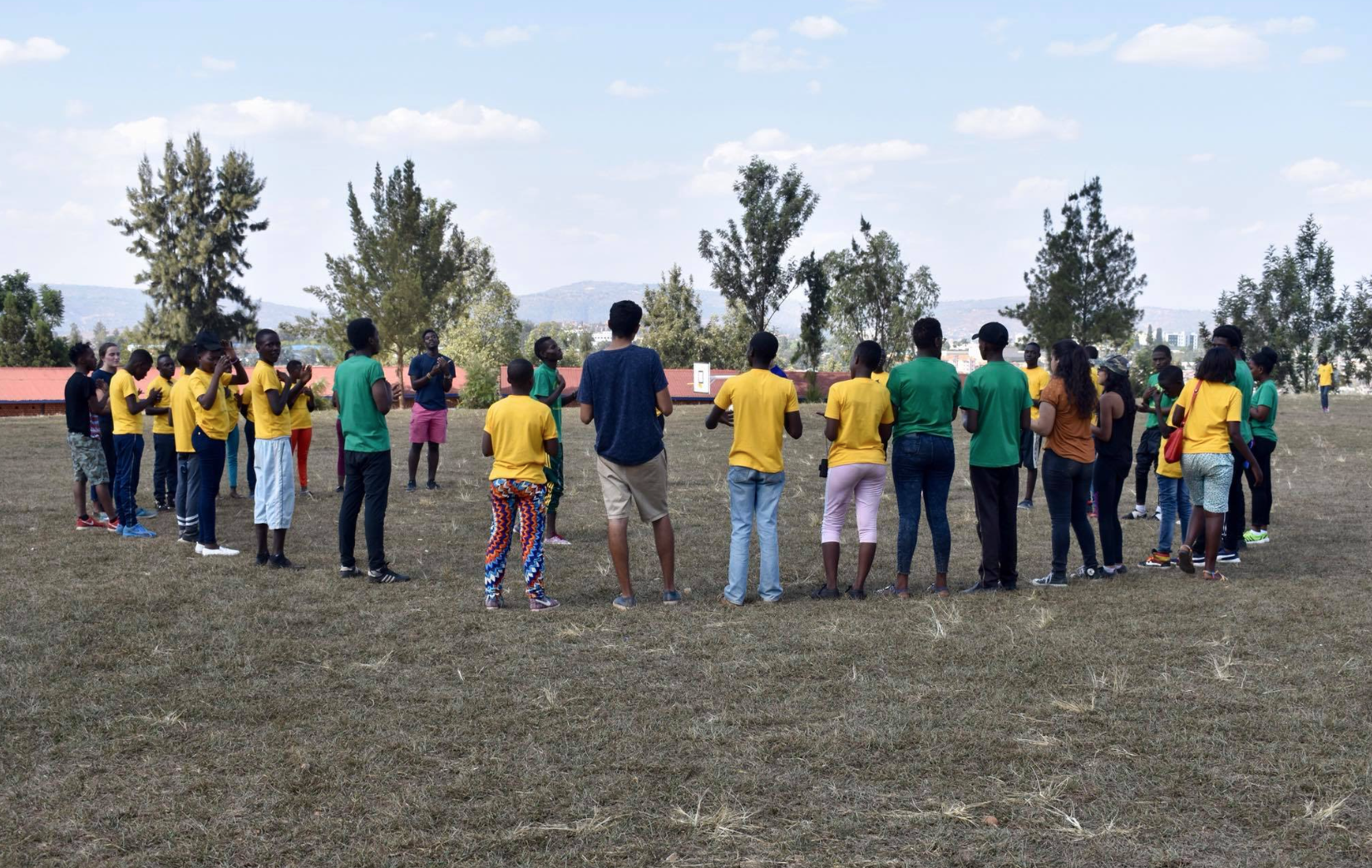 Upon arrival, set strictly at 8:00 am, campers and counselors formed a circle and recited songs in Kinyarwanda, danced fervently when required by song, and played games — an emotional and physical warm-up for the day's upcoming activities.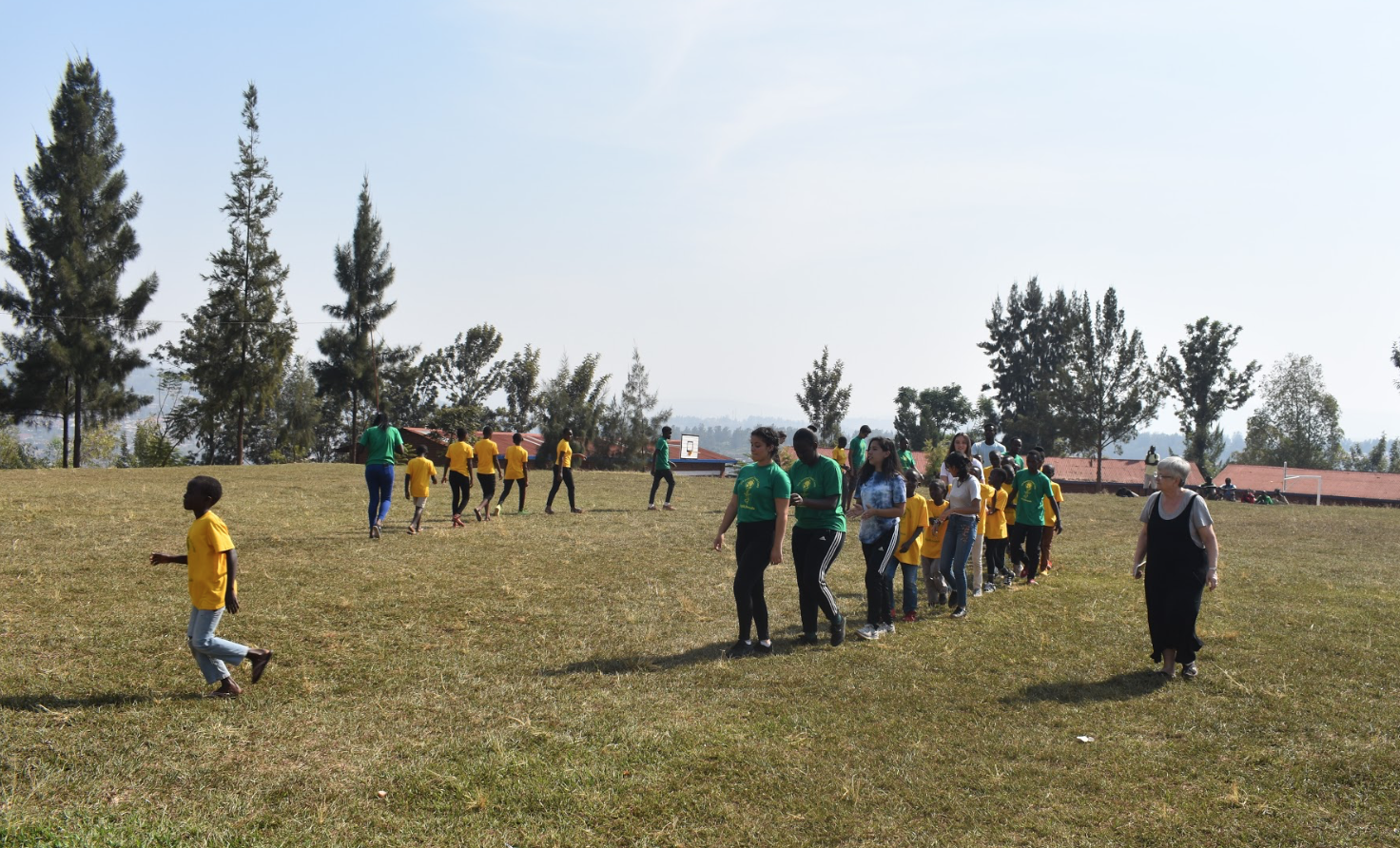 Circle time typically dissolved into team-based physical competition on the church's soccer field. Cat and mouse, running relays, and human tic-tac-toe were among the usual run; pictured above is a Rwandan interpretation of "skin the snake."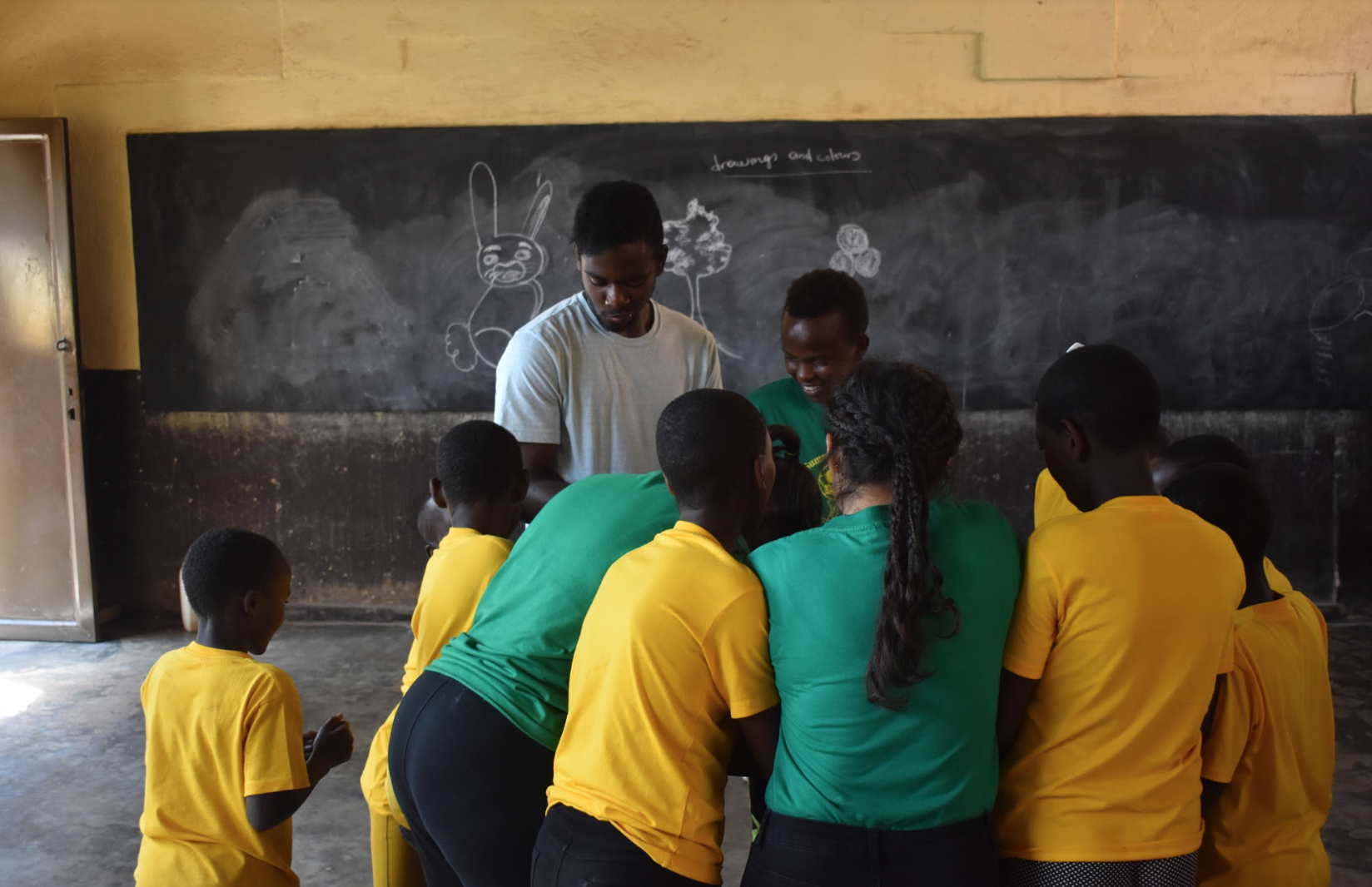 A group plays a game to pass time, as art class usually ended early. The 30-40 campers were divided into three groups with three peer parents (Rwandan counselors) and two to three Latin students for art, dance, yoga, and singing lessons led by outside instructors. To differentiate, campers were given yellow shirts and counselors, peer parents, and instructors were given green shirts.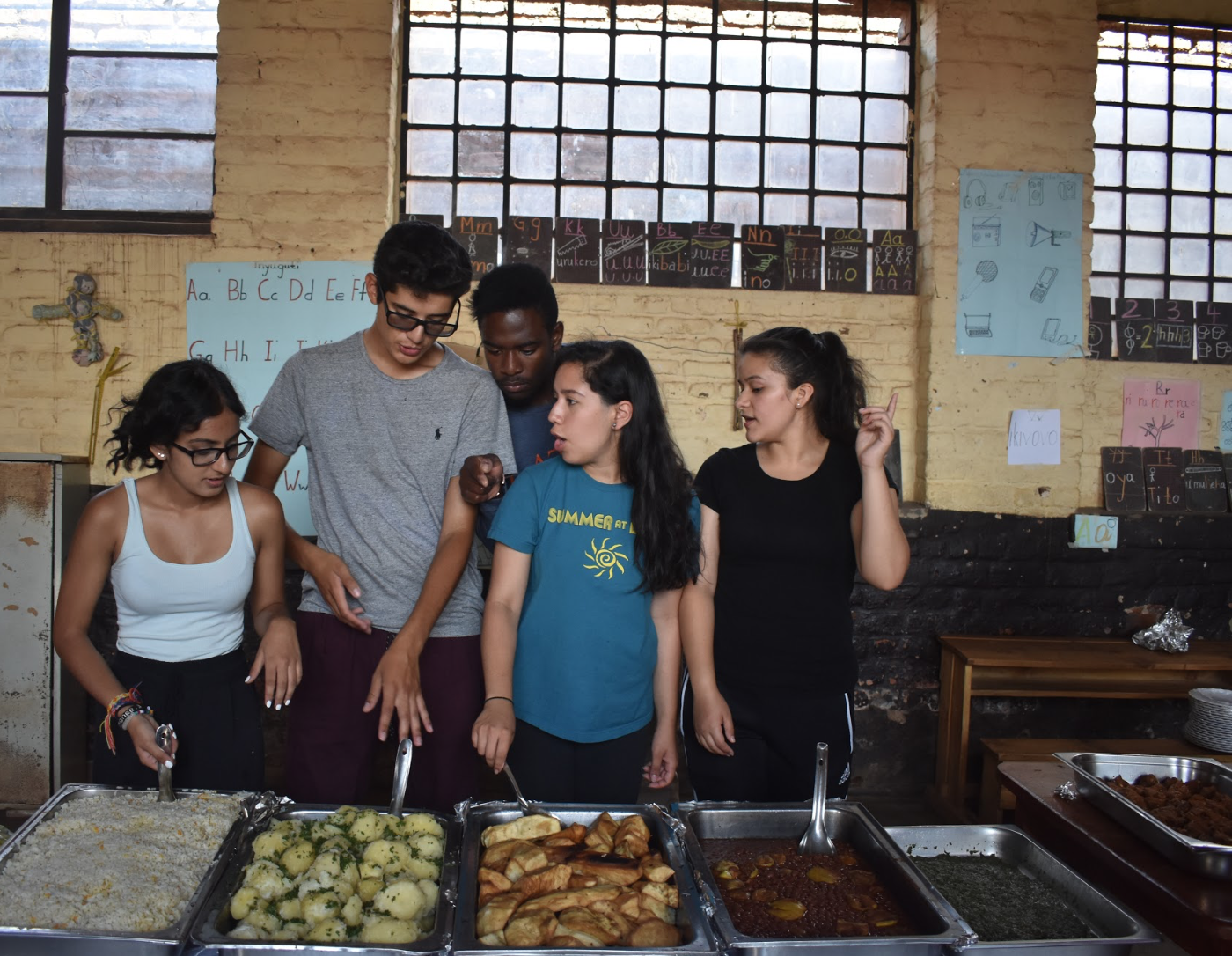 Latin students took it upon themselves to serve lunch to the campers, instructors, and peer parents, which consisted of traditional Rwandan dishes: seasoned potatoes, peppers and beans, plantain stew, beef stew, and, of course, rice.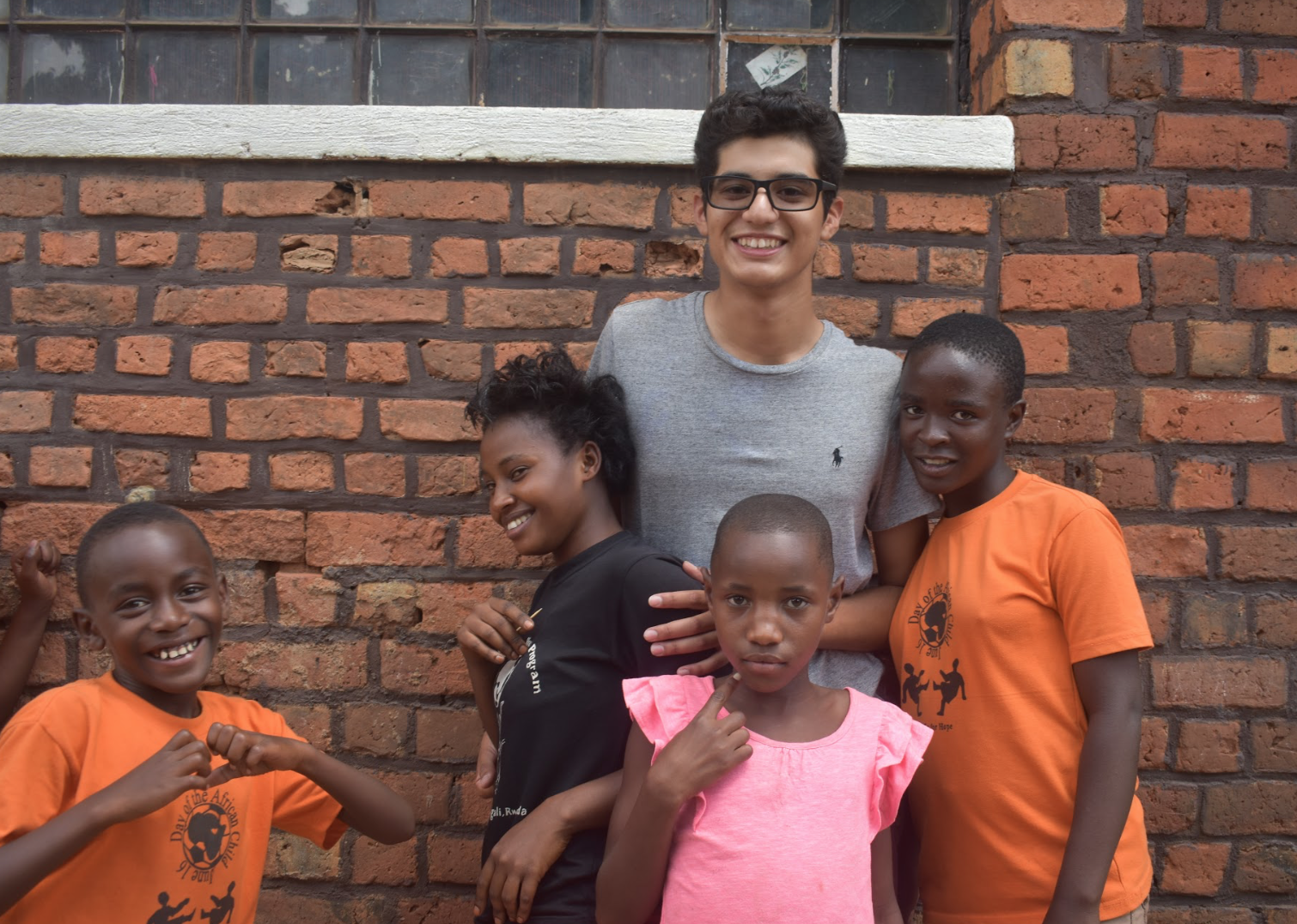 Afternoons were decidedly unstructured: campers danced to Afro-beats in one room, mingled in another, played soccer on the field and simply left when they were tired. For two-time team member Nick Duarte ('19), pictured above, camp holds a special significance.
"Anything I struggled with in my head or at home melted away with the kind warmth that the Rwandans shared with us. Not only has their warmth impacted me for a lifetime, but their struggles has made my own pale in comparison and humbled me more than I ever knew before…Rwandans have been united by a shared tragedy and have successfully emerged from their tragic history. Everywhere there is justice exemplified by reparations on a national level, but such collective efforts for peace have resulted in real individualized happiness."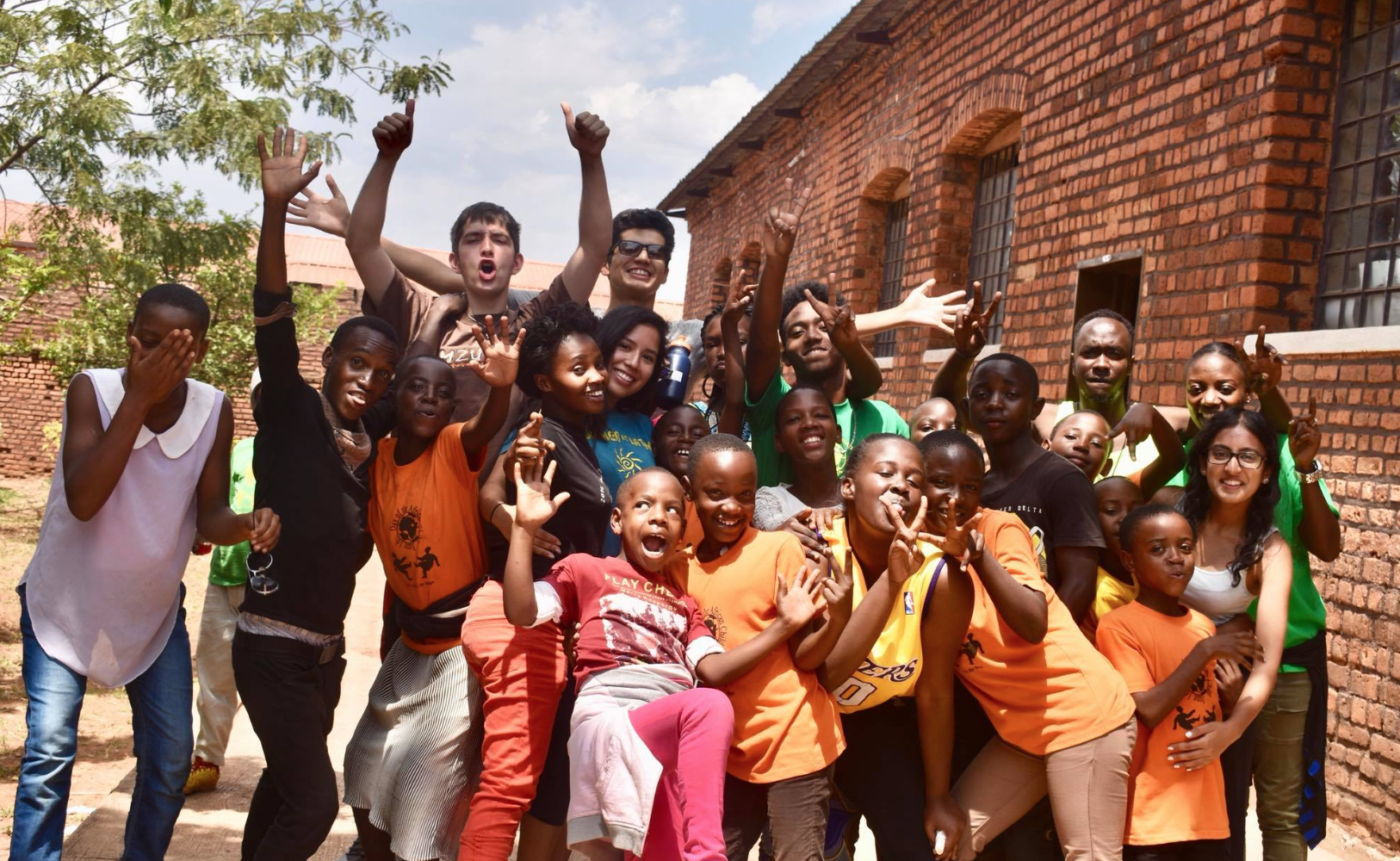 Campers, clearly, weren't camera-shy.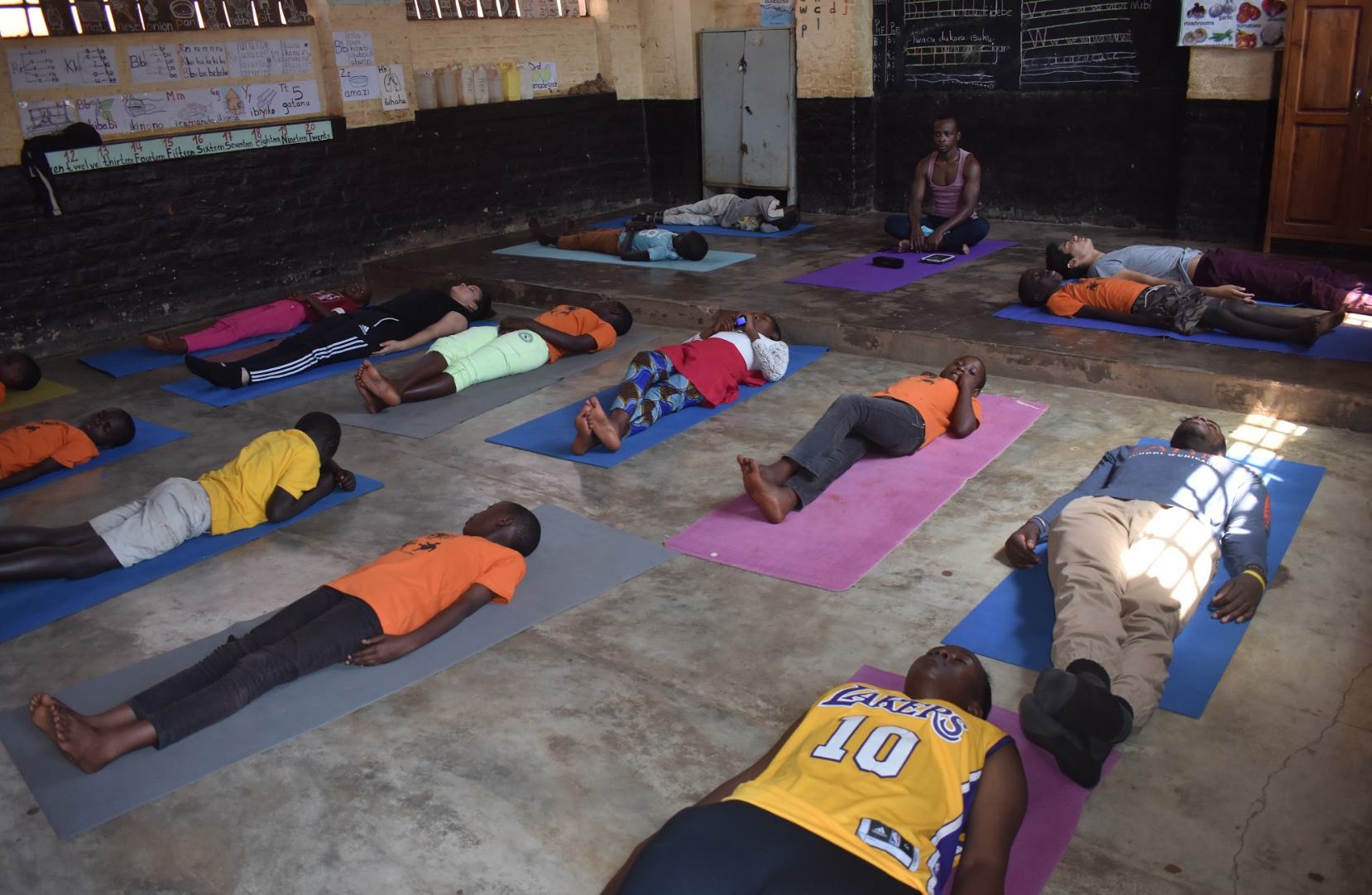 Students and counselors lay in Savasana (also known as "corpse pose") to conclude their yoga class. Yoga is particularly helpful for victims HIV/AIDS as it improves disease markers like poor appetite and sleeping patterns, alongside building confidence and physical strength.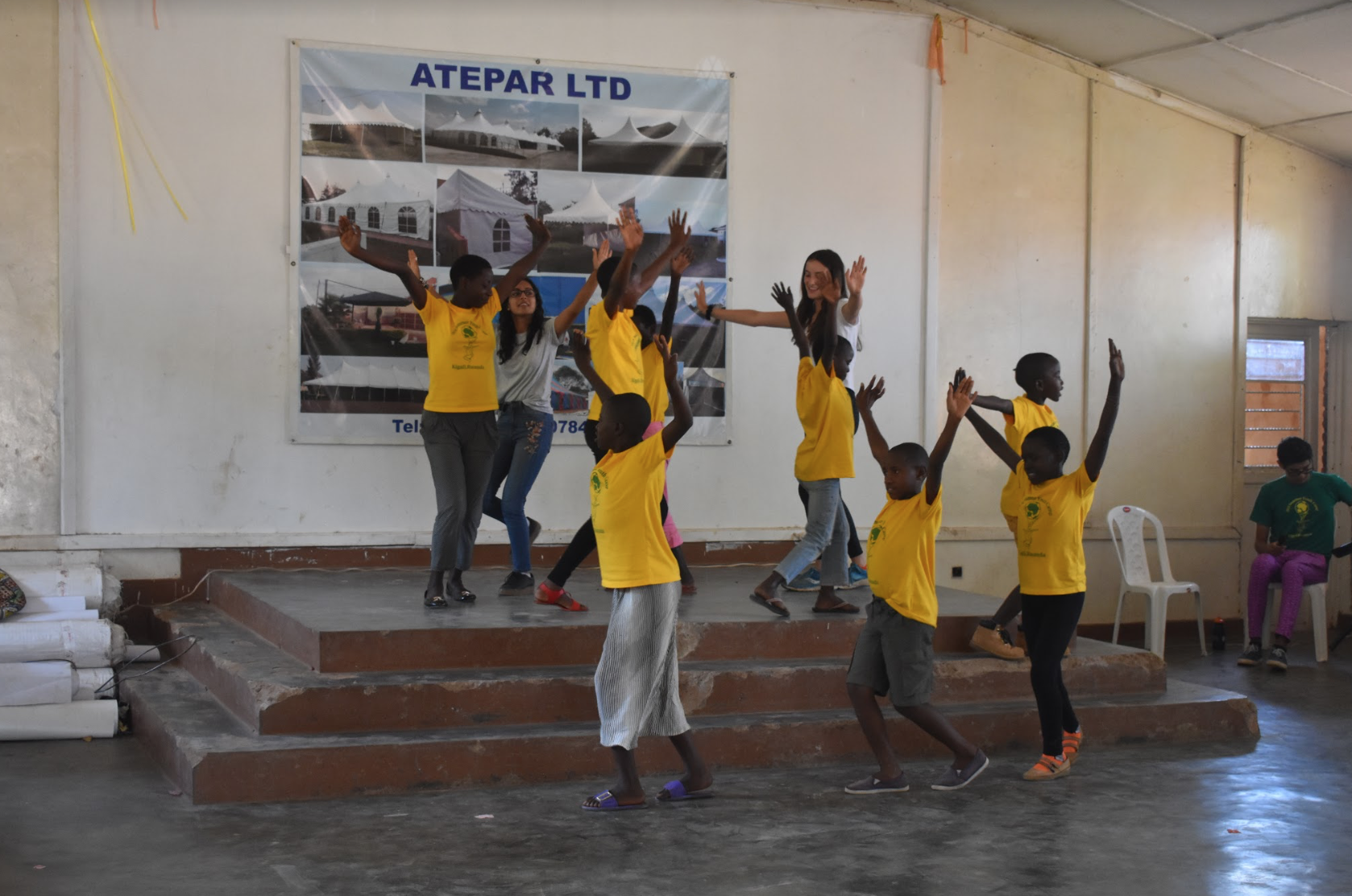 The skills honed at camp were commemorated in a final performance for parents. In a tent five minutes from church grounds, select campers presented their work in traditional dance (pictured above), modern dance, singing, and art. Latin students also bestowed each camper and peer parent with their portrait attached to a thank-you card at the ceremony.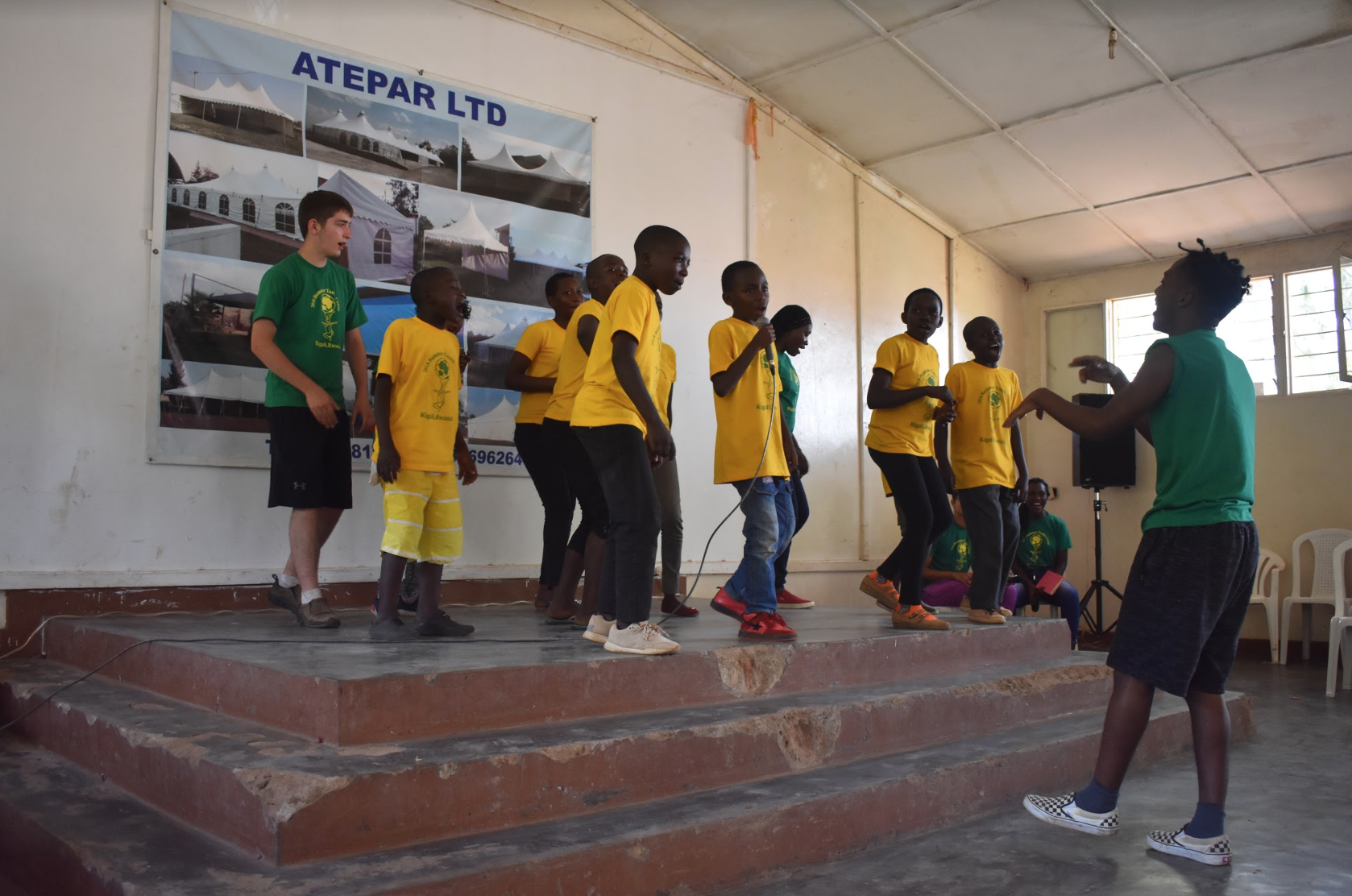 Anwar Mohammed ('19) conducts his group's song and corresponding dance. He says of the experience,
"Being a counselor was an amazing opportunity because I got to work with kids who loved to laugh and smile alongside other peer-parents who wanted to make sure that these kids felt the love they need to advance in society. All you would see on their faces were smiles and you would hear laughs and feel someone hold your hand merely due to the fact that they finally can let go. They were content with the love we had for them."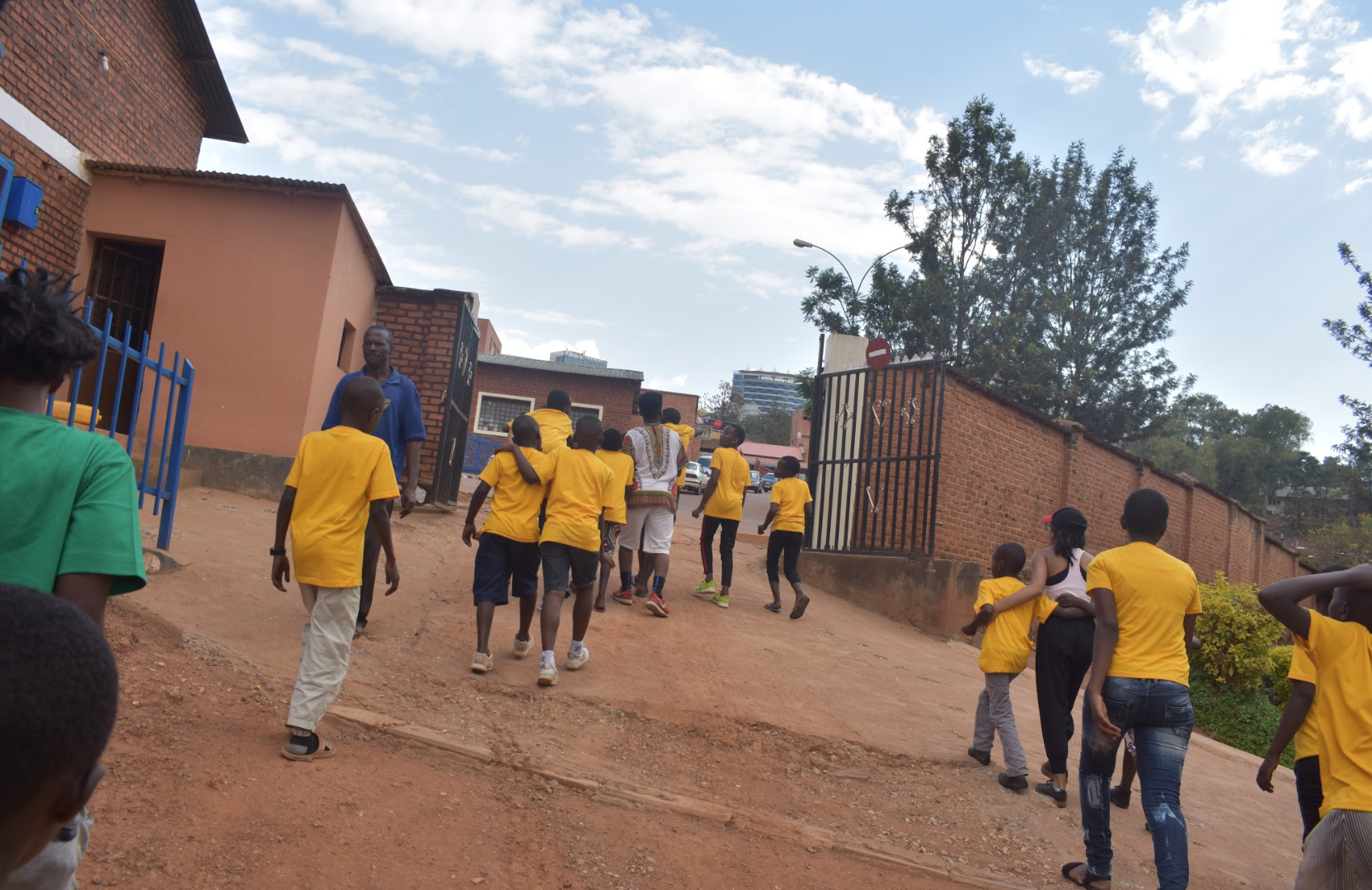 Campers head from the soccer field to the Sunday school rooms at the end of the day to collect their transportation money.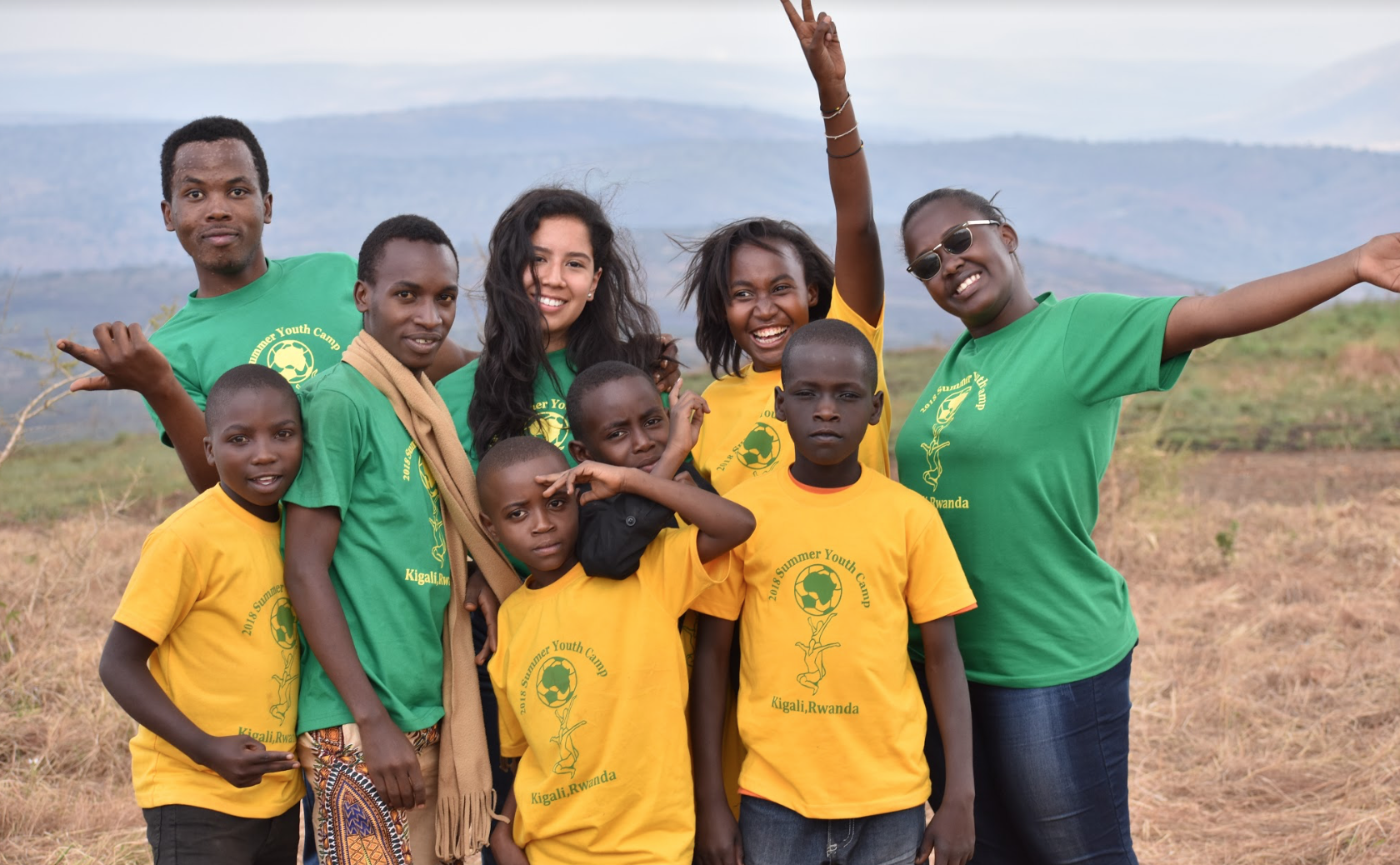 All campers and peer parents from both camps safaried through Akagera, a protected park between Rwanda and Tanzania. From central to western Rwanda the environment changed drastically: green hilltops opened to wide savannah and bodies of coarse red rock, providing adequate habitat for elephants, giraffes, zebras, hippo, and other wildlife.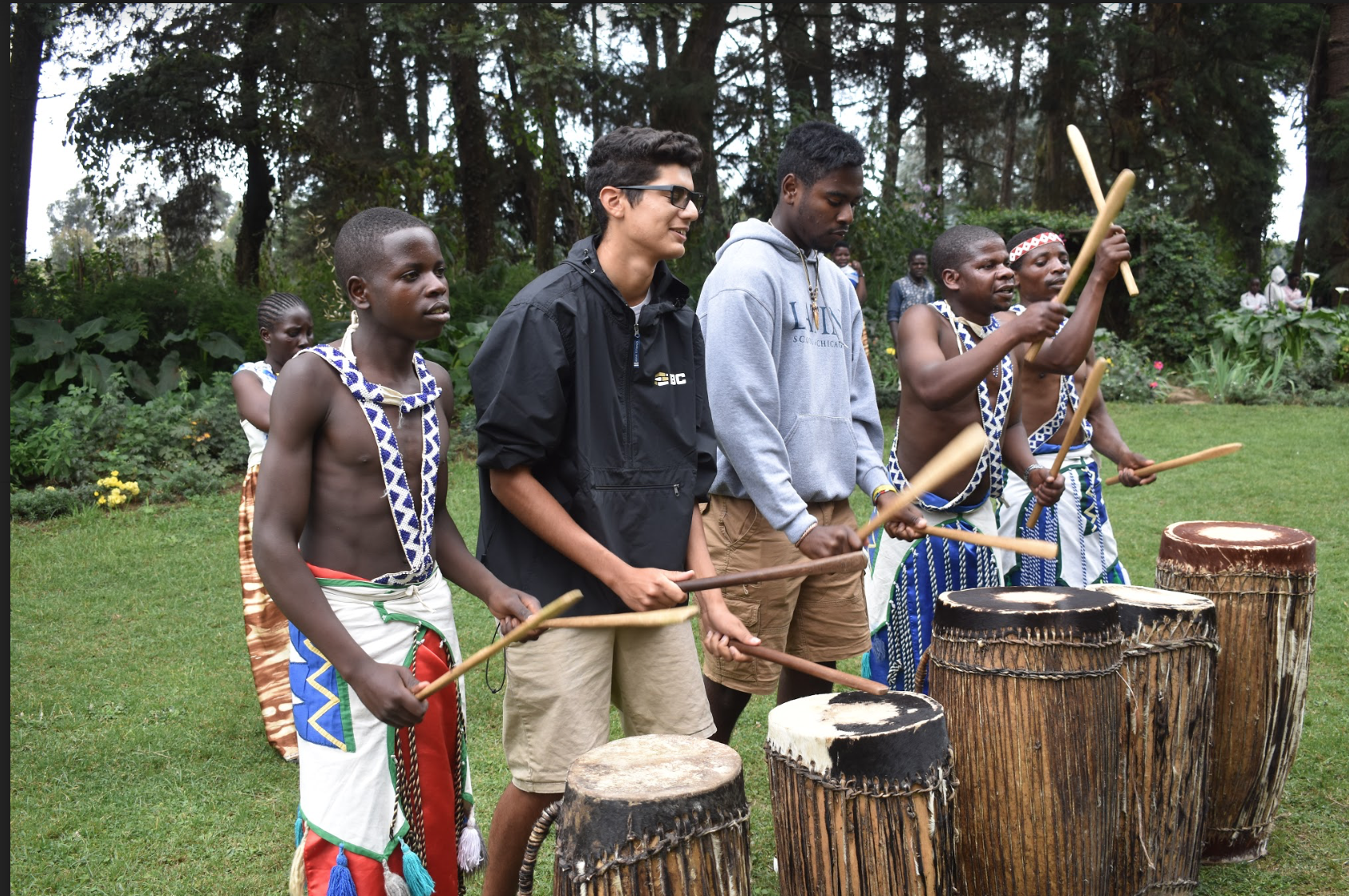 Imbabazi ("a place where you would receive all the love and care a mother would give"), a plantation turned orphanage turned museum, was formerly owned by an American expat named Rosamund Carr. After a hearty meal in Carr's home, the team attended a recital of traditional Rwandan dance and music in her gardens. Nick Duarte ('19) and Pekky Nzegbuna ('19) were chosen by the performers to try their hand at the traditional Rwandan drum. For Pekky, public displays like these were once difficult:
"Before Rwanda, I concealed my true self in public. I did not like to talk in public, let alone sing and dance. My skittishness had become second nature. Even if I danced a little in public, my friends and family would consider it weird. At camp[…] my timidity level dropped as I was pulled into the center of the circle and told to lead a song or dance with a partner as everyone watched. Before the trip, I instinctively would have said no and run back to the outside of the circle; in Rwanda, I was more inclined to be the center, to dance with the Rwandans without an ounce of shyness" he said.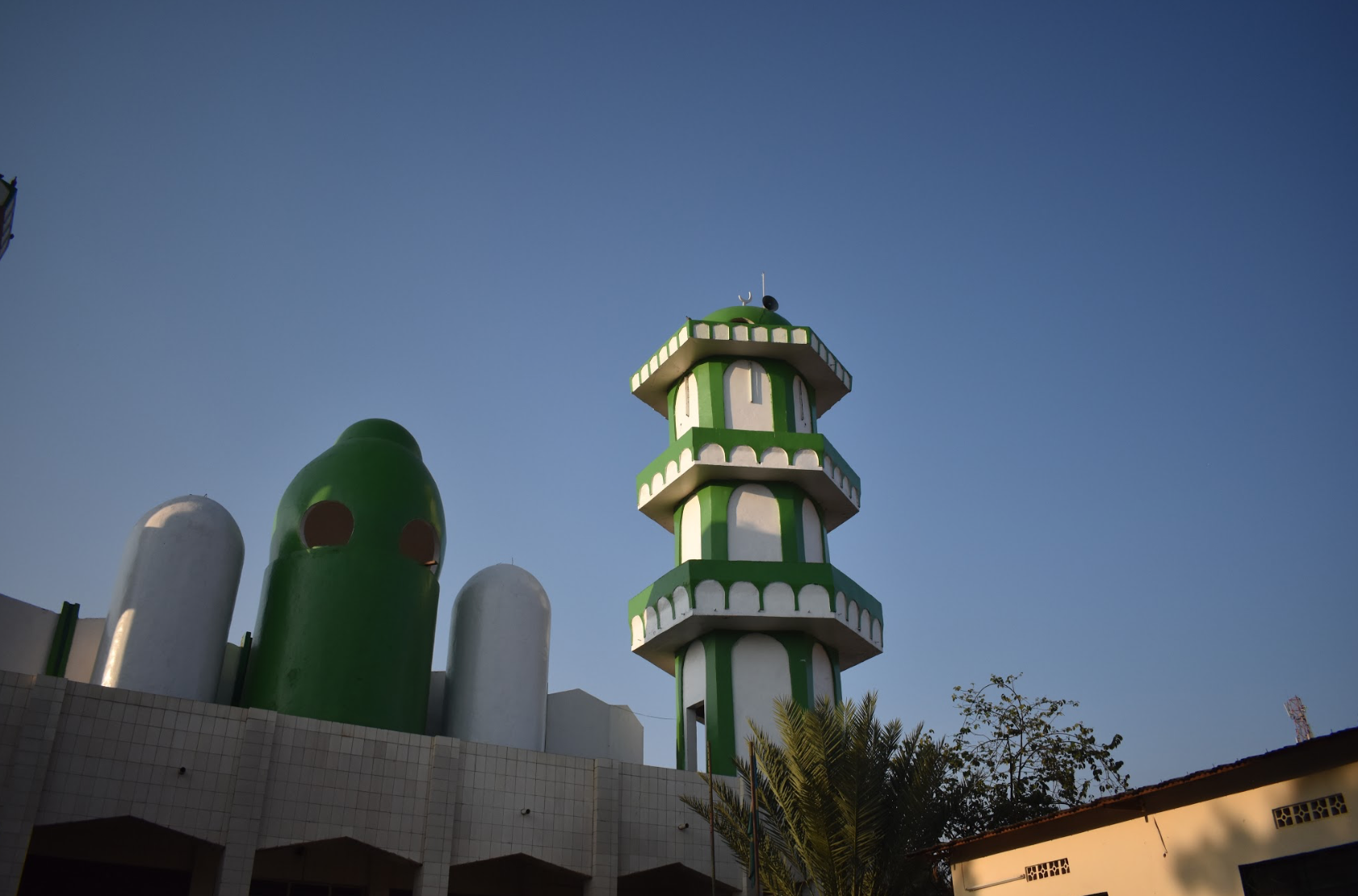 Al-Qudisi Mosque on a balmy afternoon. Nila, who is both Muslim and a longtime patient and friend of WE-ACT, gave the team a tour of Nyamirambo, the Muslim quarter of Kigali, in which we visited three major mosques. After tactfully brokering with the custodian at al-Qudisi, Nila got the team access in the inside, a traditionally Muslim-only area.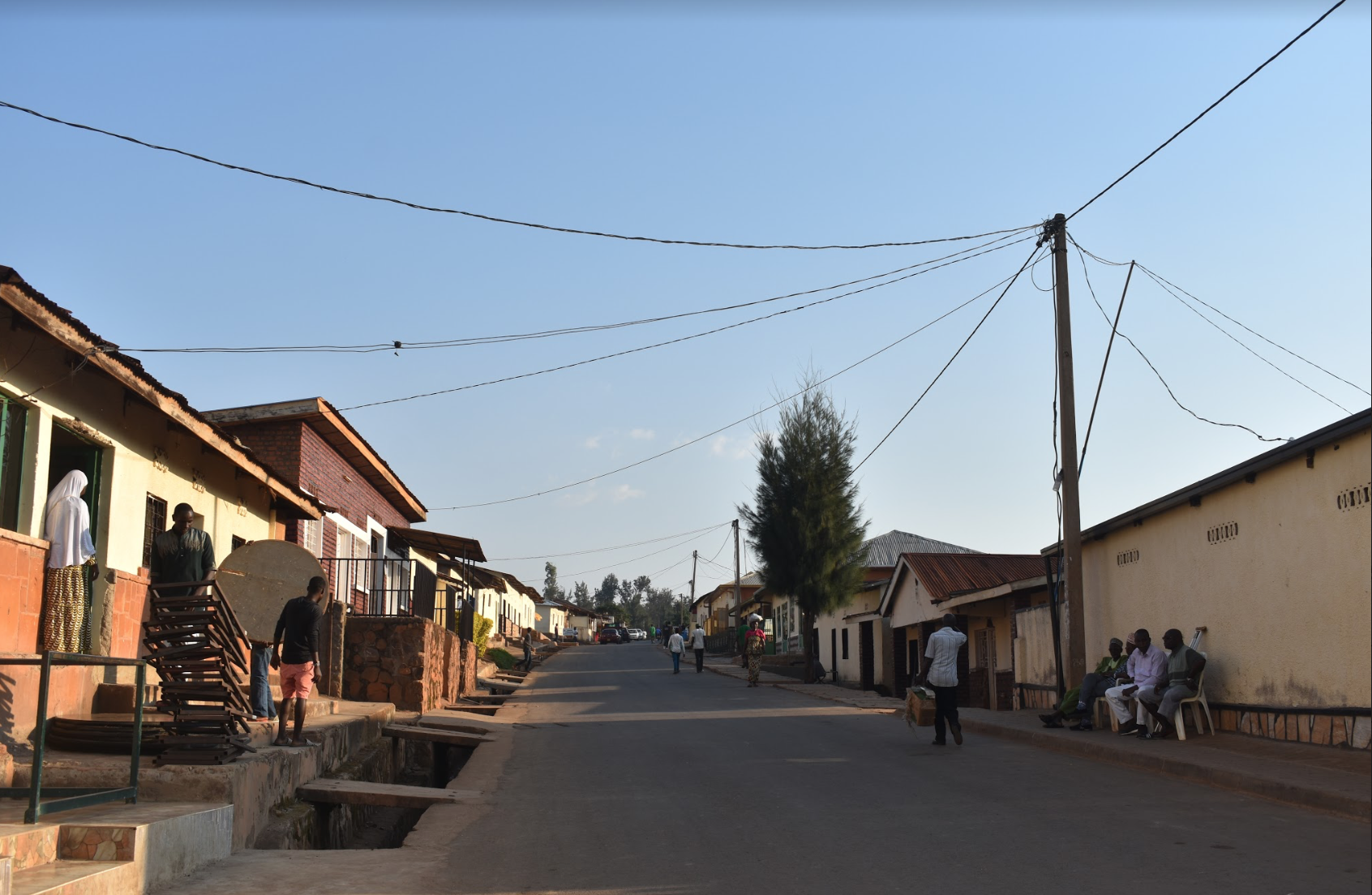 A street in Nyamirambo.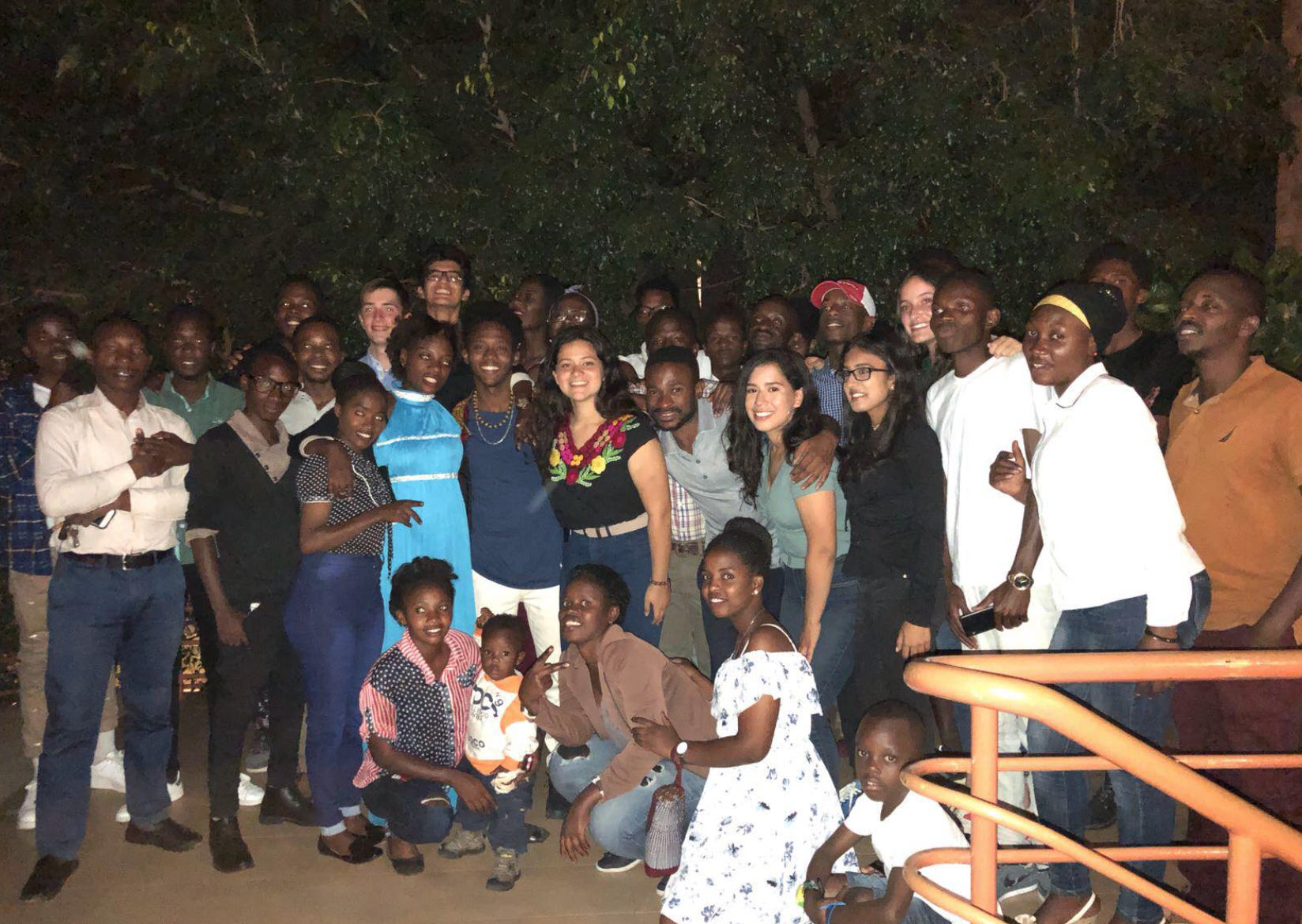 The Latin team, peer parents, and instructors from both camps at the staff banquet, which took place on Latin's last night in Rwanda. Attendees wore their best clothes, took seemingly hundreds of selfies, exchanged gifts (the Latin team awarded each peer parent with a journal), and guzzled down citron-flavored Fanta by the gallon.

]]>