Wyatt Parr on SNL
Sophomore Wyatt Parr, along with other members of Uniting Voices Chicago, made an appearance on Saturday Night Live this past weekend.
Uniting Voices Chicago, formerly known as the Chicago Children's Choir, was chosen to bring a group of 13 high schoolers to sing backup for Colombian pop singer Karol G. She has won two Latin Grammys, two Billboard music awards as well as two MTV music awards.
Given only a few days' notice, Wyatt was one of the few students selected to go to New York City. Because of the quick turnaround, there wasn't much time to rehearse.
He spent the Monday before in the recording studio, recording his part and practicing. The song "has 13 different vocal parts to it," Wyatt said, "and since there were only 13 of us, one person was on each part, making the song pretty challenging to learn."
After rehearsals and much hard work, Wyatt and his team left for New York on Wednesday to begin their journey.
On Thursday, they met with Karol G and her team at the SNL studio and rehearsed with her. "It was very cool to see how much goes on so rapidly at a large TV production studio like Saturday Night Live," Wyatt said.
As their SNL debut neared, Wyatt and his team got fitted for their outfits on Friday and rested up for Saturday.
On Saturday, they arrived at the studio at 4 p.m. and began getting ready. Around 5 p.m., they soundchecked with Karol G and then ran through a dress rehearsal for the entire show.
"It was really fun as we could watch the show on the TV in our holding room before it actually went live," Wyatt said.
Wyatt and the choir went on live around midnight. Their performance went smoothly and sounded amazing. Wyatt did an incredible job. Hollywood is ready for sophomore singing star Wyatt Parr!
Leave a Comment
About the Contributor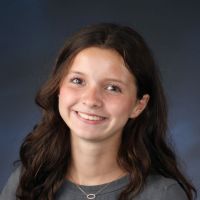 Eva Lapiere, Arts Editor
Eva Lapiere ('25) is delighted to be returning as Arts Editor for her third year of writing for The Forum. Eva loves covering articles on today's trends,...