Exchanges are Back: Latin Hosts Students From Madrid
After the pandemic placed Latin's beloved exchange programs on hold, students have finally regained the opportunity to travel around the globe. When the 2022-23 school year's Project Week catalog was released, students saw a category for global exchanges containing three programs, in the capitals of Germany, Spain, and South Africa.
Over the past few weeks, students have been taking part in the Madrid exchange, hosting students from the Instituto de Educación Secundaria Ramiro de Maeztu. According to Ingrid Dorer Fitzpatrick, Director of Academic Initiatives & Global Exchanges, 15 Latin families hosted 20 students from Madrid.
Sophomore Kira Mahoney was one of these hosts. "I emailed Ms. Dorer asking if I could join after hearing about [the program] in the assembly," she said.
Despite her last-minute commitment to join the program, Kira had expressed interest in participating for quite some time. "I remember when my sister was a freshman and did it, and she really enjoyed it," Kira said.
But since that time, the exchange has not been in place due to COVID. However, several other events have taken place such as the Tri-City Exchange, a virtual exchange with students from Latin, Germany, and Israel, and a play put on by visiting German students. "COVID kind of changed everything," Ms. Dorer said. "What we were trying to do just before COVID was establish a four-year rotation [with exchanges]," she said. In the rotation, students would be able to see a consistent schedule with many exchanges. Ms. Dorer explained that once the rotation is reinstated, the Madrid exchange will happen every other year, but for now it will occur annually.
For freshman Nick Wheatley, becoming an exchange host allowed him to continue learning outside of school. "I've always wanted to find ways to immerse myself in Spanish and explore the language more. I've also never gone out of the country, so I thought the exchange program would make my first time worthwhile," Nick said.
And the Madrid exchange aims to do exactly that: Bring Spanish outside of the classroom. In June, participants of this exchange will have the opportunity to visit Spain and reconnect with the students who visited Latin. Latin students will continue to immerse themselves in the Spanish culture and language. The exchange program was exclusively available to students enrolled in a Spanish class.
"For [the Madrid students], it's an opportunity to enhance their English when they're here and for our students to try to do the same with Spanish when they are over in Madrid," Ms. Dorer said.
While visiting Chicago, the students from Madrid made the most of being in the city. "They go on field trips every day," Kira said. She added that many of the students had a particular interest in the Museum of Science and Industry. Latin students taking part can look forward to similar adventures when they get the opportunity to visit Madrid over the summer.
"They went to some obvious Chicago area sites" Ms. Dorer said, mentioning locations such as the Chicago History Museum near Latin. "We also [selected] classes at Latin [for the Madrid students to get involved with]. … They did a field trip with the Chicago politics class. … A fair number of them came to the trial for Nazi Mind."
For students who don't take Spanish, don't fret––Latin is currently looking to provide equal opportunities for all language classes. In the past, there have been exchanges for all classes; however, they haven't resumed yet.
"We want to make sure that [every language] also can have an experience that is similar [to the Madrid exchange]," Ms. Dorer said.
"It's a really great experience, and everyone should do it," Kira said.
Leave a Comment
About the Contributor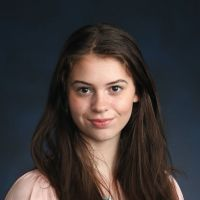 Caroline McHugh, Staff Writer
Caroline McHugh ('25) is excited to be returning for another year of writing for The Forum. She enjoys reaching out to the Latin community through her...