All The Midwest's a Stage For the Goldberg Gymnasium School
Latin students gathered in the theater on October 27 to see a play performed by the Goldberg Gymnasium School's Drama Club. Get Me Back to the Future, the play the students had been performing around the Midwest for three weeks, offered a chance for the German exchange students to immerse themselves in the English language. The Goldberg Gymnasium School last hosted Latin students in 2017, giving both schools the opportunity to view the world from the perspective of a different culture.
The students arrived only one day before their performance and immediately went to work. Director of Academic Initiatives and Upper School history teacher Ingrid Dorer Fitzpatrick worked alongside the Drama Club to coordinate their arrival to Chicago and the Latin School. "A few years back, I took on the role of coordinating history and art exchanges, one of which was language immersion," she said. Some of Latin's upcoming partnerships through this program include hosting students from Madrid, Spain, and Berlin, Germany.
After 24 hours of traveling, the usual routine dress rehearsals and sound checks that productions undergo were not an option. Thankfully, Frank Schneider, Upper School performing arts teacher, offered pre-production help in the short time allotted. "The students raided our prop room and missed certain light cues due to the fraction of time that we had," Mr. Schneider said. "Regardless, I'm always intrigued by how German expressionism leaks into everything they do."
He said despite all of the bumps, he is "impressed that they put on an entire play in a foreign language and still managed to pull it off."
Every performance takes a village and a captain to head up the entire operation, and this play was no different. For Get Me Back to the Future, it was Tobias Waldorf, co-director of the Goldberg Gymnasium Drama Club, along with co-director Krista Ann Eichler. Ms. Eichler said that before auditions were held, they spent six months writing the script. Such a long and thorough process was necessary to properly reflect that the play was a combination of Gerhart Hauptmann's 1982 play The Weavers and the 1985 cinema classic Back to the Future. A complex composition using both materials was required to achieve the play's overall message: "The future belongs to those who believe in their dreams."
Notwithstanding the rushed preparation, everyone enjoyed the play. Freshman Nicholas Wheatley said, "It didn't feel rushed or like it was missing scenes or parts of the plot. It's safe to say I really enjoyed it, and I'm excited about future plays."
With such a demanding play behind them, these students were ready to explore Chicago with Latin as their tour guide. Latin hosted them at the Hostel Hotel as there were too many people for Latin to host on its own. Mr. Schneider said that on Friday night, some Latin students went with them to see the play Clue and took them to a Bulls game.
Whether it was missed light cues, language barriers, or a remarkably short preparation time, performing Get Me Back to the Future was no easy feat, but thanks to their undeniable talent and skill, the Goldberg Gymnasium's Drama Club won over audiences as if the challenge was nothing.
Leave a Comment
About the Contributor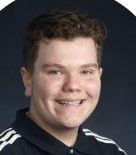 Ignatius Doherty, Staff Writer
Ignatius Doherty ('26) is a freshman and is honored to be joining The Forum staff this year. Having a lifelong interest in writing, he plans to bring a...