Union, Administration To Continue Negotiations Over the Summer
The 2021-22 school year marked the inaugural year of the Latin School Union (LSU). They began by forming bylaws and a constitution, fighting the school's new COVID policies, electing their first executive board, and beginning collective bargaining with the administration.
Most recently, on May 11, the union presented contract proposals to the administration. The administration then had the chance to counter-propose and negotiate with union members.
President of the LSU and Upper School Latin teacher Elissabeth Legendre said, "I think that the administration was eager to hear what the union presented. There is something about working together closely with all of our colleagues, for me personally, to set forth in a document, a vision for what kind of small changes we think we could do to make working conditions, and therefore student learning conditions, that much better."
Ms. Legendre added, "There were 50 union members [at the presentation]. To sit in solidarity with my colleagues and say this is what we believe about the school and this is how we think that we can work together and partner together to make it a little bit better for everybody, I think was really powerful."
The union had presented eight of their proposals at an earlier meeting, and shared the other 11 a few weeks back. The proposals covered a range of areas including academic freedom, appointments, benefits, discipline, dues and fees, evaluations for assistant teachers and non-teaching faculty, evaluations of teaching faculty, grievance procedures, layoffs, leaves and paid time off, non-discrimination, overload pay, personnel files, salary, stipends and course releases, union recognition, union rights, and workload.
On behalf of the administration, Director of Communications and Strategic Initiatives Katie O'Dea said, "The school felt it was a productive meeting." She added, "Compensation for bargaining unit members is yet to be determined. This is an item that administration will be discussing with LSU during the collective bargaining process."
Even with a new school year on the horizon, none of the executive positions in the Latin School Union will turn over. The length of one's term is dependent on the position. For example, the president, Ms. Legendre, will serve until June 30, 2025, and the treasurer, math teacher Chris van Benthuysen, has his position until June 30, 2023. The re-election of the positions are staggered; therefore, there will always be senior members who are able to help guide newer members of the executive board.
Unlike schoolwork, the union won't halt for the summer. They will primarily focus on developing a contract with the administration and getting to know Latin's new Head of School, Dr. Thomas Hagerman. They will also be expanding the onboarding program for new members.
"As we bring new faculty into the school, we want to talk to them about what we do, why we think the union is important, and why we think they should join us," Ms. Legendre said. "We will do some DEI training, so we are looking forward to that."
Vice President of the LSU, Upper School English teacher, and DEI Curriculum Coordinator Brandon Woods said, "The administration and the union have agreed to bargain during the summer. We are hopeful that these bargaining sessions will lead to a fair contract and the beginning of an era of transparency and cooperation between the administration and the union."
Looking back on the past year, Ms. Legendre reflected on what she has learned as the president of the LSU. "I like change. I think it's exciting. The value of coming to consensus and democracy—I think I've learned that in very visceral ways this year. Not that anything went wrong, but just seeing that in action and seeing how powerful consensus and democracy can be, that was really great for me."
Mr. Woods added, "I am especially proud of how transparent we have been with the unit, and how much the main bargaining committee and the organizing committee put in to ensure that our collective bargaining agreement will reflect the will of the unit."
After the first year of working with the union as an administration, Ms. O'Dea said, "We look forward to a collaborative partnership going forward."
Almost a year after its formation, the union still does not have a contract. It is clear that this process takes time and patience.
"I thought it would be a faster process," Ms. Legendre said. "Patience is a virtue, and it's not one of my virtues."
Ms. O'Dea added, "We will continue negotiating until a contract is reached."
With the year coming to an end, Ms. Legendre said, referring to the students, "I hope you guys are happy." She added, "I hope the students are feeling supported. That's not a union thing, that is just general."
Regarding their current work, Ms. Legendre said, "There is not much going on with the union right now. We are kind of in this holding pattern right now that we made our presentations, and we are just waiting for [the administration]."
Leave a Comment
About the Contributor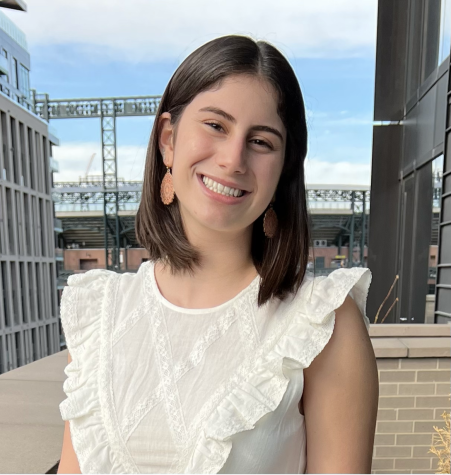 Eliza Lampert, Editor-in-Chief
Eliza Lampert ('24) is a junior at Latin and is looking forward to serving as one of this year's Editors-in-Chief. During her time writing for The...