Letter From the Class of 2021: Peter Jones
It is hard to reflect on a place that has served as the tether point of my life for eight years.
Crowning victories, demoralizing failures, fist pumps, happy memories, and embarrassments—it's Latin that holds many of these moments in my orbit, like popsicle sticks in an elementary-school solar system diorama.
There is truly a lot to love about our school. Lately, however, in the absence of exaggerated Latin-Parker-Game school spirit, our collective Fight, Fight, Fight! has succumbed to a mightier, more contagious flow of thinly veiled derision and contempt. If a prospective family were to look at a daily transcript of my conversations with teachers and students, they might come to find Latin's inflexible enrollment deadline rather unsurprising.
And yet behind that inwards-facing criticism—which perhaps prevails only because we sometimes take for granted the educational and social privilege that Latin endows—is a vibrant, intellectual, and lively community. Say what you want about the half-hearted unity campaigns that the Communications Department emits, the chaotic pep rallies, the "my head is bloody" Student-Faculty Chorale. But there's something real, something important behind all that tedium.
At its best, Latin captivates and strikes with awe. When Eriko Darcy raised her fingers above the ivory keys at gathering and an anticipatory silence blanketed the audience. When Will Slater, then Senior Prefect, stood in front of everyone the morning after the Parkland shooting and put words to the shapeless grief that everyone knew. When Ms. McGlinn delivered a heart-wrenching call-to-action for blood donations. Live streaming the track and field state finals in the cafeteria; clapping for broken dishes in the Learning Commons; defacing the white board in Jessie's office; dances; big games; poetry slams; concerts; musicals; promposals; laughing; crying; fun.
Latin isn't always at its best, though. Between the rippling aftershock of last summer's reckoning with discrimination and the fiery debate over unionization, between the pandemic's purge of 14 months of human interaction and the steady leak of high-ranking administrators, this year, Latin has teetered on a cliff edge.
There's a feeling towards the end of some baseball games (presumably, other sports as well, but my athletic career at Latin was confined to some 40 plate appearances and a season of JV cross-country) where the momentum flips against you. Before releasing the ball, the pitcher knows it will be roped down the third-base line; before the grounder approaches, the shortstop knows they'll fumble it and lob it into the dirt. The crushing outcome feels predetermined.
At the moments when the community's scrutiny is most intense, I feel this same ambiance ripple through the students, teachers, and administrators at Latin. The school's internal approval rating appeared to take a steady nosedive last summer, when a rapid-fire series of departures, expulsions, cancellations, and polarizing debates over the return to in-person learning drew criss-crossing dividing lines through countless relationships at Latin. When Mr. Tempone departed in July—the first person who ever convinced me that I could string words together in such a way that people might actually want to read them; the advisor who stood by my side as I fielded email after email from angry, Paycheck-Protection endorsing administrators and parents—I lost faith. I knew the fly ball was coming, and I knew it would ricochet off of leather and onto grass.
By some roundabout way, however, The Forum—and its commitment to Latin's unpolished narrative—helped me build that faith back. At the very onset of whatever hypocrisy, craziness, conflict, or injustice that confronts Latin, The Forum is there, meeting it with fierce reporting and measured commentary. That is, comforting the afflicted and afflicting the comfortable.
It hurts to hold two conflicting truths in tandem. The dissonance aches. Still, I can say without reservation that I will forever love Latin, in all its imperfection. The teachers I met here have inculcated me with a drive to fight for what I value; the friends I made here have saved me at my lowest moments and celebrated with me at my highest. This school taught me how to think and how to be.
Stay kind. Stay true. Go Romans.
Peter Jones
May 31, 2021
Leave a Comment
About the Contributor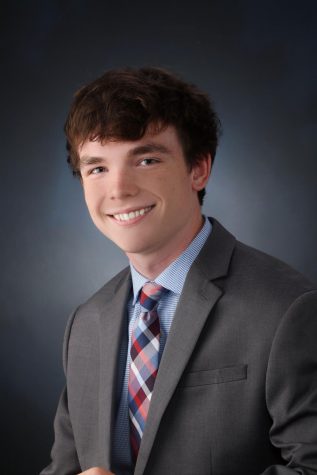 Peter Jones, Editor-in-Chief
Peter Jones ('21)  is a senior at Latin and is ecstatic to be serving as Editor-In-Chief for his second consecutive year. The Forum means everything...