Upper School Applications are Down. Is Our Remote First Semester to Blame?
Applications to Latin's freshman class for the 2021-22 school year are down, and this decline appears to be at least in part a result of the remote model Latin began the year with.
Starting the year virtually came as a surprise to many students, as just one week before the announcement, Head of School Randall Dunn sent an email with a plan to return to school in-person. Current Latin students had mixed feelings regarding the school's remote first semester, but could these emotions have extended beyond the Latin student body?
"In terms of applications this year, it is a little tricky for us to give you the full picture, because we are still in the midst of application season," said Mark Copestake, Director of Enrollment Management and Financial Aid at Latin. "We have experienced a slight decrease in the number of applications for ninth grade. There are many reasons, the most predominant being the global pandemic. Many families have been heavily impacted financially."
Unlike Latin, Catholic high schools in Chicago such as Saint Ignatius, DePaul College Prep, and Loyola Academy began the year in a hybrid model. Catholic high schools are also significantly less expensive than Latin, with annual tuition about $20,000 less than Latin's. For many families, an in-person, less expensive education is appealing, especially during the pandemic.
The Forum reached out to the admissions departments of various Catholic schools but never heard back. However, we were able to speak to students.
Returning to in-person learning was received well by upperclassmen. Saint Ignatius junior Gracie Garber said, "The school has managed [being in person] very well. It's a hybrid schedule, which includes three in-person days and two out. The next week is two days in-person and three at home."
DePaul College Prep senior Emma Holmes is also in-person for half of the week. "Being in person has honestly been such a gift," she said. "It gives me purpose to get up in the morning."
Senior Olivia Frankel looked back on her decision to attend Latin, and her experiences with the school in the past, before COVID-19. "I don't think I would have gone to a different school if I knew Latin would be remote, since most high schools in Chicago went remote as well," she shared.
She does, however, worry about how the remote setting has influenced her learning. "I definitely think that the quality of education I am getting is different than years prior. So many classes at Latin are discussion based, and that's an environment I thrive in, and something you lose when it is online," she said. "I also feel like we're given a lot of busy work or worksheets to do in breakout rooms, which is not very helpful when we only have four synchronous classes a day."
A Latin education is highly regarded, and with some of the best aspects of it unavailable during remote learning, some rising freshmen may steer away from the school.
Beginning the year remotely was especially difficult for ninth graders. Latin freshman Tatum Keogh said, "It was somewhat difficult to make friends this year because you see someone over Zoom and want to be friends, but it can be difficult or awkward to get in contact with them."
Saint Ignatius freshman Emma Penner, who has taken advantage of the school's in-person days all year, emphasized the importance of in-person school for ninth graders. "It's really easy to make friends," she said. "You walk to classes with people and still get a lot of socializing. Mainly in class, you meet new people and sometimes during lunch if you sit by another freshman."
That said, not everybody at Latin is unhappy with the circumstances. Diego Miranda, a Latin freshman, explained what drew him to the school. "The opportunities, as well as the education I would be receiving, were good," he said. "It has been great, because I feel that even though COVID is going on, they have been able to make it as normal as it possibly can be."
Diego reflected on his ability to recently attend in-person school. "They have the resources to do this, and that is great, because if they didn't have the COVID test, or even the space to keep everyone separated, it wouldn't be possible. But they made it happen, and I am glad."
However, some question why the hybrid model did not begin until halfway through the school year. Latin already had access to the resources such as testing, space, and money, and everyone was staying safe. Additionally, COVID-19 cases are far higher now than they were in September, yet the Upper School is going in-person now after being virtual then. According to the city's COVID dashboard, Chicago's positivity rate was 4.3% in the fall and is currently 6.5%. If Latin wanted to appeal to incoming ninth graders, the school might have done better by beginning the academic year in-person.
Latin also requires the Independent School Entrance Exam (ISEE) as part of the application. This year, the requirements to take the test remotely are specific and difficult to achieve for some students. All test takers must be in a quiet, well-lit room, free of any distractions. The school has chosen not to go test optional, another factor that may deter students from applying.
Latin as a school strives to bring in a diverse freshman class from all over Chicago. "It's a goal of ours to have students from as many middle schools as we can," said Associate Director of Enrollment Management Sara Salzman. "Our current freshman class has students from 28 middle schools. Having nothing to do with the pandemic, one year it's bigger for this school, one year it's not."
Latin is trying hard to appeal to prospective families from across the city. Latin is one of the only schools that interviews every applicant individually, and this year, these interviews took place virtually. Ms. Salzman remarked that it was gratifying to maintain the interviews, regardless of the pandemic. "[In an attempt to] maintain the integrity and the personal side of our process, we made a welcome phone call to all applicants. We took the time to call everyone and thank them for applying."
Virtual information sessions were also held for prospective students. A minimum of three calls were held for each division. "At the time we were doing our information sessions, (then-Upper School Director Kirk) Greer did a really nice job of explaining the rationale of why we were entirely remote," said Mr. Copestake.
With the constantly changing nature of the world, it is hard to speak to what things will look like tomorrow, nevermind next year. "We are cautiously optimistic to all of our prospective families that there will be greater levels of in-person instruction in the fall, and trust that Latin will proceed in the best interests of students' learning and safety," said Ms. Salzman. The uncertain state of the school may add to the reluctance of upcoming ninth grade families to apply to Latin.
Latin didn't release specific numbers or percentages for applications this year versus last year, but the school did note that while Upper School admissions are down, Middle School applications are up. The Middle School has been in person since the beginning of the year.
For the Upper School, the administration's decision to begin the year virtually appears to have had a negative impact on admissions interest. If Latin wanted to appeal to incoming ninth graders, they should have begun the year in person for all students. Because they didn't, next year's freshmen may pick a different, less expensive, in-person school.
View Comments (3)
About the Contributor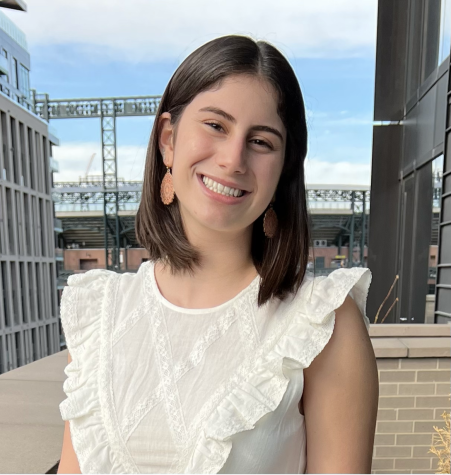 Eliza Lampert, Editor-in-Chief
Eliza Lampert ('24) is a junior at Latin and is looking forward to serving as one of this year's Editors-in-Chief. During her time writing for The...