Keely's Kitchen: Classic Italian Torta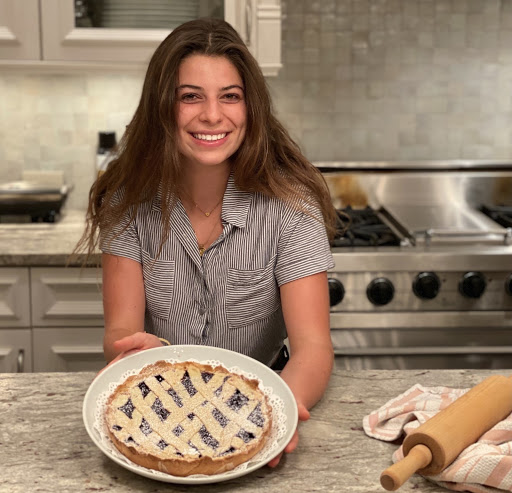 Italian tart recipe can be found here.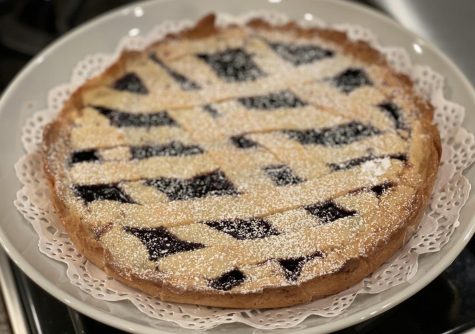 The classic Italian torta is an essential Italian breakfast and dessert that everyone should learn how to make. The dough, pasta frolla, can be used to make crust for almost any jam filled tart and can also be used to make classic Italian cookies. Make sure that there is a thin crust so there is enough dough for decoration covering the tart. The filling only requires about one 8 ounce jar of mixed fruit jam to generously coat the dough. The tart crust isn't quite as sweet as pie crust, but it complements the fruit jam's sweetness. I suggest baking the tart for more than just 40 minutes so the jam is less runny and the crust is golden. This tart can last up to 3 days after being baked.
Ingredients (converted to cups):
1.6 cups flour
½ cup sugar
6 ½ tablespoons butter
1 medium egg
½ teaspoon yeast
Lemon peel/drops for taste
Berry Jam
Powdered sugar to top
Translated to English:
Combine flour, sugar, butter, egg, yeast (instant), and lemon with a mixer.
Knead the dough for a few seconds in the bowl, then transfer it to a pastry board and knead for 10 more seconds.
Let the dough rest in the fridge for 1 hour.
Roll out 2/3 of the dough and line it on a 22 cm (8/9inch) tart mold.
Cover with the jam.
With the remaining pastry dough, form strips and make a grid on the tart.
Bake at 170 ° C (about 340 ° F) for 40 minutes.
Sprinkle with powdered sugar.
Key lime pie recipe can be found here.
Key lime pie is a classic and fun dessert to make with family and friends. It is always a favorite and is the perfect tart treat for a special occasion. This recipe is simple and easy, but fairly time consuming. Make sure to keep an eye on the pie crust when it first goes into the oven, in order to prevent a burnt or hardened crust. Depending on how tart you want your pie to taste, add the key lime juice in small increments and taste test the filling to make sure it isn't too sour. Finally, have fun with decorating the pie; add whipped cream, lime/key lime zest, or slices, if you want to be fancy. You can leave this pie in the fridge for up to 2-3 days after making it.
Pumpkin soup can be found here.
Pumpkin soup is a delicious fall dish that can be enjoyed as a warm lunch or dinner on a cold day. I love making soups because the recipes are simple enough to leave room for experimentation. Depending on what consistency you want the soup to be, you can substitute some of the heavy cream for vegetable broth, or cut the heavy cream out completely if you don't want your soup to be too rich. I suggest subbing out the heavy cream with light sour cream to give the soup a more tangy flavor to balance the sweetness of the pumpkin and maple syrup. I added a bed of spinach, barely sauteed with chili oil, the pumpkin's fresh seeds baked with olive oil and salt, and a sprinkle of goat cheese, which acted as a lovely complement to the soup.
Homemade Pumpkin Spice Latte!
(My own recipe)
For a delectable blend of fall spices, pumpkin, and vanilla, follow the instructions below to make your very own pumpkin spice latte!
Ingredients:
1 cup milk of your choice (I prefer sweetened almond milk)
3 tablespoons pumpkin puree
1-1½ teaspoons pumpkin spice
Option to make your own pumpkin spice: 1 tsp cinnamon, ½ tsp ginger, ¼ tsp cloves, ¼ tsp nutmeg
Option: ½ tsp extra cinnamon
1 teaspoon vanilla extract
2 teaspoons maple syrup
Optional: 2 teaspoons sugar (I think it's sweet enough from the maple syrup)
1-2 shots espresso
Toppings: whipped cream, cinnamon stick for topping, and an extra sprinkle of cinnamon
Combine milk, pumpkin puree, and spices over medium heat and whisk 1-2 minutes
Add vanilla and sweetener(s), then mix until combined
Add espresso slowly; taste and add more if needed
Add toppings and enjoy!
Leave a Comment
About the Contributor
Keely Moll
Keely Moll (22') is a senior at Latin and writes her own cooking column called "Keely's Kitchen." She shares reviews of her favorite recipes and...