Jamaican Rum Cake – A Personal Essay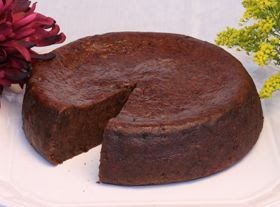 Step one is to preheat the oven to 400 degrees. My mother and I stand under the heat of the white kitchen light. Before I can tame my chestnut kinks that escape the ponytail tucked behind my ears, she instructs me to butter the cake tins. I agree. Begrudgingly. I've always hated how the softened margarine seeps into the creases of my hands and only washes off with at least 3 rinses in the sink. I watch my mom wipe spilled flour and iodized salt of the granite countertop every chance she gets. But her imperfection seeps into the perfection. I see the lines of imperfection in her callous hands and bald spots that she tries to hide under her black bonnet. Her eyes meet mine past the silver cake tins.
"That's not enough flour."
Step two is to cream the butter and sugar until not gritty, but smooth, making for a rich rum cake. Our electrical mixer clings onto the yellow fluff, a byproduct of aggressive circular motions, eight minutes of mixing, and my sore wrist. Every Christmas, our family dedicates a day to baking Jamaican Rum Cake. But as usual, my father sinks into our tan leather couch, ice cold Heineken in hand, eyes glued to the squeaky shoes and effortless layups of the fast-paced basketball game. My brother assembles his Star Wars aircraft out of Legos, Luke Skywalker's plastic body parts strewn across our wooden floor. Aside from plunging their pinkies into the thick batter for "taste testing" purposes, they leave my mother and I to do all the work. I watch as the lime zest, nutmeg shavings, and browning swirl into the batter—courtesy of my mom. Beads of sweat form on her forehead and she hastily wipes it off with her palm. The recipe, tinted a pale yellow and crisp with fresh creases doesn't say to blend the fruits. But my mother does so anyways, the harsh whirring of plums, pitted cherries, and currants intermixing rather violently, as our broken blender struggles to do its job.
Step three is to keep the eggs room temperature, cracking them into a separate bowl before advancing to the batter. My mother grasps each egg in the warmth of her palm. Nine eggs, ovoids of powder white and speckled brown are tapped gently as she shatters their delicate shell. The gelatinous whites and golden yolks spill into the scarred plastic bowl, stained yellow from years of use. My mother works with diligence, unaware of our kitchen ware's imperfections as the cake itself is her own perfection. Gripping onto the electric mixer's handle, she beats in each egg, one by one, scraping the sides of the steel mixing bowl and leaving permanent scars.
Step four is to butter and flour the pans so that the cake doesn't stick once removed from the oven. Ruby red spatula in hand, my mother folds the fruits into the batter, careful not to over mix. Ground nutmeg, cinnamon, and allspice, rain down from her silver sieve, perfuming the air, her hill of  flour flecked with brown dust. She instructs me to scrape out the batter, lumpy with dark purple fruits that cling to the spatula's plastic tongue, luscious with swirls of vanilla essence and browning. But the batter doesn't make it into her 9×9 pans. Instead, it spills over the edge, onto the freshly wiped countertop, making a mess of my mother's perfection.