The Return of Spring Sports
Red Forms, angry emails about missing Winter uniforms, and disputes over gym space are back! As the cold, barren Chicago winter is coming to an end, a new array of sports will return to the spotlight.
Winter sports will give way to baseball, softball, lacrosse, volleyball, tennis, track, soccer, water polo, and ultimate frisbee.
This Spring season, some changes will be taking place, especially when it comes to lacrosse. While last season the boys' team was merely a club sport, this year it will operate as a fully-fledged Varsity team. The new lacrosse team certainly isn't desperate for team members, either – they received a steady flow of sign-ups, everyone eager to be a part of the new group. As new team member and freshman Colin Campbell said, "Being on the team feels great. Many of the boys either haven't played before or haven't picked up a stick in a while, so it's great that, regardless of whether you mess up or don't know what to do, there are plenty of guys to back you up and support you. I can't wait for the games to begin." Clearly, the team has already built up a devoted community of boys who are ready to compete. The boys will spend the season playing similar sized high schools who also recently started lacrosse programs.
And, by the way, it doesn't end with the guys – for the first time, Latin will field a girls' lacrosse team. While they will remain a club sport in their first season, the girls have a similarly close-knit group of athletes. "We haven't yet had many practices," said freshman Betsy Levine. "But the girls and coaches are all really welcoming, and though most of us haven't played lacrosse before, everyone is really supportive and helpful. A shared goal for all of us is to get better at lacrosse."
Baseball will return, chock-full of experienced seniors, more ready than ever to win in Mr. Tebbens' final season as Varsity head coach. Led by captains Keaton Bubala and Alec Kotler, you could not think of a more motivated group of guys. They will also field a JV team this year, as plenty of freshmen and sophomores have newly joined the team.
Softball, too. Often seen braving the February weather over at the Lincoln Park fields, they will return from a successful season and look to repeat. "It's a super fun time playing and bonding with everyone on the team, and we all get along super well," said returning Varsity player and sophomore Bella Flerlage.
Cross country is back, but now it's circular. Boys' and Girls' Track are ready to dominate, the girls having been promoted to a new division. "This year the team would love to send a lot of people downstate, especially this year, since the girls are back in 1A," said freshman Marianne Mihas, who's something of a running prodigy. "There are quite a few strong distance runners and sprinters, all of whom have the potential to really do well this year at sectionals."
Those sports are just a few of the numerous ones going on this Spring at Latin, and I'm sure other teams will find success throughout their seasons as well. You can view all of Latin's athletic schedules, scores, and more information on Romannet as well as Latin's public website. Here's to another rewarding spring season!
About the Writer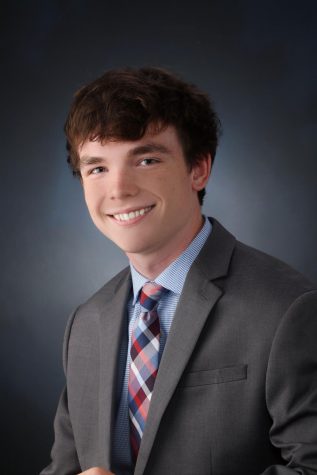 Peter Jones, Editor-in-Chief
Peter Jones ('21)  is a senior at Latin and is ecstatic to be serving as Editor-In-Chief for his second consecutive year. The Forum means everything...