Union and Administration Reach Agreement on Multiyear Contract
After two years of collective bargaining, the Latin School Union (LSU) and the Latin School administration have reached an agreement.
The collective bargaining agreement (CBA)—executed by Head of School Thomas Hagerman and LSU President Elissabeth Legendre—represents the first contract of the LSU and the administration since the union's formation in June of 2021. The contract describes the rules under which both parties will operate, effective through the 2025-26 school year.
According to an LSU newsletter sent on June 12, the CBA "codifies [the union's] right to a grievance process, academic freedom, small class sizes, great benefits, and an increase of over 19% in net salaries over four years."
Faculty members will receive a 5% raise for the 2022-23 school year, 5.5% for 2023-24, 4% for 2024-25, and 4% for 2025-26. The Latin administration and the union were initially far apart on the level of salary hikes, so reaching a middle ground was considered a significant success.
The CBA also resolved issues relating to starting salaries for assistant teachers. According to the contract, assistant teacher pay starts at just over $30,000 for the current school year. "I am really proud of the LSU for standing behind our assistant teachers," former LSU Secretary Avani Tandon said. "The CBA puts them on the path for more equitable and livable pay."
Under the CBA, faculty will also have a formal process for filing grievances: "Members of the unit or the union can file a grievance if they believe there has been a violation of the contract or it has not been applied correctly." Ms. Tandon said. "For example, if a class is overenrolled and the employer does not follow the proper steps of consulting and collaborating with a teacher, that teacher could file a grievance." A proper consultation might be evaluating classroom size and that teacher's time spent assigning and grading work, then making appropriate adjustments based on the class size.
Class size regulations vary between departments. According to the CBA, in the Upper School, with the exception of Performing Arts and Physical Education classes, Latin may not assign a teacher more than 80 students per semester. Further, with the exception of English and language classes—typically limited to 16 students—Latin will attempt to limit classes to 18 students each. College counselors will be assigned a maximum of 40 students each.
Importantly, there is a "No Strike No Lockout" section of the agreement. This provision says that the union cannot strike, and the school cannot lock out its employees for the duration of the contract. This section is especially helpful to assure parents that students will not miss any school if the union and the Latin administration have disagreements.
When asked whether she thought one piece of the agreement took precedence over another, Ms. Tandon said, "I think they are all important because they either codify current practice or allow for more equitable working conditions for our members. Every part of this CBA is worth celebrating. We all voted to unionize for different reasons, but this agreement exists because we demanded accountability and prioritized equity."
Ms. Legendre said, "Articles that took a lot of thought and discussion were workload and evaluations. That makes sense. 'How much work will I be expected to do?' and 'How will I get graded on that work?' are both questions it's important to have a very clear understanding about."
"Workload was one of the areas that we spent a lot of time [on]," Dr. Hagerman said.
Ms. Tandon agreed, saying, "There were some conversations that were harder than others. We talked about workload for a very long time. While the employer wanted to allow themselves flexibility in terms of class size, duties, and contact hours, we were determined to codify current practice and place reasonable limits to prevent job creep and burnout."
Ms. Tandon noted that the union and the administration also had "interesting discussions around academic freedom, primarily around what teachers should be 'allowed' to present to students. While we agree that it is vital for students to learn multiple perspectives, we also wanted to acknowledge that not all perspectives deserve a platform."
According to a June 12 newsletter sent out by the administration to parents, faculty, and staff, "Employees may introduce social, political, religious, or controversial topics, provided that materials, instruction, and discussions are relevant to the course or class content, developmentally appropriate, and allow for multiple perspectives and reactions that honor our School values." These values include respecting the diversity of people, cultures, and ideas in the community. Classes this year might look and sound slightly different now due to the wider variety of language and topics that teachers can address.
Ms. Tandon said, "As a Lower School teacher, this is exceptionally important to me because I want to feel safe responding to questions and comments that students bring into the classroom. Oftentimes, students ask about things that are not part of the written curriculum, and this provision allows me to be responsive to my students without fear of discipline from an administrator or an angry parent."
Dr. Hagerman noted that "every article was given the time necessary to reach a fair and appropriate outcome," even though some topics—such as workload and academic freedom—required more time to discuss than others.
"I feel like the employer made a decent effort to hear us and learn about our experiences as teachers," Ms. Tandon said.
Similarly, Ms. Legendre said, "The workload and evaluations proposals, because they are so important to the day-to-day functions of the school, took a long time to work out." She continued, "We all wanted to be very sure that the language of the articles was very clear about who was expected to do what and what those expectations were. I wouldn't characterize that as 'pushback,' but it took us lots of discussions and drafts of proposals to come to an agreement."
On that note, Dr. Hagerman said, "There are a lot of complicated details in creating one contract for many individuals. I would say the most difficult is crafting language that applies to a broad group of people with different job responsibilities across multiple divisions."
The general expectation for faculty across all divisions is that they teach Monday through Friday, but the agreement notes that weekend work may be required for certain individuals such as employees who receive stipends, who are engaged in student productions, and who teach Nazi Mind. Also, many teachers grade papers and plan lessons on weekends and outside the defined workday of 7:45 a.m. to 3:45 p.m. For example, family conferences and other meetings that take place outside the window are exceptions to this expectation.
Additionally, teachers who write a large number of college recommendation letters can potentially receive a stipend and a reduction in other responsibilities.
The June 26 union newsletter acknowledged the significance of the comprehensive CBA, which took a great deal of time and effort, referring to it as "a historic milestone for Latin, and a tribute to all of you—to your courage, to the core values on which you based this work, and to your commitment to seeing it through."
Leave a Comment
About the Writer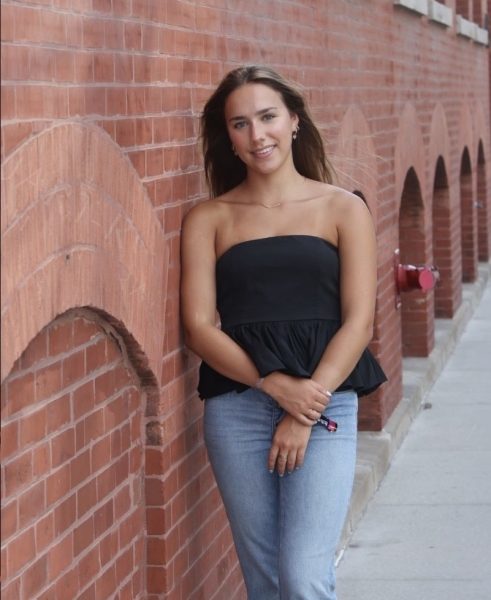 Annie Hallinan, Managing and Standards Editor & Media Editor
Annie Hallinan ('24) is a senior at Latin who is beyond excited to return to The Forum for her third year on staff. Aside from serving as Managing &...