Ultimate Team Plays First Home Game in Latin History
Many of Latin's athletes would tell you that among the highlights of their seasons are opportunities to compete in their sport, backed by an electric crowd of their peers. Boisterous cheering, heated rivalries, an occasional warning from an irritated referee—it's usually part of the game. But Latin's co-ed ultimate frisbee team, also known as Colossus, had never before played a home game. Their recent game against Lyons Township High School was the team's first ever chance to experience their intensity echoed in a crowd of orange and blue.
Chris van Benthuysen, an Upper School math teacher and one of the team's head coaches, shared his enthusiasm ahead of the match. "What I'm feeling the most in anticipation of Wednesday's game is excitement for our players to have an opportunity to do what they do, to play their sport, in a place where the rest of the student body can see their work and support them and celebrate them," he said.
For the oldest members of the team, this home game was their first in four years. For Mr. van Benthuysen—known fondly by his students and players as Mr. Van—it was the first in over a decade.
Mr. Van came to Latin in the spring of 2012 to coach the ultimate team, which was entering only its second season. Before 2011, the sport did exist at Latin, though inconsistently, and not by the name Colossus.
Naming the team was Mr. Van's idea, one he based on historical trends in the sport. The first intercollegiate ultimate game wasn't played until 1972, making the sport relatively young. Today, it still has not been adopted by the National Collegiate Athletic Association as a varsity sport, and so the unofficial names that college teams created in the 1970s and '80s continue to be used.
"Ultimate for a long time existed in this counterculture, and now, as it's becoming a more popular sport, it's adopting more dominant culture traits," Mr. Van said. "I suggested to the team back in 2012 that a very ultimate thing is for your team to have a name that is related to your school and its mascot, but not the same." Mr. Van and his team at the time landed on "Colossus," the Latin word referring to a large or powerful entity.
Such was the team's energy at the Lincoln Park Turf Field as students, alumni, and faculty gathered in support of their fellow Romans. While some fans were former Colossus members themselves, others were watching an ultimate game for the first time.
"I'm having a hard time understanding this sport," senior Alice Mihas said during the game, "but I'm learning."
For those who are unfamiliar, ultimate frisbee can be described, on a very basic level, as a combination of football and soccer, where players pass around a disc with an intent to receive it in the end zone opposite the end of the field where their possession began. If the disc hits the ground, the possession is over and the other team becomes the offense. Each end zone completion earns a team one point. Players may not run when holding the disc, and so they must instead rely on quick and creative passing to break through the opponent's defense.
At the high school level, the game ends when one team reaches 13 points, or after a certain amount of time elapses.
Latin's match against Lyons Township opened with 20 mile-per-hour winds, adding another layer of difficulty to the game.
For most of the first half, back-and-forth scoring kept the game close. Junior Phoebe Koehler had two assists and a point of her own to give Colossus an early lead. Junior Ethan Weiss scored two points, and senior co-captain Spencer Weldon also had two assists.
Senior and co-spirit captain Trent Glimp said, "Our spirits out on the field are way up, and so it's showing in the way that we play." Even at the highest levels of play, ultimate is a self-officiated sport, and spirit captains help ensure their team honors the game and its rules.
Despite strong defense, with notable end zone blocks by Spencer and junior Sam Bayer, Lyons had multiple successful possessions.
At halftime, Colossus was down 7-4. During the break, sophomore Jeremiah Wheatley said, "Hey, that's going to change very quickly, trust me."
Jeremiah was right. Early on in the second half, a pass from Spencer to junior Richard Heller made the score 7-5. A couple of points in each direction and the score was 9-6. Just before time ran out, Colossus scored three points in a row to take the game to a sudden-death round, also known as a universe point. With the score at 9-9, Colossus knew that the next point would determine the game.
Unfortunately, a successful possession earned Lyons the last point, ending the game at 10-9.
For Spencer, the experience of playing at home with supportive fans reduced some of the sting of the loss. "I'm upset that we lost by one," he said, "but it was the most fun game of ultimate frisbee that I've ever played, and I'm really proud of how far we've come this season as a team."
Phoebe spoke highly of her experience on Latin's ultimate team. "I truly believe the ultimate frisbee community is special, and I wish more people knew there's more to it than throwing a disc around," she said. "I feel respected and appreciated even as one of the few female players on the team."
Of the sport's self-officiated nature, she said, "This aspect of the game fosters an honest, respectful environment––something I love so much about the sport."
Though Latin's field space is limited, with home games most frequently offered to varsity sports, ultimate players and coaches alike said they are eager for more opportunities like their game against Lyons. Mr. Van said, "I'm certainly hopeful that this is a step in the right direction."
View Comments(1)
About the Writer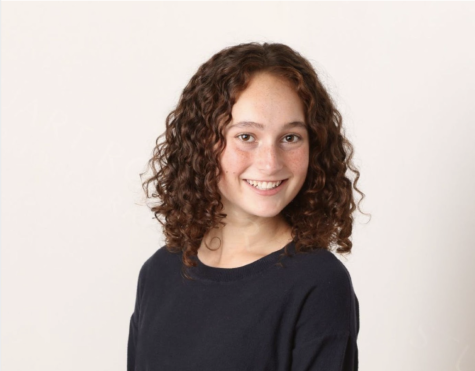 Eden Raviv, Editor-in-Chief
Eden Raviv ('23) is eager to bring relevant stories and perspectives to the Latin community in her second year as Editor-in-Chief. Eden joined ​The...