Last Looks on the Student-Run Plays
The stage is set for spring student-run plays! Unlike the fall and winter plays, the upcoming productions are in the hands of students. Seniors Anaitzel Franco and Cole Hanover have been hard at work directing their comedy, The Actor's Nightmare, while director and senior Bri Nourie has jurisdiction over Virtual Congress along with junior and assistant director Makenze Humphrey. As the performance dates approach, the cast and crews are working harder than ever on their productions.
"Both plays have been making a lot of progress," Makenze said. "As of now, we are just really preparing the show for audiences at the end of the week." Performances are Wednesday at 4:30 p.m. and Thursday and Friday at 7 p.m.
"Because we took a break during P-Week and spring break, we were worried that adjusting back to our usual schedule would be difficult," Anaitzel said. "However, the actors are memorized and are starting to become more comfortable being off-book."
Marc Abrahams is one student in the productions. Despite being student-run, The Actor's Nightmare and Virtual Congress are run like other plays. "We're just going along the usual process for shows," Marc said.
Another actor, junior Payton Rice, said she enjoys the areas where student-run productions differ from typical ones. "It offered a more relaxed and flexible schedule than being in a regular show," she said. "It was also cool to talk to people I don't normally interact with on a day-to-day basis."
Anaitzel is very impressed by her actors. "Even after weeks of rehearsals, they are still making cool discoveries of their characters and with each other."
Similarly, Makenze said, "It's been super cool working with all of the talented actors we have and seeing them develop over our time together."
As the performances get closer, attention turns to other aspects of the show, such as sets and costumes. "We are in the process of building our sets and transitioning from our current rehearsal spaces (classrooms) to the stage," Anaitzel said.
Sophomore costume designer Aislinn Curry has been working hard to bring the characters to life. Collaboration was important in the beginning of the design process. Aislinn said, "I started with an idea board that I shared with the directors." Aislinn, along with freshman Izzy Schafer, pulled costumes from the costume room and went through a lengthy process of fittings. "Izzy is making hats for the costumes, and we are going to work on rip-away pants."
The students in the plays are using teamwork. "Co-directing with one of my closest friends, Cole Hanover, has also made this new process much easier," Anaitzel said. "Working alongside very energetic, talented personalities has been incredible. I can't wait for the rest of the school to see what we have been creating."
Leave a Comment
About the Contributor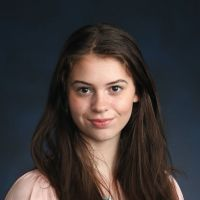 Caroline McHugh, Opinions Editor
Caroline McHugh ('25) is back for another year of writing for The Forum! During her junior year, Caroline will be serving as an Opinions Editor. Since...