From Snubbed to Taking the Dub: Tennis State Champions Tell All
Senior tennis captains and doubles duo Will Benford and Sam Cutinho stand in formation on the court, awaiting their opponent's serve. Up 40-15 in a match against Benet Academy that has been going on for three hours, Will and Sam need to win the upcoming point to secure the doubles state championship title.
The server tosses the ball into the air, and his first serve hits the net.
"So we got second serve. All the tension is rising right here. It's dead quiet," Will says. "We're the last match that's going on, so everyone that's in the whole stadium is watching us."
Heading into the state championship, Will and Sam were seeded fifth. "We kind of got overlooked," Will said. "I think we should have been the one seed from the start."
"We had a pretty easy draw up until about the quarters," he explained. "Quarters we had a tough match." Nevertheless, Sam and Will won their quarterfinal match in straight sets, meaning they never lost a set.
"And then," Will said, "we got to the semis."
Will and Sam's performance in their semifinal match would determine whether or not Latin won state as a team. Since Benet Academy had two teams in the semifinals, if both of Benet's doubles teams won and proceeded to the finals, their collective team would amass enough points to win the state championship.
Down 5-3 in the second set after losing 6-4 in the first, Sam and Will finally managed to break their opponents' serve, and they proceeded to win the remaining games in the second set.
"In the third set, it was tough," Will said, "The heat just radiates off the court and so one of their players was getting really tired, so we picked on him the whole entire third set, and it was a really effective strategy, and it helped us win that set 6-1."
Will added, "It was amazing, too, because a kid on their team was being really obnoxious and was like, 'We're winning the match here. The match is ours. We're about to win this right here.'"
After playing a 2 hour and 45 minute match to secure a win in the semifinals, Will and Sam had an hour to prepare for the finals against another team from Benet Academy, although they weren't feeling optimistic about their next match.
"We're totally gassed," Will said, "and meanwhile our opponents for the finals, they finished their match quicker, so they've had like an hour more rest than we have."
With the points Sam and Will had won in the semifinals, in addition to those that their teammates accumulated earlier in the day, the boys tennis team had already won state as a team. Now, Sam and Will had the opportunity to win individually. "We were playing with nothing to lose in the finals," Sam said. "We had already clinched the team victory, which was our goal from the start. Obviously we wanted to win the doubles, but there was no expectation of us."
Put simply, Will said, "Both of us were defeated."
Sam started to cramp up and experienced leg spasms, while Will had sprained his thumb in their first match. "I took like three Advils. It was really hard to hold my racket," Will said. "Sam could hardly walk."
The duo lost the first set 6-1, and Will thought to himself, "I don't know if we can do this match."
Despite a tough first set and Sam needing to take a medical leave early in the second, the teammates started to win some games. "We just kept going," Sam said, but Benet got a break on them, bringing the set score to 5-3.
"They were serving 5-3 up," Sam said, "and Benet has a huge cheering section, and it's really obnoxious and irritating, but the kid who was serving was getting really tight." Their opponent started double faulting. "So they have three match points in total, and he double faults two of them, which I don't think his partner is really happy about," Sam continued.
Now on the third match point, Will hits the ball cross-court, but, he explained, "I don't hit the ball cross-court enough, so the net player, he's got a volley on top of the net. Like, you cannot miss this. Forehand volley on the net. Like 99 out of 100 times, 98 out of 100 times a player makes this."
"Maybe he got in his head, but he misses it into the net," Will said. "It would've been a surefire win for them." Their opponent's miss brings Will and Sam back into the game and Will thinks to himself, "God wants us to win this match."
Will and Sam make a comeback, winning four games in a row to secure the second set.
Heading into the third set, they had to change their strategy from their usual I-formation, which involves a player crouching at the net, to accommodate Sam's cramping.
Will said, "We had to run a completely different formation, and Sam couldn't move, so I was poaching like crazy, which is just volleying a lot at the net."
"My one job was to stay at the baseline and hit balls," Sam explained, "We just kept everything really simple. We would just keep the ball cross-court until they missed because they were so tight, and there was so much pressure on them to win."
At one point in the match, Sam and Will's coach tells them, "Everything you have has got to be right now. You have 30 minutes left. Give it 100 percent."
Sam and Will finally reach the second serve of both the double-match and double-championship point.
"And so he serves it," Sam said, "And there's a little hole in the net and it goes through, but people thought it was a let. Like, I thought it was a let initially."
The umpire leaves the decision to end the game up to Will and Sam. Both coaches stand up to conclude the match having recognized that the ball went through the net. Will and Sam make the call: "The ball went through the net."
Will and Sam are officially the IHSA Class 1A doubles state champions.
"We fall to the ground, we're so happy, and then we go to the bench and start screaming," Sam said. "That was a crazy match. And it was awesome to win the championship as seniors."
Will added, "We're banging on the fence and getting all into it and everything and like Sam was crying and I was getting so sappy. We were out of the match completely and we had no business winning that, and it was just pure will and determination that we found a way to come back and win that match."
Leave a Comment
About the Contributor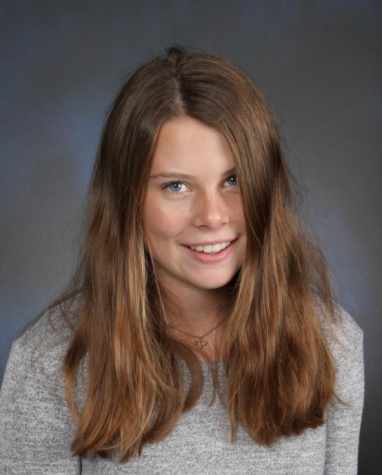 Marin Creamer, Editor-in-Chief





Marin Creamer ('22) can't wait to serve her first year as an Editor-In-Chief for The Forum. Writing and editing for the publication has been...